By Nicole Wise on Feb 28, 2013 11:01:00 AM
Marketing Hints and Tips
Creative, Cheap Marketing Techniques in Lawn Care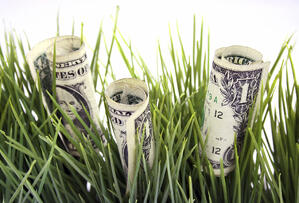 Spring selling season is upon us. You've already started stuffing prepays and other mailers. Your sales team has been on the phone nonstop every evening, upselling current customers and selling to new ones. You're going through the motions of a normal sales season and are excited for company growth. However, there are some not-so-ordinary methods you can utilize to rake in extra sales and really set up your company for success. Best of all, these methods are cheap and creative. They'll poise your company for extra sales and they'll also help build your brand in an effective and powerful way.
Get rid of your door hangers and try something new.
Door hangers are so commonplace in today's market that they tend to go unnoticed or are a one-way ticket to the trash can. Furthermore, the last thing your technicians want to do is spend extra time, away from the lawns, to hang door hangers. In previous lawn care companies, Barrett Ersek had some amazing success utilizing Frisbees in place of door hangers. Tossing a Frisbee on a neighbor's lawn doesn't hold up your technicians from doing their jobs because it takes less time. Furthermore, they have a long shelf life and are unique enough to get your business noticed.
****Learn from our mistakes and get Frisbees that are both pet friendly and shatter proof. This way if a car runs over your Frisbee, it won't make a mess for your prospective customer and pets aren't in danger if they chew the Frisbee.
This spring, get your neighborhood ice cream man involved in your sales process. Try purchasing the ice cream for a particularly juicy neighborhood you have your eyes on to let moms know you're in town. Purchasing an entire day's worth of ice cream costs about $300, plus you can have the ice cream man hand out flyers to let the neighborhood know that the day's ice cream is on you. Another good idea is to have sales representatives follow behind the truck to speak with parents and hand out estimates.
Get the post office involved.
You can search through your area's post office routes and have the postal worker hand out postcards along his route for a small fee. It costs roughly 10 cents to create a post card and 15 cents apiece paid to the post office to deliver the cards. Check out their program "Every Door Direct" for more information.
Social media is a great, free way to market and build your company's brand. If you don't have the time to actively engage in social media, consider hiring an intern from your local community college or simply ask the next-door teen to get involved. They are cheaper than hiring an expert and they've grown up interacting on social media. Stay tuned for next week's blog entry on utilizing social media for lawn care companies.
Sponsor community events like this year's Easter egg hunt or garage sale.
This year, take a look at the events happening in the community or neighborhood you're after and consider sponsoring one. For example, get involved in this year's Easter egg hunt or reach out to your local girl scout/boy scout troop and get involved with their community efforts. It will get your name recognized within your desired area and will build your credibility as a community expert in the lawn care world.