By Kaitlyn Ersek on Sep 11, 2018 11:10:11 AM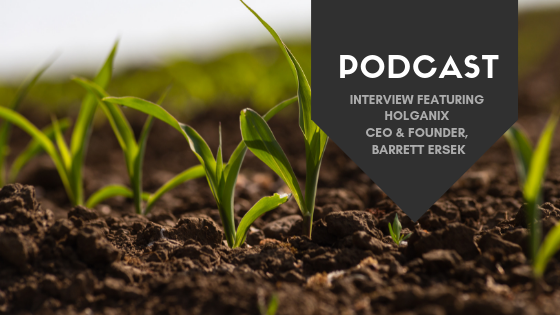 "A wise person learns from his experience, but an extremely wise person learns from the experience of others" — Barrett Ersek
Today's blog article comes from FarmTank Podcasts by Jordan Van Trump! Click the button below to access the podcast, or read Jordan's summarized highlights below. Be sure to sign up for Farm Tank Podcasts and share the podcast with friends!
A big thank you to Farm Tank and Jordan Van Trump for interview Barrett and sharing our Holganix story.
A Note from Jordan Van Trump, Farm Tank Podcasts
Barrett Ersek, Founder and CEO of the Holganix, is a true American entrepreneur. Listen to this podcast to learn a collection of insight about building your own business even when you think all the cards are stacked against you. Barrett sold his first company for $3.5 million, his second for over $10 million, and is currently in the process of building another multimillion dollar venture. This man has a lot to share when it comes to overcoming adversity and the significance of gratitude in business as well as life. He has personally had to overcome many challenges and obstacles, many that would have stopped most people, but not Barrett Ersek. Not only did he overcome adversity, but he has excelled every step of the way.
Barrett has been invited to lecture at places like MIT, The London School of Business, and the India School of Business.
Barrett now has his sights set on finding new and innovative ways to improve soil health and to leave a lasting footprint on earth. In this podcast episode, Barrett and I have great discussions about business and life. He shares some extremely valuable lessons he has learned along his amazing journey.
We also talk about a wide variety of topics such as: deep sea fishing in the Caribbean, meeting Brother David Steindl-Rast, and some of the best Philly cheese-steaks in Philadelphia. Listen to the podcast below to learn more about this earth changing agronomist and influential American Entrepreneur.
If you are interested in receiving our exclusive podcasts, content, and Q&A's on a regular basis, visit Farm Tank's site, and simply enter your e-mail address. It's that simple! No spam, ever. Just great stuff.