By Nicole Wise on Feb 12, 2014 7:19:00 AM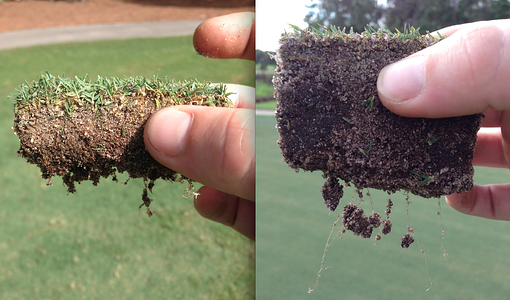 "I guess it all started with a drawing I created during kindergarten," replied Rob Dillinger when asked what had started his love affair with the green industry. "We were told to draw what we wanted to be when we grew up and sure enough, I drew my dad on a golf green equipped with irrigation and everything. He still has it, framed to this day."
Today, Dillinger is our Holganix representative for Florida.

Dillinger is the son of a superintendent turned salesman for Upstart Products based in Titusville, Florida. Dillinger's first job was working at a golf course as a teenager before he signed on at Vanderbilt Golf Course in Naples, Florida as an assistant superintendent.
It was at Vanderbilt where Dillinger first saw Holganix in action.
"We first started using Holganix Golf in November of 2013. We were eager to try it out… especially on some of the weaker areas of the turf."
Dillinger, who spearheaded the Holganix operation, took copious notes throughout the trial and was impressed with what he saw. "The effects Holganix Golf had on roots were the real draw to the product. After all, healthy, dense root systems ultimately promote a healthier plant," notes Dillinger.
"We have Tifdwarf Bermuda turf on the greens with 1- to 2-inch-long roots. After applying a total of 28 ounces of Holganix over 6 weeks, I pulled a plug and recorded 4- to 5-inch-long root systems."
That's astounding for Vanderbilt's Florida turf and had a positive effect on the weaker areas at the course. There was an increase in turf density and improved aesthetics and playability. "The roots made Holganix Golf a no-brainer."
True enough to the kindergarten picture he drew so many years ago, Dillinger followed in his father's footsteps and has made the transition from working on the course to sales. Although he loves rolling up his sleeves and working on the greens, he's excited and confident that the transition was the right choice.
"I didn't want to get into sales for just any company however," cautions Dillinger. "Holganix has a real value-add for fertilizer users. It's something truly unique and it's going to positively impact the green industry in a big way. I'm excited to be able to serve the Holganix Florida community."