By Kaitlyn Ersek on Dec 23, 2014 9:56:40 AM
"We've tried some similar products to Holganix, but they've never really responded or stayed in the market long," explains Denny Bengert, owner of Bengert Greenhouses.
"When it comes to snake oil, I've seen it all!" With 40 years in the business, and a family ancestry spanning five generations of growers (stretching back to Germany – before the family came to the States), it's safe to say that Denny truly has seen it all. "Unlike those snake oil products, Holganix Bloom really does work!"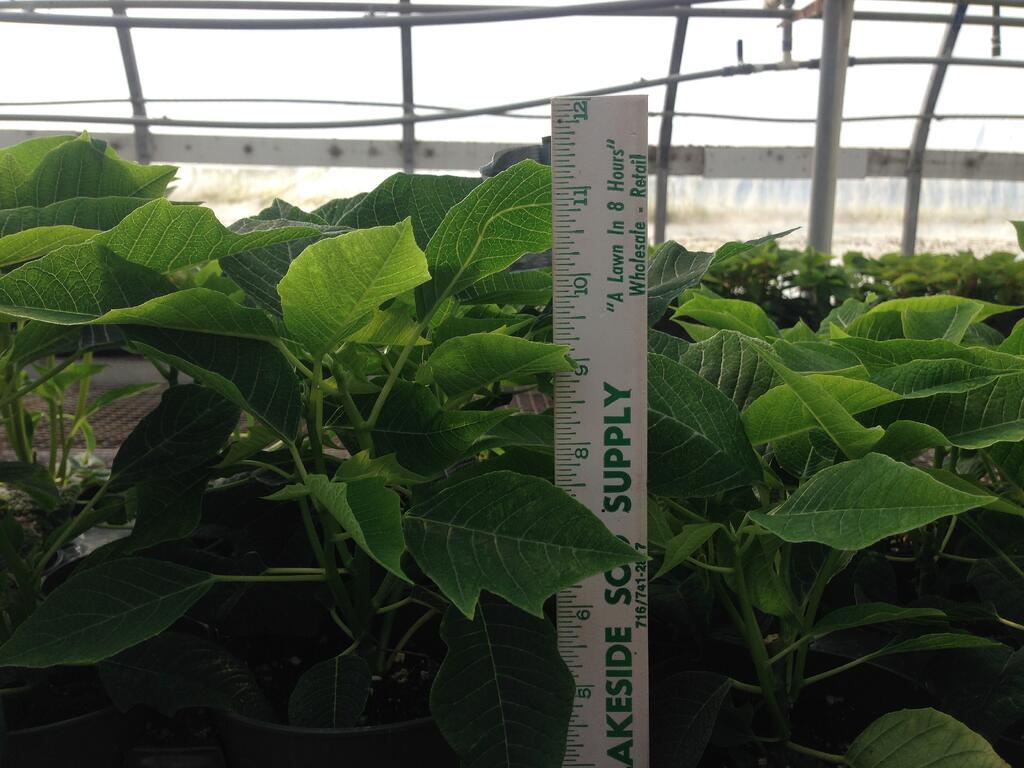 Left plant treated with Holganix, right treated with Denny's usual program
Bengert Greenhouses features 60,000 square feet of greenhouse space used to grow flowers. Denny typically sells plants wholesale and retail with a focus on delivering to organizations like churches.
"We deliver products that no one else has or better than anyone else. We also strive on service and deliver plants when the customer wants it and where. That's part of what makes Bengert so special."
Reducing nitrogen fertilizers by 10 - 15%
Denny has been using Holganix Bloom as a compliment to his fertilizer program on poinsettias.
"Bloom makes the fertilizer work better," explains Denny. "That's why we can use less of it." So far, Denny has decreased nitrogen fertilizers by 10-15%.
Now that he feels comfortable with the product, he plans to further explore nitrogen reductions.
Left plant treated with Denny's usual program, right treated with Holganix. Please note that the ruler is propped up against the plant and that the reading is skewed.
Reducing Fungicides by 30%
"One of the big things we've noticed is that we've used less fungicides with Bloom. In fact, we've used less fungicides than ever before." So far, Denny has cut fungicides by 30%. Keep in mind, that poinsettias require heavy doses of preventative fungicides because of their tricky growing season which features shortened growing days in the fall and winter.
According to Denny, part of the reason why he can use fewer fungicides is due to root development. "We monitored root development heavily," explains Denny. Poinsettias are prone to root disease, especially early in the plant's development.
How can Holganix Bloom help you reduce the need for fungicides? Holganix Bloom builds functioning soils that result in resilient turf with deeper, thicker root systems. In fact, by having more resilient plants with a better root system, these plants are better able deal with the stresses caused by disease. The result is that you can often reduce the need for certain fungicides.
Improving the developmental state of the plant
At the end of the day, Holganix Bloom has improved the developmental state of the plant. That means the plant both matures earlier and stays in peak conditions longer.
It's crucial for poinsettias to be as developed as possible before the Holiday season. Because the plant is matured,
"Holganix Bloom places me in a better position to sell something lush."