Holganix Lawn Product
A Bio 800+ Product for lawn and landscape professionals
With Holganix Lawn, you can reduce traditional fertilizers and concentrated pesticides by up to 75% by while building strong roots and growing healthier, stronger turf. Furthermore, Holganix Lawn reduces the surge growth seen with traditional fertilizer products.
Holganix Lawn is a 100% organic, plant probiotic containing more than 800 species of living, beneficial soil microbes, microbe food and nutrient enhancers to promote a beautiful, green lawn.

What are the ingredients?
Holganix Lawn is teeming with life! Unlike other plant probiotics, Holganix Lawn contains an entire microbiome or community of microorganisms that is both abundant and diverse.
In a single jug of Holganix Lawn, there are more than 800 species of beneficial soil microbes, microbe food and nutrient enhancers.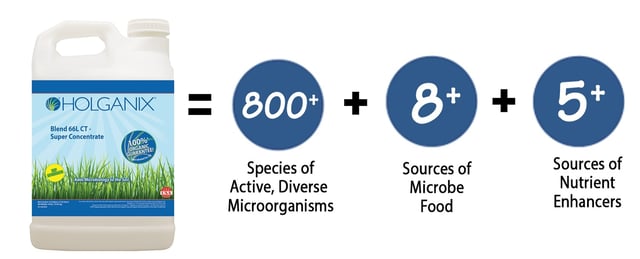 What's the result? Soils and plants treated with Holganix Lawn are better able to flourish regardless of the problem faced including weather and traffic.
Download our Holganix ingredient list to learn about some of our key components.
>>Download the Holganix Ingredient List
Does Holganix Lawn REALLY work?
Does Holganix really work? Don't ask us; ask our clients.
Tomlinson Bomberger in Lancaster, Pennsylvania, has been using Holganix Lawn for two years. According to Ryan, he's seen increased stress resistance in lawns and has reduced fertilizer and pesticide use with Holganix Lawn.
>>For additional case studies, click here
>>For University studies, click here
It's Easy to Apply Holganix Lawn
Here are some application guidelines for your lawn -- and since over-applying is never a problem, don't be afraid to use a little extra.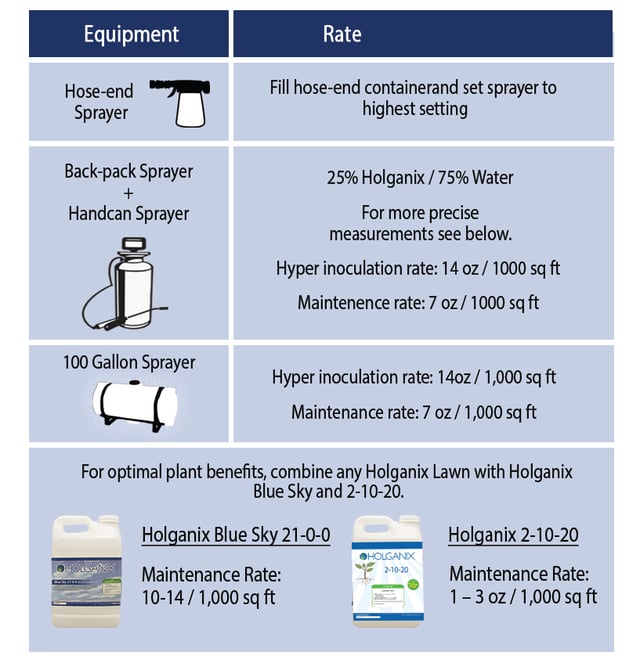 Application Requirements
>> Apply Holganix Lawn when the soil temperature is above 55 degrees for maximum benefits
>> 1.5 to 2.0 gallons per 1,000 square feet water volume
>> For reduction and compatibility recommendations, visit the Holganix Compatibility List
>> Irrigation not required after application
>> Mesh Screen Size 16 - 20 microns
>> Spray Tips: Largest size
>> Hyper inoculation rate: First-time applications should use a hyper inoculation rate to jump start initial biological activity. The hyper inoculation rate is double the maintenance rate.
Want to learn more?
Explore our resources on Holganix lawn including a brochure, SDS, Mix Fill Chart, Label and Compatibility List!
>>Download the SDS >>Explore our Compatibility List
>>Download the Label >>How can you grow your business with Holganix?
>>Download our Mix/Fill Chart >>Download our Holganix Lawn Brochure