By Kaitlyn Ersek on Nov 21, 2018 9:47:26 AM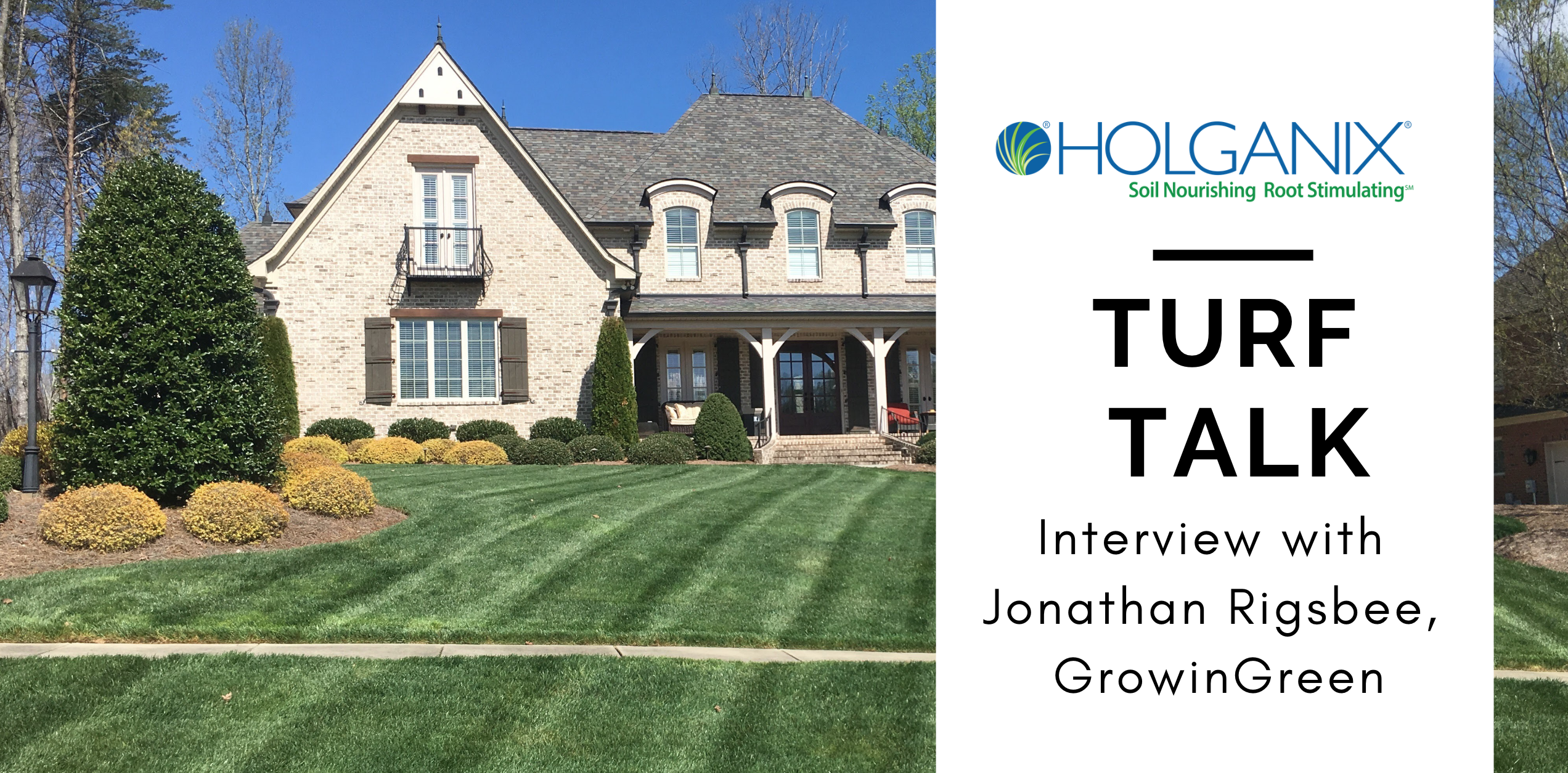 This is a special blog written by Holganix Founder & CEO, Barrett Ersek
In 2013 Jonathan Rigsbee reached out to tell me about test results with HGX PRO Bio 800+ Tree & Shrub (A Bio 800+ product). Jonathan - Owner and CEO of GrowinGreen Lawn Care and Tommy Cowett - horticulturist, were testing over 30 products to see which products would help them strengthen evergreens hit by imprelis damage earlier that year.
Imprelis was a DuPont manufactured herbicide that had the adverse effect of doing serious damage to evergreens across the USA. Jonathan's company, like many at the time, was hit hard by damages.
According to Jonathan, those Holganix tests had "brought trees back from the brink for us."
Jonathan has been a customer ever since, using Holganix products in both his tree and shrub program and lawn program; he's also become a friend of mine.
I've had the opportunity to watch him grow his business over the years. Jonathan is passionate about running lean, efficient businesses. He believes in empowering his technicians to own the route, make agronomic decisions, and get to know customers. He invests in his employees to the point where most technicians have been with the company for over five years.
There's a lot our industry can learn from Jonathan.
I had the opportunity to interview him in a webinar last week about his results with Holganix products and also his philosophy on running his business.
Below are my three key takeaways from the interview. For the full version of the webinar click here.
GrowinGreen Reduces Nitrogen and Increases Root Mass
I once heard Jonathan say, "You can spot a GrowinGreen Lawn because it has Holganix on it." Jonathan reports that he has better, more consistent color on his turf compared to competing companies, and he has reduced his fertilizer inputs by 50-to-70% depending on the lawn.
Check out the 12-minute video above for a story about how GrowinGreen went up against a National Competitor on color and won. If you're reading this blog via email, click here to access the video.
GrowinGreen Reports Healthier Trees and Shrubs
Aside from the Imprelis story, GrowinGreen has utilized HGX PRO Bio 800+ Tree & Shrub to improve overall plant health and to ensure they don't get "Flare Ups" from insect or disease damage.
Check out the 11.5-minute video above for Jonathan's experience with trees and shrubs. If you're reading this blog via email, click here to access the video.
Jonathan On Building A Lean, Efficient Lawn Care Business
"We are all facing the same challenges with a tight labor market and that's not going to change anytime soon," explains Jonathan. "A few years ago, we changed our mindset to how can we get more out of what we have?"
For Jonathan that meant investing in the people (specifically his technicians) to empower them to make decisions about their route. As a result, most technicians have been with GrowinGreen for over 5 years. It also meant organizing better routing, investing in better trucks and equipment, and working on educating his technicians.
In addition to lowering tech-turnover, Jonathan says he's reduced his customer cancel rate from 19% to 15% while increasing his revenue per truck by 60%.
Watch the 7.5-minute video above for additional advice on running a lean, efficient lawn care business. If you're reading this blog via email, click here to access the video.
Want to learn more?
If you want to learn more about GrowinGreen Lawn Care, how they have grown their business, and the results they have seen with Holganix products, click the button below to watch the full 51-minute webinar recording.
How can you start implementing Holganix products into your lawn care or tree and shrub program?
If you're interested in implementing Holganix products into your lawn care program, I recommend downloading your region's Holganix Soil Smart Program. Holganix Soil Smart Programs are turn-key and consist of all the products needed for a fertilization program including fertilizer, herbicides, and of course, your Holganix plant probiotics. However, unlike a traditional fertilizer program, the Holganix Soil Smart Program requires fewer fertilizers and pesticides to create a green, weed-free lawn.
If you have any questions about designing your fertilizer program, or if you want to build a tree and shrub program with Holganix products, feel free to speak with one of our local experts at Holganix. You can schedule a meeting with a Holganix expert by clicking the button below.