Holganix Bio 800+ Product Line
Holganix Bio 800+ products provide the complete ecosystem of soil microbes needed for soil and plant health. Containing over 800 species of beneficial soil microbes, microbe food and nutrient enhancers, Holganix Bio 800+ is changing soil at a fundamental level to build strong roots and resilient plants.
The active community of microorganisms in Holganix Bio 800+ creates healthy soils that feed the plant with nutrients and increase the plant's ability to perform under stress.
Holganix Bio 800+ products are 100% organic and are both university- and field-tested to deliver optimal plant performance while using fewer fertilizers, pesticides and water.
What's in a jug of Holganix Bio 800+

Holganix Bio 800+ was built with the soil and plants in mind. Each ingredient is selected for its unique capabilities. The product contains over 800 species of beneficial soil microbes, over eight sources of microbe food and five sources of nutrient-enhancing technology.
For a full list of Holganix Bio 800+ ingredients, click here.
Product Options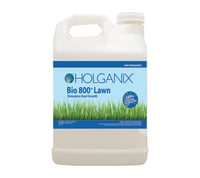 Holganix Lawn
By utilizing Holganix Lawn, your lawn care company adapts an organic-based lawn care program, allowing you to replace up to 75% of your fertilizers and 25% of your concentrated pesticides with Holganix Lawn.
Holganix Lawn also promotes steady plant growth, without surge growth. For full-service lawn care providers, this means reducing clipping yields, ultimately leading to money saved and an increase in sustainability.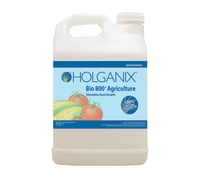 Holganix Agriculture
Holganix Agriculture contains the most complete blend of beneficial microbes available on the market!
Holganix Agriculture promotes strong, extensive root systems, resulting in plants that are better able to find and use nutrients, minerals and water in your soil. By nurturing healthy plants, Holganix Agriculture helps maximize yield potential while ensuring your crop is better prepared to fight off and recover from seasonal stresses.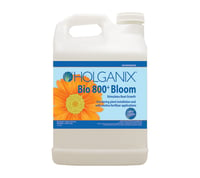 Holganix Bloom
With annuals, you want the most pop and life in a short time span. This is one reason why annuals thrive using a plant probiotic approach. Improving the overall plant physiology allows the plant to use water and food more efficiently and root more effectively, giving you colorful, vivacious flowers.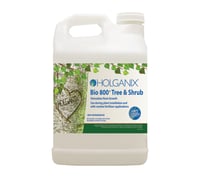 Holganix Tree & Shrub
Holganix Tree & Shrub helps recreate a natural, forest soil environment for your plants by building up microbial life in and around your landscaping, which in turn helps promote root development and nutrient uptake. In addition, Holganix Tree & Shrub helps create stronger plants that are better able to withstand and recover from stress.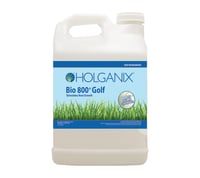 Holganix Golf
Holganix Golf naturally promotes plant health, building strong roots and growing healthier, stronger turf. By utilizing Holganix Golf you increase plant performance, build soil health and enhance nutrient uptake.