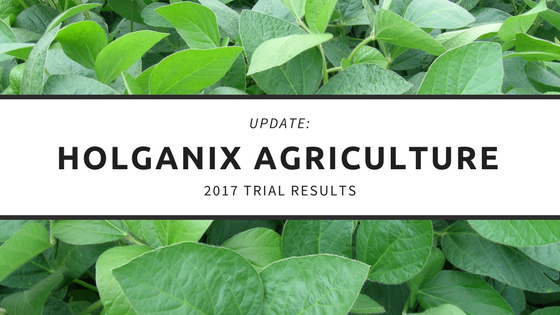 This blog contains an update on university and commercial trial results on several crops from 2017.

What is Holganix Agriculture? A Bio 800+ product
Holganix Agriculture promotes strong, extensive root systems, resulting in plants that are better able to find and use nutrients, minerals and water in your soil. By nurturing healthy plants, Holganix Agriculture helps maximize yield potential while ensuring your crop is better prepared to fight off and recover from seasonal stress.
Holganix Agriculture is an organic plant probiotic that provides over 800 species of beneficial soil microbes, microbe food and nutrient enhancers to grow healthy, resilient crops. In fact, Holganix Agriculture contains the most complete and diverse blend of beneficial microbes available on the market!

Over the past three years we have been compiling data on several different crops in different geographic zones to deepen our understanding of how Holganix Agriculture can help farmers achieve higher yields. Below is a sample from our 2017 collection.
For a more in depth understanding, watch our video featuring an explanation by Holganix President of Agriculture David Stark P.h.D.. If you're reading this blog via email, click here for access to the video.
Higher weight per acre on potatoes
Idaho-based potato growers added Holganix Agriculture with their standard fertilizer rate and saw a 10 - 16% higher weight per acre allowing them to earn an extra $330 to $440 per acre.
Washington State University tested Holganix Agriculture with 20% less fertilizer and achieved a higher marketable yield than those potatoes just using the standard fertilizer rate. The higher marketable yield and decreased fertilizer use translates to an additional $200 per acre if the study were conducted at a commercial farm.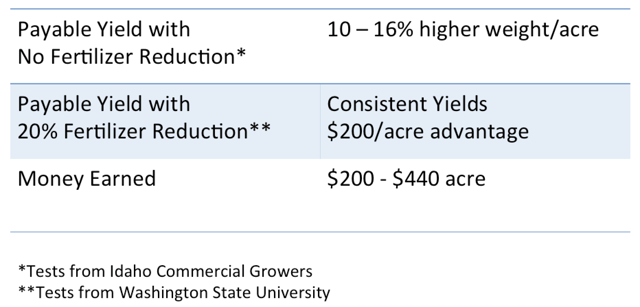 Increased corn yields
An Illinois researcher tested Holganix Agriculture in three different ways on his corn fields. It's important to note that before even applying Holganix Agriculture, his soil was extremely healthy because the field had previously been planted with soybeans - a crop that puts nitrogen back into the soil.
1. For the first test, the farmer used no fertilizer, and by only applying Holganix Agriculture he produced 224 bushels per acre against the national average of 169 bushels.
2. For the second test, he reduced his standard rate of fertilizer by 20% and reached 236 bushels per acre with Holganix Agriculture.

3. On the third test, he applied his typical fertilizer rate with Holganix Agriculture and reached 247 bushels in yield.
Studies conducted at a research farm in Missouri showed a 14.8% increased yield on corn treated with Holganix Agriculture. According to the researchers, they saw a 163.1 bushel per acre yield on corn treated with 1 gallon of Holganix Agriculture infurrowin furrow at planting compared to the control which saw a 142 bushel per acre yield.
$3,000 per acre yield increase on strawberries
In Ventura county, California, a researcher used Holganix Agriculture on a commercial field through their drip irrigation system, applying once per month. He achieved a $3,000 per acre higher yield in the strawberries and was able to harvest earlier than other growers.
Less fertilizer needed with hot peppers
According to Florida-based Datil Pepper grower, Eddie Lambert, "My only problem is that I didn't use Holganix on my whole farm because it's the best crop I have had yet." Eddie applied Holganix Agriculture through a drip irrigation system, making applications every other week with 50% less fertilizer.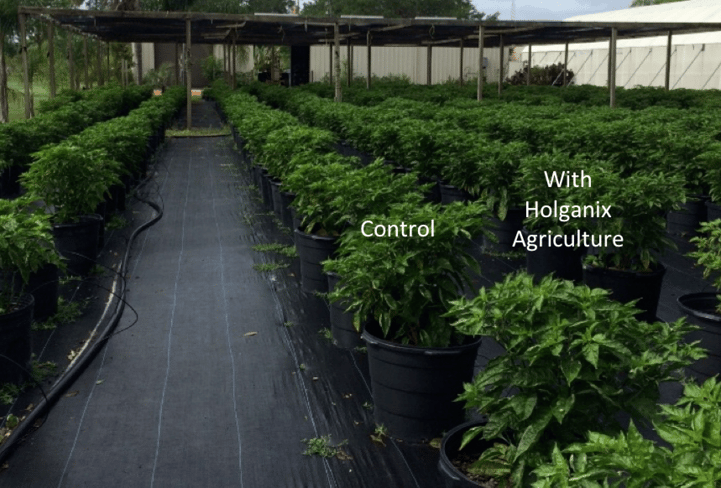 Higher payable yield on cucumbers
A cucumber farmer in Northern Kentucky used Holganix Agriculture on a portion of his crop, leaving the remaining crop the control. The rows treated with Holganix Agriculture had more, large cucumbers than the control. He was also able to harvest the Holganix treated crop a week earlier when prices were higher.
Curbing nematode pressure
While research is still ongoing, preliminary results conducted in a lab setting by Dr. Lambert at the University of Illinois are promising for nematode control using an unnamed Holganix technology. After the first year of studying the product, the team saw a 75% reduction in pathogenic nematodes in the lab and an 80% reduction in the field.
"It's complex," explains Dr. Lambert of the Holganix technology. "There's a lot of things going on in the jug and it is difficult to state with certainty why the Holganix technology is producing results." However, Dr. Lambert does have three theories.
1. Affecting migration to the roots - Holganix technology appears to confuse or incapacitates the nematode so it can't migrate to the plant and cause harm.
2. Inhibiting eggs from hatching - Holganix technology may be inhibiting soybean cyst nematode eggs from hatching.

3. Targeting pathogenic nematodes - Microbes in Holganix technology may be attacking pathogenic nematodes.
"We are taking a two-pronged approach to studying the Holganix technology," explains Dr. Lambert. "In 2016, we studied Holganix technology in a lab. This year, we are continuing lab testing but we are also studying it in the field."
>>For additional information on our nematode research, visit this blog.
Increased brix index
Several farmers have also reported a higher brix (a measurement of flavor) on fruits and vegetables treated with Holganix Agriculture. Academic research also shows that brix can lead to reduced insect pressure on plants although we have not yet conducted supporting Holganix Agriculture research on insect pressure to date.
See below for a chart demonstrating the increased brix on crops treated with Holganix Agriculture as compared to their controls.