By Kaitlyn Ersek on Nov 10, 2022 10:00:00 AM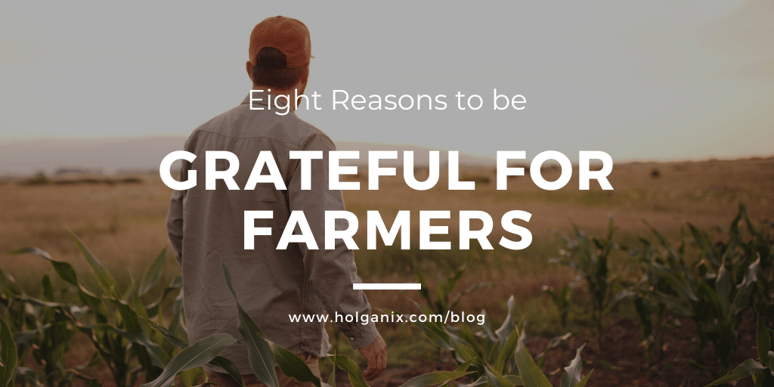 U.S. President Thomas Jefferson once stated, "Cultivators of the earth are the most valuable citizens. They are the most vigorous, the most independent, and the most wedded to its liberty and interests, by the most lasting bonds." This week, in honor of the upcoming Thanksgiving holiday, our team takes time to reflect on why we are grateful for farmers.
Check out our infographic for eight reasons to be grateful for farmers and keep scrolling for the full story.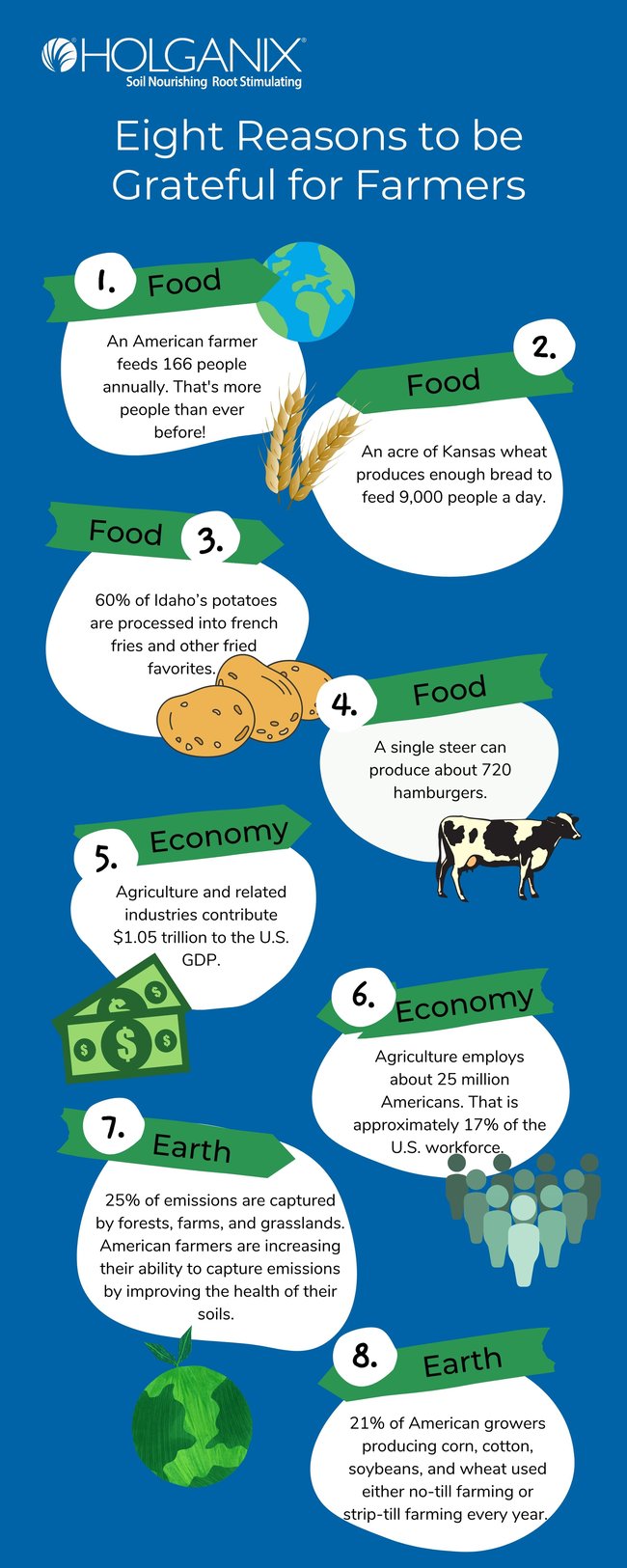 Thank you for Proudly Serving Us Three Times A Day!
U.S. President Ronald Reagan once stated, "You, know, 'amazement' is the word for how most of the rest of the world views American agriculture. As recently as 1940, a single American farmer could feed 19 people per a year." Today, one American farmer feeds 166 people per year. That's more than ever before!
Plus, where would our American classics be without the American farmer? Did you know that an acre of Kansas wheat produces enough bread to feed 9,000 people a day? Or that a single steer can produce about 720 hamburgers? Or that 60% of Idaho's potatoes are processed into french fries and other fried favorites.
Simply put, thank you farmers for serving us three times a day!
Thank you for Strengthening our economy!
In 2018, agriculture and other related industries contributed $1.05 trillion to the U.S. GDP. That puts agriculture's contribution to the overall economy at about 6%. According to one study, members of the food and agriculture industries, and their employees, pay about $900 million in taxes, helping to support their communities and our nation.
Plus, agriculture employs about 25 million Americans. That is approximately 17% of the U.S. workforce.
Thank you for keeping our economy moving!
Thank you for Protecting our Environment!
Did you know that about 25% of emissions have been captured by Earth's forests, farms, and grasslands? American farmers are increasing their ability to capture emissions by improving the health of their soils.
Practices such as cover crops, no-till farming, regenerative farming, and other soil health-promoting practices continue to gain in popularity. According to data from the Agricultural Resources Management Survey, 21% of American growers producing corn, cotton, soybeans, and wheat use either no-till farming or strip-till farming every year. Additionally, 51% of growers used one of these practices at least once over a 4-year period.
In addition to helping capture emissions, farmers also protect our wildlife. Did you know 2020 was the 16th consecutive year that North Dakota ranked first in the U.S. for honey production? This state has almost 500,000 bee colonies, which produced 38.6 million pounds of honey valued at over $61 million. Plus, in Wyoming, farmers and ranchers provide winter habitats for 75% of the state's wildlife.
Thank you for being good stewards of the land!
How Holganix Servers Farmers?
At Holganix, we believe that by charging soil with diverse microbes, we help our farmers improve the health of their soil, investing in the legacy of their farm for future generations.
Holganix Bio 800+ Agriculture harnesses the power of over 800 species of soil microbes to reduce the need for fertilizer, increase yield, improve crop resilience against stress, and boost soil health.
Plus, farmers using Holganix Bio 800+ Agriculture see a yield improvement in just one season!
Learn more about using Holganix Bio 800+ Agriculture on your farm by clicking the link below.