By Kaitlyn Ersek on Mar 17, 2022 11:25:26 AM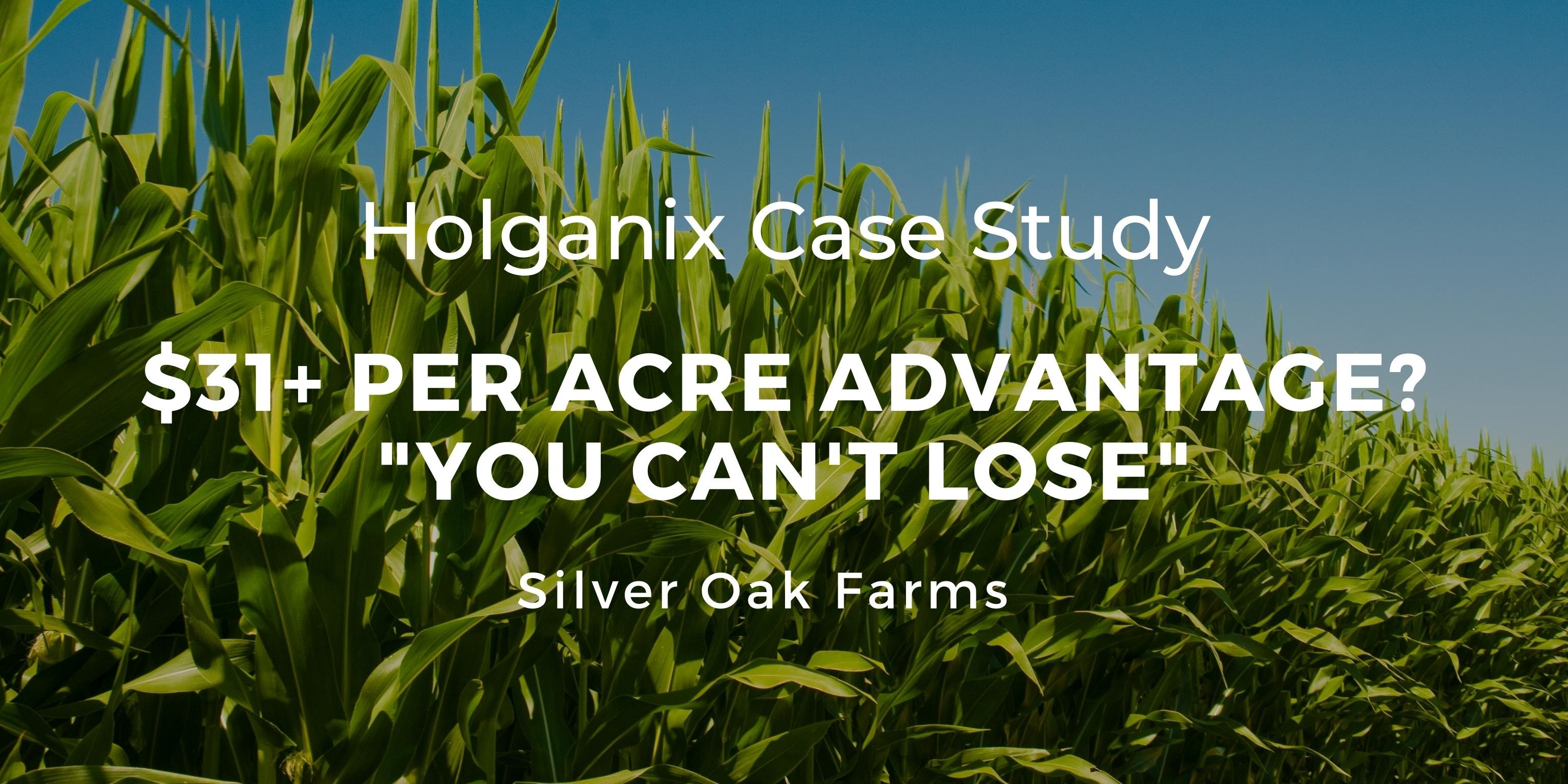 "In today's market you can't lose when you make a 2-10 times ROI on using Holganix Bio 800+," explains Taylor Barker, Operations Manager of Silver Oak Farms, located in Trenton, Tennessee. Taylor manages 7,300 acres of soft red winter wheat, soybeans, corn, and cotton. Taylor started using Holganix Bio 800+ in 2021 as a tool to increase the farm's profit per acre.
So far, he reports that he has seen a 7 bushel per acre increase in beans and corn, providing a net gain of $31 per acre on corn and a $90 per acre advantage on beans. After seeing their profits, Silver Oak Farms signed on as a Holganix farmer dealer for the 2022 season, and will be promoting and distributing the product in their local region.
During our interview with Taylor, we explored the following topics numbered below. Click the link to skip to the topic of your choosing, or continue scrolling to read the full interview:
What does your Program look like?
"Our soil is primarily silt-clay-loam, but we have some real shallow ground and some very wet soils," explains Taylor. "We soil sample every three years and apply our lime and fertilizers as needed."
Taylor applied a single application of Holganix Bio 800+ at 64 fluid ounces in 15 gallons of water, through a broadcast sprayer, after planting. "I was really drawn to the ease of application," explains Taylor.
What results have you seen with Holganix Bio 800+?
"We planted our corn on May 29th, following our double-crop bean rotation. We planted our beans on April 8th as a single crop rotation," explains Taylor. After a single application, Taylor reported seeing a 7 bushel per acre advantage in both his corn and bean fields, providing a net gain of $31 per acre on corn and a $90 per acre advantage on beans.
"This year we intend to start reducing our fertilizers inputs by 25 lbs of DAP. That reduction will allow us to pay for Holganix Bio 800+ just in the fertilizer reduction. We will also be measuring our root development."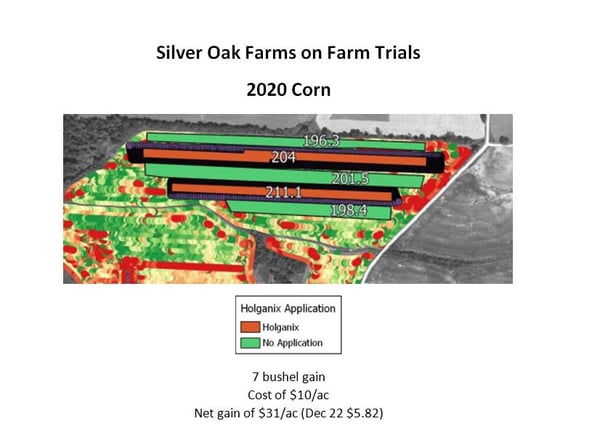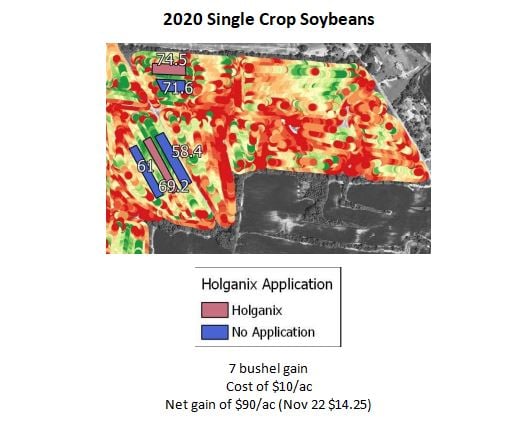 About Silver Oak Farms
For Taylor, farming runs in his blood. He started farming with his grandfather at an early age. "I just grew to love it," explains Taylor.
Later, Taylor received a degree in crop and soil science from the University of Tennessee at Martin. "After my grandfather retired, I started working for a local vineyard and became the manager and co-owner for nine years."
Today, Taylor is the Operations Manager and agronomist of Silver Oak Farms.
How does Holganix Bio 800+ work?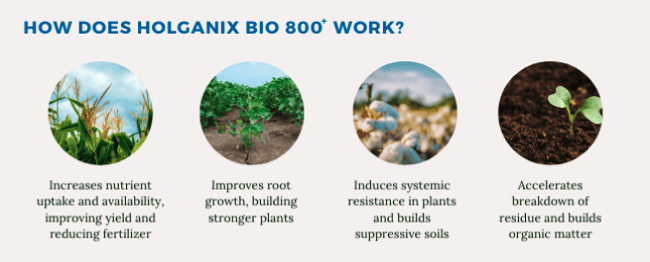 Holganix Bio 800+ harnesses the power of over 800 species of soil microbes to increase nutrient uptake and availability, improve root growth, and increase crop yield. At Holganix, we believe that by charging soils with diverse microbes, we help our farmers improve the health of their soils, investing in the legacy of their farm for future generations.
Plus, farmers using Holganix Bio 800+ see a yield improvement in just one season!
Maximize uptake of nutrients, minerals, and water

Develop soil health

Increase yield

Faster establishment

Boost roots; contributing to soil organic matter

Improve plant resilience against stress from tillage, weather, fungicide, and other stressors
Dig Into the Data: University and Commerical Grower Trials
Over the years we have compiled data on several different crops, in different geographic zones, to deepen our understanding of how Holganix Bio 800+ can help farmers maximize crops. Click on the button below to access a sample from our 2017 - 2021 collection.