By Kaitlyn Ersek on Dec 1, 2016 11:26:00 AM
When Caleb Ault and Josh Bryan, owners of UltraGreen, first heard about Holganix, they were standoffish. Holganix Lawn (A Bio 800+ product) sounded expensive and they were already incorporating some organic solutions in their lawn fertilization program; why look at other products?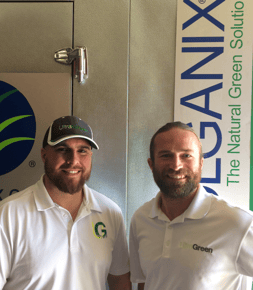 Ultimately, the thing that swayed Caleb and Josh was that the Holganix team "clearly cared about my business and took an interest in helping to grow my business," states Caleb.
Caleb and Josh started UltraGreen in 2012. "We started with a pick-up truck, a spreader and a 4-gallon backpack sprayer," explains Caleb.
Since founding UltraGreen, the two entrepreneurs quickly grew the business and it now operates in Arkansas, Tennessee, and Florida. Growing their business is important to them, and for Caleb and Josh, Holganix is a tool to help them meet that goal.
After using Holganix Lawn for nearly 1 year, Caleb and Josh report that Holganix Lawn has helped them increase their lawn care results, save money, and grow their business!
What are three of the key results Caleb and Josh report when using Holganix Lawn?
Less disease pressure: "We've seen about 50% less disease pressure than in previous years when using Holganix alongside reduced amounts of fungicides," reports Caleb. Specifically, UltraGreen clients have seen less large patch disease – a common plague in their region. How can Holganix Lawn help you reduce the need for fungicides? Holganix Lawn builds functioning soils that result in resilient turf with deeper, thicker root systems. In fact, by having more resilient plants with a better root system, these plants are better able deal with the stresses caused by disease. The result is that you can often reduce the need for certain fungicides.

Greener, healthier lawns: Caleb and Josh have heard reports that their lawns have stayed greener longer. The turf also appears thicker.

It's all about the money: According to Josh, "We've seen a 15-20% savings in material cost." UltraGreen has also experienced less callbacks because of an overall increase in turf health.
Want to learn more about UltraGreen and their Holganix experience?
Watch the interview below to hear Caleb and Josh discuss:
Results seen with Holganix Lawn

How Holganix has helped them grow their business

Marketing and sales strategies they have used to grow their business