By Kaitlyn Ersek on Jan 18, 2018 1:57:57 PM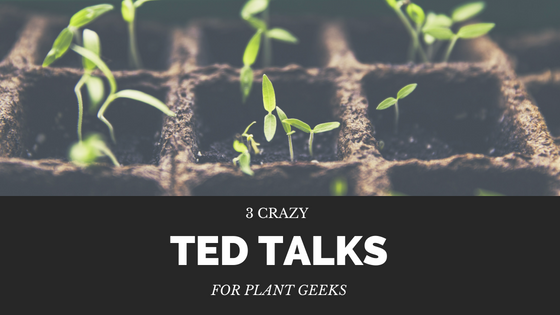 The truth is, those of us at Holganix are complete geeks when it comes to soil and plants. It's one of the reason why we love to share new TED Talks with our blog readers that demonstrate a new technology or perspective on soil and plants.
Below are three selected plant-related TED Talks that contain crazy, unique ideas that will make Holganix products almost seem ordinary.
Two notes for the reader:
1. If you are reading this blog via email, the videos will not operate. Click the link to each video to watch the TED Talk.

2. If you liked these TED Talks, consider checking out: Top 5 Soil Science TED Talks and Top 5 TED Talks for LAWNtrepreneurs.


How to grow a forest in your backyard
Eco-Entrepreneur Shubhendu Sharma demonstrates how his company grows dense, bio diverse, 100-year-old forest in just 10 years. According to Sharma, it starts with the soil. His team mixes the perfect amount of soil with local biomass, then he harnesses the power of soil microbes to produce nutrients for plants.
For a direct link to Sharma's TED Talk, click here.
Electrical experiments with plants that count and communicate
Neuroscientist Greg Gage takes equipment used to study the brain and attaches is to the Mimosa Publica (a plant whose leaves close when touched) and the Venus Flytrap. His goal? To demonstrate how plants use electrical signals to convert information, move and even count.
Watch Gage's TED Talk for his demonstration and explanation on how plants count and communicate, click here.
One seed at a time, protecting the future of food
Diversity within crops is a genetic resource that is crucial to the future of agriculture, and that diversity is crumbling. For example, in the 1800's U.S. farmers and gardeners were growing 7,100 varieties of apples and today just 300 exist.
Biologist Cary Fowler banned together with the world's scientists, organizations and governments to preserve samples of seeds in the Svalbard Global Seed Bank located in Norway. At the time of the TED Talk, their seed bank held 425,000 unique crop varieties.
Watch Fowler's video to learn more about why diversity is crucial to agriculture and how they are protecting the world's crop varieties, click here.
Want to keep digging into plant science?
Download our Digging into Soil Science ebook to explore:
1. How the soil food web supports healthy plants
2. The power behind soil microbes
3. Soil types and how to improve the health of your soil