By Kaitlyn Ersek on Aug 17, 2018 10:44:27 AM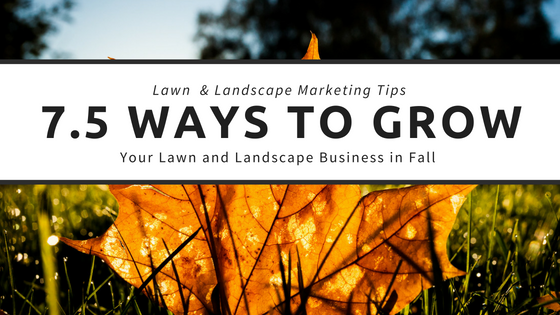 Just because the spring season has come and passed doesn't mean there aren't opportunities to grow in the fall! In fact, about 25% of your business' growth may come from the fall season. Start planning your sale and marketing initiatives now to ensure you take advantage of the fall season growth period.
Watch the webinar below to learn about the 7.5 Ways To Grow Your Lawn and Landscape Business In Fall. Or, if you prefer to read your material, skip the video and peruse the highlights from the webinar below.
Resources From The Webinar
Looking for any of the resources mentioned during the webinar, download all of your tools below.
Holganix Soil Smart Program

- Your turn-key, regional fertilizer program.
Tip #1 - Low Hanging Fruit: Targeting Your Cancel List When Lawns Are At Their Weakest
The wonderful thing about canceled customers is that they are already familiar with your company. Consider that just because a customer canceled services, doesn't mean they were an unhappy customer; many customers cancel to take advantage of a price break or discount offered by a competitor. Targeting your cancel list when lawns are at a weak point right after summer, is the perfect opportunity to bring in new sales. In fact, often if you conduct a mail campaign to canceled customers you can expect an close rate of 2.5 - 5%; if you combine a mail campaign with a call, the close rate can reach as high as 20%.
Tip #2 - Golden Streets: Targeting Your Most Profitable Prospects
Golden streets are where your most profitable customers live. By focusing on neighbors of your most profitable customers, you acquire more profitable sales. Most golden streets are selected because they have over 100 homes in a neighborhood, usually have two working adults, and homes are at least two years old.
Tip #3 - Upsell Opportunity #1: Aeration & Overseeding
Upselling current customers on aeration and overseeding is not only good for the customer's turf, but it is good for your company's wallet. Aeration and overseeding revenue can come close to or rival the revenue gained from that customer's entire year of lawn care services. Consider also that your customers already know and trust your services, so upselling them is easier than any cold call to acquire a new customer.
Tip #4 - Guerilla Marketing: Getting Creative To Make An Impact
Guerilla marketing is about being creative and cost-effective in your sales and marketing approach. An example of guerilla marketing might be throwing frisbees with your company information and an offer in a neighborhood. Watch the video for other examples of guerilla marketing.
Tip #5 - Designing a Fall Program for New Customers and DIY Homeowners
Package a fall program that you can sell to new customers and DIY homeowners that would normally conduct their own lawn care services. Specifically, target leads that you have pitched in the past but haven't yet sold. You can also look at targeting your canceled customers with a new fall program.
Tip #6 - Capturing Money Early With Late Season Prepays
Prepay invoices are often sent to customers to encourage them to pay in advance of services and are usually a big focus for Q1 in the lawn care industry. However, offering late-season prepays doesn't necessarily need to involve a discount. In fact, instead of a discount, try offering an additional service for free such as a flea and tick application.
Tip #7 - Upsell Opportunity #2: Plant Installation
One thing lawn and landscape professionals often don't think about is the fall planting opportunity. Even if you aren't installing the new landscape, your company can offer a "plant start application" of Holganix Bio 800+ product in order to ensure that the landscape doesn't just survive, but thrive.
Tip #7.5 - Upsell Opportunity #3: Tree & Shrub Maintenance Application
Offering a tree and shrub program is another way to secure additional revenue from current customers. In fact, you can expect between 10 - 20% of your current customers to sign up for a tree and shrub program.