By Kaitlyn Ersek on Feb 20, 2020 11:30:00 AM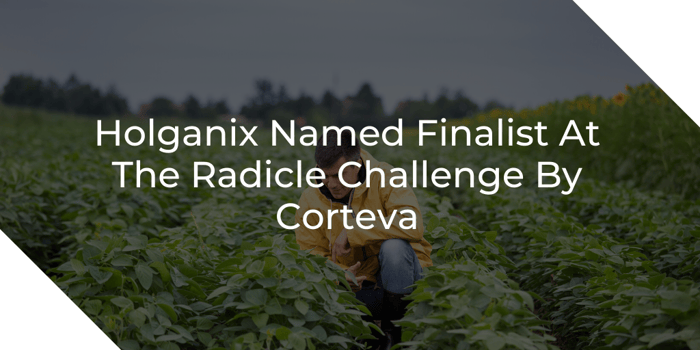 From a record number of international submissions, Holganix has been named one of five finalists for the Radicle Challenge by Corteva at the World Agri-Tech Innovation Summit.
The winner will receive a $250,000 investment and mentoring from Radicle Growth with access to its business-builder and the opportunity to engage with Corteva technology leaders to help shape, validate, and refine its technology through virtual or on-farm assessment. In addition, the winner will join the World Agri-Tech's Technology Showcase to present their solution on stage to the summit's international audience of 1,500+ potential investors and partners.
"We are so grateful and honored to be named a participant," states Holganix CEO & Founder, Barrett Ersek.
Holganix believes in preserving and nourishing the water and soil so they can be passed down to future generations. Holganix's flagship technology, Holganix Bio 800+, is powered by its patented methodology of stacking, concentrating, and stabilizing over 800 species of soil microbes. Its growers leverage Holganix Bio 800+ to drive crop yields, promote soil health, and reduce the need for water, fertilizers, and pesticides.
"At Holganix, we are on a mission to empower farmers and nourish soils to deliver improved yields and improved sustainability," explains Barrett. "We believe that Radicle Growth's background in the agriculture and food space will help us fulfill Holganix's mission and create a true and lasting impact in agriculture."
For additional information regarding The Radicle Challenge, visit: https://worldagritechusa.com/radicle-challenge-finalists/