By Kaitlyn Ersek on Aug 22, 2019 3:05:17 PM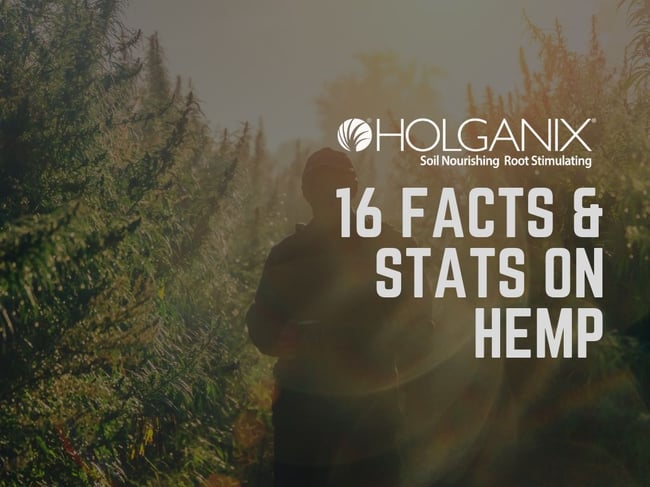 Whether you are growing row crops, berries, or turf, hemp has become a topic of interest in the green industry! Check out our SlideShare on 16 fun facts and stats on hemp, or skip the SlideShare and read the text below.
If you are reading this blog via email, click here to access the SlideShare.
Hemp as a Composite Material - Hemp fiber can be used for composite materials to make anything from building materials to a car.
Henry Ford's Plan To Grow Automobiles From Soil - In 1941, Henry Ford created a plastic car that ran on hemp and whose fenders were made of hemp. Ford had a plan to "grow automobiles from the soil."
Hemp Use In Lotus Eco Elise - In 2008, the Lotus Eco Elise used hemp in its composite body panels and spoilers. Other car manufacturers are beginning to incorporate hemp in their composites - not just because of the marketing angle, but because the composites are often cheaper than fiberglass and carbon fibers, and are often more sustainable.
Benjamin Franklin and Hemp - According to the documentary, "The Union: The Business of Getting High," U.S. Founding Father, Benjamin Franklin used hemp in his paper mill.
Ancient, Domestically-Cultivated Plant - Hemp may have been the first domestically-cultivated plant. Evidence of hemp being used as fabric dates back to former-day Mesopotamia, 8,000 years ago.
The Declaration Of Independence - According to the documentary, "The Union: The Business of Getting High," the first two copies of the Declaration of Independence were supposedly written on hemp paper.
The First U.S. Marijuana Law - According to the documentary, "The Union: The Business of Getting High," the first U.S. marijuana law was enacted in 1619 in Jamestown, Virginia and required farmers to grow hemp.
The Original Levi Jeans - The originally designed Levi jeans were made from hemp sailcloth for gold miners in California.
Hemp Paper is Stronger Than Wood-Based - Hemp paper is stronger and more durable than wood-based paper. Supposedly, hemp has the strongest natural fiber of any source. And, museum-owned hemp paper that is hundreds of years old hasn't yellowed.
Fewer Pesticides - The densely growing plant literally chokes out competing plants which means pesticides can be reduced and at times eliminated. Plus it's naturally resistant to many pests.
Less Water - Cotton requires 50% more water per season than hemp, leading to a huge upside in sustainability for the fashion industry.
Less Land - Not only does hemp grow in a variety of climates and soil types, but it's also grown close together, decreasing land use.
Possibly Remediates Soils - Using a process called phytoremediation, hemp was used at Chernobyl to extract pollutants from the soil and groundwater.
Hemp Yields A Lot Of Oil - According to the National Hemp Association, "One acre of hemp produces twice as much oil as one acre of peanuts and nearly four times as much fiber pulp (for paper) as an acre of trees."
Hemp Acres Growing - According to Michael Bowman, founding chair of the National Hemp Association, "production of hemp in 2019 will be limited by seed supply, but we could see 100,000 to 200,000 acres." In 2018, Vote Hemp U.S. Hemp Crop Report pegs the acres at 78,000.
Big Revenue Opportunity - Hemp could be a big revenue opportunity for the U.S. Currently, the U.S. imports most of its hemp seed and oil from China and Canada. In fact, in 2011, the U.S. imported $11.5 M in hemp products. Those imports could be replaced with domestically grown seed and oil in the future.
How Can Holganix Bio 800+ Help Grow Hemp?
Holganix Bio 800+ Tree & Shrub harnesses the power of over 800 species of soil microbes to deliver increased soil health, yield, root architecture, improved stress tolerance against weather and optimized nutrient use.
Take 4 minutes to learn more about how Holganix Bio 800+ Tree & Shrub can improve hemp production.
>>Read Our Blog on How Holganix Bio 800+ Tree & Shrub Helps Hemp Growers
Resources
Our list of resources from this blog!