By Kaitlyn Ersek on Apr 15, 2020 1:30:00 PM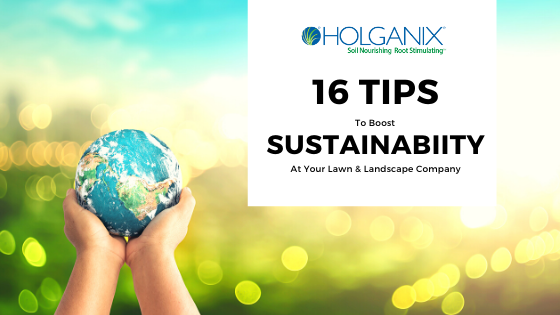 In honor of Earth Day next week, we've created a blog incorporating 16 ways to boost sustainability at your lawn and landscape company. Many of these tips were provided by lawn and landscape companies just like you! If you have any tips or tricks to share, be sure to make a note in the blog comments!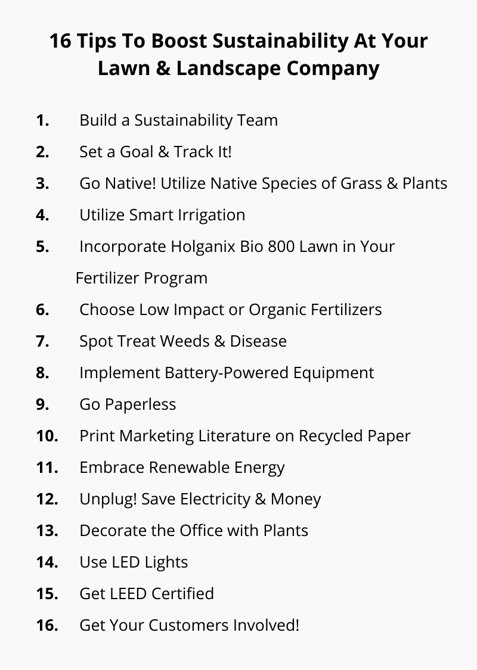 1. Build a Sustainability Team
One of the most difficult parts about deciding to improve sustainability at your lawn and landscape company is staying accountable to it! Business can get crazy, and it is easy to overlook important initiatives like sustainability because it often doesn't feel like it's pressing.
By creating a "Green Team" or "Sustainability Team", you can hold your lawn and landscape company accountable to improving the organization's environmental footprint.
The team should be responsible for selecting the action items that the organization should commit to first, creating a checklist so the team can create monthly inspections, and reporting to the entire organization's progress towards goals.
>>Check out these tips on building "Green Teams"
2. Set a Goal & Track It!
Create a sustainability pledge and make sure it is trackable. If your goal isn't trackable, it will be difficult to ensure your lawn and landscape company is moving in the right direction.
For example, at Holganix we have a Greater Green Goal to eliminate the use of nitrates, phosphates, and pesticides through the use of our products. We know that with each gallon of product used, we eliminate about 18 pounds of nitrates, 4 pounds of phosphate and 17 ounces ounce concentrated pesticides (depending on the plant type).

We also report on our progress to the entire team at our Company-Wide Meetings which are held every other month.
>> Learn more about our Greater Green Goal here
Other ideas for sustainability goals could be the number of past monthly sustainability inspections, the number of conservation techniques implemented, the reduced use of non-sustainable inputs, and more.
3. Go Native! Utilize Native Species of Grass and Plants
Sustainability begins with selecting the right plants for your clients' landscapes. By choosing native plants as opposed to alien ones, you'll be contributing to your clients' sustainable footprint, supporting local wildlife, and saving your clients' time and money.
Native plants often need less help to thrive, which means less fertilizer, water, and pesticides are needed to care for native plants. Native plants also increase the biodiversity of your local environment by supporting pollinators and local wildlife.
>>Check out this blog for a list of resources to help you choose the right native plants for your clients' landscapes.
4. Utilize Smart Irrigation
If you are offering irrigation installations, consider the following smart irrigation practices.
Encourage your clients to water less often, but for longer. This prompts the plant to build deeper root systems.
When doing new plant installations, consider offering native plants that are often less water intensive.
Install sensors in the sprinkler system to shut off irrigation if it starts raining.
Raise sprinkler heads that are blocked by shrubs or other foliage.
Install sensors that monitor leaks and water usage in real time.
5. Incorporate Holganix Bio 800+ Lawn in Your Fertilizer Program
With Holganix Bio 800+ Lawn, you reduce your fertilizers and concentrated pesticides up to 75% while providing the lush, green turf your customers expect! An organic plant probiotic, Holganix Bio 800+ Lawn charges the soil with over 800 species of microbes to build healthy soils that do a lot to care for the plant naturally.
Reduce your inputs by up to 75%
Reduce surge growth, saving you on mowing labor costs
Improve plant resilience against environmental stress
Boost root architecture
Develop soil health
>>Learn more about using Holganix Bio 800+ Lawn here
6. Choose Low Impact or Organic Fertilizers
When selecting fertilizers, consider using low impact or organic fertilizers. Examples of low impact are fertilizers that have slow-release nitrogen capabilities or fertilizers that contain soil amending ingredients like humic acid or soil microbes.
Slow-release fertilizers release nutrients slower than traditional fertilizers, that means less fertilizer runs off and is wasted in the environment, and more is going to the plant. Fertilizers that contain soil amending ingredients improve soil health which means the soil can hold onto nutrients more effectively.
>>Check out our slow-release fertilizer, Blue Sky 21-0-0. In addition to containing slow-release nitrogen sources, Blue Sky contains soil amending ingredients.
7. Spot Treat Weeds and Disease
Integrated pest management (IPM) approach encourages landscapers to spot treat weeds or disease. Some of the benefits of using IPM include but are not limited to:
Reduces environmental footprint by reducing the need for herbicides and fungicides
Maintains or increases the cost effectiveness of applying herbicides and fungicides
Reduces the exposure of herbicides and fungicides to employees
8. Implement Battery-Powered Equipment
Whether you are looking at mowers, hedge trimmers, or some other power equipment, battery-operated equipment is becoming more accessible to commercial operators. In addition to being more environmentally friendly, battery-powered equipment creates less noise (a big plus for you customers!), and is lighter to handle (a big plus for your team!).
9. Go Paperless
According to Vince Digneo, Sustainability Strategist at Adobe, corrections, revisions and updates on printed documents contribute to 90% of office waste in the U.S. In fact, a 2014 study conducted by Catalog Spree and PaperKarma report that if the US cuts its office paper use by just 10%, it would reduce greenhouse emissions by 1.45 million metric tons - that's the equivalent to taking 280,000 cars off the road for a year.
How can you reduce your paper use?
Consider asking vendors to offer e-statements invoices
Set up automatic payments to eliminate printed checks
Get comfortable with viewing and editing documents digitally
10. Print Marketing Literature on Recycled Paper
When it comes to printing brochures, flyers and business cards, opt to use recycled paper. According to a report by the University of Southern Indiana, "each ton (2,000 pounds) of recycled paper can save 17 trees, 380 gallons of oil, three cubic yards of landfill space, 4,000 kilowatts of energy, and 7,000 gallons of water. This translates to a 64% energy savings, 58% water savings and 60 pounds less air pollution!"
Whether you are printing small or large runs of marketing literature, selecting recycled paper can mean big payoffs for the environment.
11. Embrace Renewable Energy
Renewable energy like rooftop solar installations is more accessible than ever. If you are located in a deregulated electricity state, you can also opt for a green energy plan over a traditional one. Nearly every electricity supplier offers green energy plans generated from renewable energy.
12. Unplug! Save Electricity and Money
Just because you've powered down your computer or device when you leave the office, doesn't mean it isn't using electricity. If you have a device that's plugged in, it's drawing out electricity.
The Department of Energy's Lawrence Berkeley National Laboratory estimates that an appliance that constantly draws one watt of electricity can cost up to $1 per year. As an example, a desktop or laptop computer can use 15-21 watts when idle. Considering how many appliances are using in an average office, costs can quickly add up.
13. Decorate the Office with Plants!
Not only does decorating your office with plants look beautiful, but it also has a lot of economical, environmental and health benefits as well.
Here are our top three benefits for decorating an office with plants.
Improve Employee Productivity - Studies conducted by Dr. Christ Knight, a psychologist from the University of Exeter, showed that employee's productivity improved by an average of 15% in green offices.
Cleaner Breathing Air - Most offices aren't well-ventilated, causing the air to become stagnant and polluted. Plants can purify the air quality at your office.
Boost happiness - A study conducted by the New University of Technology Sydney found that office spaces with plants had a 37% reduction in tension/anxiety, 58% reduction in depression, 44% reduction in anger/hostility and a 38% reduction in fatigue.
14. Use LED Lights
LED bulbs use 75% less energy than traditional incandescent or compact fluorescent bulbs. They also last three times as long, are non-toxic and recyclable.
15. Get LEED Certified
Leed (Leadership in Energy and Environmental Design) is a rating system for green buildings. Getting your office and shop LEED certified is a great way to ensure that you are incorporating sustainable practices into your building. Some of the benefits of LEED Certification include but are not limited to:
Reduced energy and water use
Lower operating costs
Greater resale value
Improved indoor air quality
Increase employee productivity.
>>Learn more about getting your building LEED Certified
16. Get Your Customers Involved!
As your client's lawn and landscape advisor, you can encourage your clients' to get involved by improving their personal landscape sustainability practices.
Consider creating an ebook or program with tips and tricks to help clients make sustainable decisions with their landscape. Get clients engaged by encouraging them to post on social media when they are incorporating one of your sustainability tips and consider rewarding them for taking action by giving them branded gear or some other prize.