By Kaitlyn Ersek on Jul 15, 2014 11:32:00 AM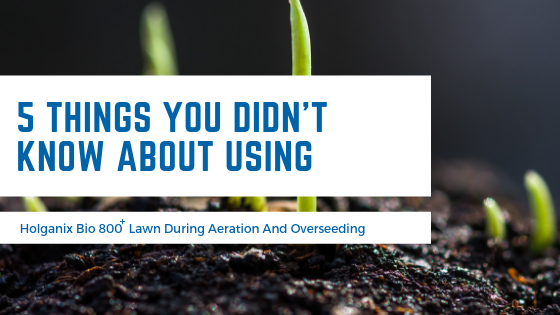 With Holganix Bio 800+ Lawn, allows lawn and landscape companies to increase seed germination results, improve soil health, and reduce the need for fertilizer. It's an organic, plant probiotic containing more than 800 species of living, beneficial soil microbes, microbe food and nutrient enhancers to promote a beautiful, green lawn.
Here are 5 facts about using Holganix Bio 800+ Lawn during aeration and overseeding

Wicked fast seed germination – Increase the likelihood of germination with nitrogen-fixing bacteria found in all Holganix Bio 800+ products. These hard working bacteria help convert nitrogen locked in the soil and air and convert it to a readily available form for your seedlings. Check out this case study on seed germination by Whitehouse Landscaping.

It's all about the roots – As always, with Holganix Bio 800+ we are always focused on rooting. Mycorrhizae as well as fulvic and humic acids help your seedlings stimulate deeper, thicker root development, helping the turf establish itself faster.

Water, water, everywhere – Natural wetting agents help seedlings make better use of available water. Why does this occur? The natural wetting agents slow moisture, spreading it evenly and deeper in the soil. This makes water available to young roots and encourages longer root growth.

Remediating top soils – Most top soils are known for their lack of nutrients and microorganisms. It's important to replace these vital organisms, ultimately giving your seedlings a better chance for survival.

Increasing seed longevity – Because of the ingredients within Holganix, the plant increases to the "tiller stage" or maturity faster. Ultimately, it allows for an increase in the plant's longevity.
Want to dig in deeper with Holganix Bio 800+ Lawn?
Click the button below to view our case studies from lawn and landscape companies using the product in the field.