By Nicole Wise on Apr 15, 2014 8:55:00 AM
The Holganix Blog:
"Be on your game this spring!"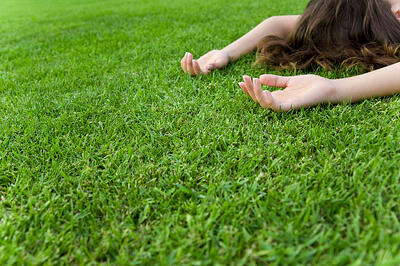 In parts of the Northeast, spring is arriving in full swing, leaving lawn care operators scrambling to start round one of applications. Further up the coast, the region still looks more like a winter wonderland than anything closely related to spring. With the poor weather and new Massachusetts legislation limiting fertilizer application timing, "the Northeast is facing a compressed spring," says Holganix Representative, Mike Reed. "Round one applications are two weeks to two months behind schedule depending on the region."
For lawn care operators, that means you are either going to have to work smart or potentially lose a whole round of fertilization on lawns. Another option is to shorten the intervals between rounds to make up the slack. However, for those that are pushing to stay on schedule, it's important to utilize products not based on round but by the time of the season. In other words, putting down broadleaf weed control (something commonly practiced in the Northeast regions during round two) may need to be applied during round one. Otherwise, Reed cautions, "By the time you get to spraying broadleaf weed control in round two, the weeds will be the size of cabbages and clearly much harder to control."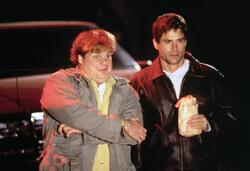 Reed represents the Northeast region, specifically New York, Connecticut, Rhode Island, Maine, Massachusetts and New Hampshire (see left for a picture of Reed... well his Doppelganger, Chris Farley and his buddy Rob Lowe (right) from the movie, Tommy Boy). Reed's a big ball of energy and can talk your socks off if you dare let him. However, Reed wasn't always a Holganix enthusiast. In fact, 4 years ago he worked at Lesco with the purpose to disprove Holganix as pure snake oil. It all started when Holganix customer (and then Lesco customer) Tom Winkler of Go Organic made the switch to Holganix in 2010. Less than a week later, another of Reed's customers was asking about Holganix. Reed's thoughts at the time? "Who are these clowns at Holganix?" Less than a month after speaking with Winkler, Reed promptly found himself a member of the Holganix Team.
Going into the spring season, Reed cautions Holganix users to get pre-emergent down in a timely fashion. "The old wives tale is that crab grass germinates when the Forsythia bloom and it's crap." However, the true germination time for crab grass occurs when soil temperatures reach 55 degrees during both day and night for three days in a row. LCOs in New Jersey, Connecticut, Massachusetts and coastal NY should start to see crab grass in mid-May, while New Hampshire, Vermont, Maine and up state New York crab grass starts early June. That means there's still plenty of time for pre-emergents to be applied.
Another big issue Reed has been seeing in the field is improper calibration by LCOs. "75% of the people I see are improperly calibrating. Sometimes that means they are putting down too much product but often it means LCOs aren't putting down nearly enough to get good results." Either way, improperly calibrating can mean big costs for lawn care companies. Those that apply too much product are breaking their budget and cutting down on profit margin. Those that aren't applying nearly enough product are going to be victims of added service calls to unhappy customers. The average cost per service call is around $50 - $125 per visit depending on the region/market and size of the company. Also, those spreading granular this spring, be weary of cheating edges of the lawn and areas along the road. While you may not want fertilizer spread onto the road thereby spending time on clean up, you'll risk the threat of cinch bugs and crab grass along those key edges. "At the end of the day, LCOs have to be on their game this spring," says Mike Reed. Watch the below video on properly calibrating your sprayer for Holganix. Click here for additional information regarding calibration, including helpful worksheets.