By Nicole Wise on May 8, 2014 10:45:00 AM
Holganix case studies
It's biology, not chemistry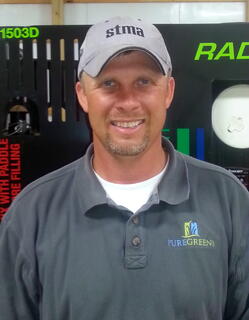 "It smells good? That wasn't reason enough for me to start using Holganix," says Martin Kaufman, the sports turf manager for Pure Green in Franklin, Tennessee. Holganix may smell like a glazed donut or a Sam Adams beer, but "it took me a while to warm up to the idea of Holganix," admits Kaufman. "I needed to understand the science behind Holganix before jumping on the bandwagon."
"Traditionally, treating turf has been all about chemistry," says Kaufman. Turf professionals have been focused on adding more nutrients – nitrogen, phosphorous and potassium; they've been ignoring the biology. "On the other hand, Holganix is all about the biology. The thing is," explains Kaufman, "chemistry doesn't happen without biology." A healthy and balanced soil food web, aided with biology, allows the chemistry (your inputs) to become more efficient. Ultimately, this means that fertilizer users can reduce their use of synthetic fertilizers.
"I started to realize that the soil biology, those organisms that make up the soil food web, is so much more efficient than I am at creating healthy turf. After all, building a healthy soil environment and increasing plant health is what they are made to do!" It was by understanding the relationship between biology and turf that made Kaufman realize that Holganix made sense for plant and turf health. "Holganix is about getting back to the basics."
As Pure Green's sports turf manager, Kaufman works with high school, college and state fields to help get the turf in shape. While a lot of these fields have their own managers, Kaufman works as their consultant to try and pin down turf problems. He also helps work on the fields when managers don't have the necessary equipment.
Kaufman grew up in a family of farmers and always had a deep passion for plant health. He studied turf management at Ohio State University, and afterwards he worked at several golf courses and sports fields including the Carolina Panthers and the Tennessee Titans (another Holganix user) before becoming the Sports Turf Manager for Pure Green.
With Holganix, Kaufman has been able to get the same results with less nitrogen fertilizer. "It goes back to the efficiencies of your inputs," says Kaufman.
"I think that products like Holganix are the future for our industry," states Kaufman. "Products like Holganix work, are a heck of a lot safer and help appease the inefficiencies of fertilizers and government regulations. It's about being more efficient and more effective and Holganix helps with that."