By Kaitlyn Ersek on Feb 17, 2015 9:55:35 AM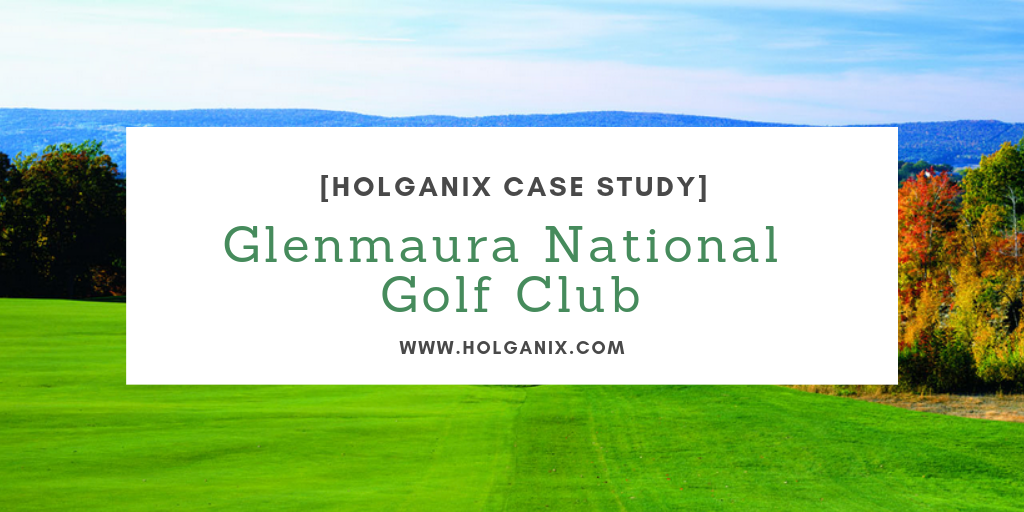 "Other superintendents have reached out and asked me about Holganix Bio 800+ Golf," says Jeffrey Koch, Superintendent of Glenmaura National Golf Club in Glenmaura, Pennsylvania. "And I'm more than happy to tell them all about my experience! I'm a firm believer in Holganix," says Koch.
Glenmaura National Golf Club is the 17th top course in Pennsylvania according to Golf Digest and a former host to nationwide PGA tour events. "The aesthetic values of the golf course are amazing," explains Koch. And with waterfalls, native fescue areas, Kentucky bluegrass roughs and creeping bentgrass tees, green and fairways, it's no wonder why Koch loves Glenmaura.
Koch practically grew up on a course. From age 12-to-22, Koch worked a small, family owned course in Pennsylvania. Throughout that period, he also attended Penn State's two-year technical program on turfgrass management. After receiving his certification, he became an assistant superintendent at a course in Maryland before eventually becoming the assistant at Glenmaura. While he didn't stay long and eventually became a superintendent at a different course, Koch returned to Glenmaura as its superintendent in 2004.
Why did Glenmaura Start Using Holganix Bio 800+ Golf?
Koch started using Holganix in the late summer of 2012. "I wanted to do something new," explains Koch when asked why he decided to try Holganix Bio 800+ Golf. "I wanted to do something that would benefit the soil and the turf."
It was Genesis Turfgrass (a Holganix distributor) that first told Koch about Holganix. According to Genesis Representative Brian Bachman, "Holganix Bio 800+ Golf allows our soils to work for us, on a microbial level, the way Mother Nature designed it to be."

Holganix Bio 800+ Golf as a Tool to Battle Harsh Summers and Reduce Irrigation
At first, Koch monitored Holganix Bio 800+ Golf closely. "We saw good results," says Koch. Over all, root development and the turf's ability to withstand summer and winter stresses have been some of Koch's favorite results.
When Koch started using Holganix Bio 800+ Golf, the first thing he noticed was increased root length. While nearby golf courses struggled to maintain 2-3 inch roots, Glenmaura's roots measured 5 to 6 inches.
"A lot of that root development stems back to the Mycorrhizae fungi contained in Holganix Bio 800+ Golf," says Holganix Director of Plant and Soil Science, Dr. Robert Neidermyer. Mycorrhizae form a symbiotic relationship with the root, ultimately aiding in root development and health.
Over all, Holganix Bio 800+ Golf has helped Koch stay abreast of seasonal stresses such as harsh summer and winter conditions. For example, this year Glenmaura had 5-to-6 inches below the normal precipitation through September "but everything was great and so was playability! We've actually reduced irrigation."
Glenmaura's reduction in irrigation is due to some awesome ingredients in Holganix Bio 800+ Golf.
For example, in addition to aiding in root development, Mycorrhizae fungi help plants better retain moisture and take up nutrients. That means plants need on average less irrigation, stay healthy longer (even in a drought) and recover from drought faster. Naturally occurring wetting agents contained within the product (such as yucca extract), also help the plant battle summer conditions.
Holganix Bio 800+ Golf as a Tool to Survive Winter and Boost Spring Recovery
Koch has also seen Holganix Bio 800+ Golf perform under poor winter conditions. "After the tough winter, a lot of our neighboring golf courses suffered from winter damage," says Koch. "But we didn't have any! I think it's because, after using Holganix Bio 800+ Golf for several years, we've created a healthy turfgrass plant."
Koch is right about creating a healthy plant, but Holganix Bio 800+ Golf also contains unique components that help remedy winter damage.
During the winter, when the turf is covered in a layer of ice for more than 150 days, the oxygen is depleted in the turf ecosystem and the soils become anaerobic.
According to Dr. Bob, "Holganix Bio 800+ Golf remediates anaerobic soils, effectively re-oyxgenating the soil profile and balancing aerobic conditions within the soil." Furthermore, during the winter, the biology in the soil slows down. Jump starting the biology within the soil after a harsh winter can help turf recover from winterkill.
"Essentially," says Dr. Bob, "Holganix Bio 800+ Golf increases the availability of nutrients, water and growth hormones to the plant."
Lastly, Holganix Bio 800+ Golf helps restore the natural biological process, which have been damaged due to cold winter temperatures. "Over all," reminds Dr. Bob, "we've seen better winter and summer tolerance for customers using Holganix for 2-to-3 years."
To date, Glenmaura has used Holganix Bio 800+ Golf as an add-on product to promote turf and soil health on the greens. "I look forward to continuing to partner and utilize Holganix," says Koch.