By Nicole Wise on Jun 25, 2013 1:25:00 PM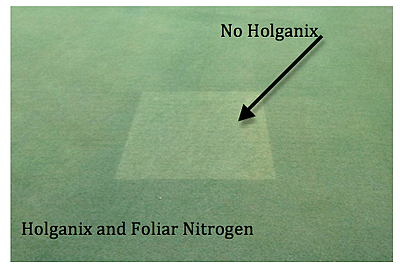 After hearing about the many great benefits Holganix had to offer his golf course, a superintendent (who has asked to be kept anonymous) decided to put Holganix to the test. His method of choice was designing a check plot test to look at turf color and moisture.
He first placed a piece of cardboard over a patch of turf and sprayed a combination of Holganix and a small amount of foliar nitrogen over the surrounding areas. He then withdrew the piece of cardboard and sprayed the square with only nitrogen fertilizer.
After 28 ounces of Holganix were applied over a five-week period in addition to a small amount of foliar nitrogen, the superintendent went back to his test to look over the results.
What were the results?
With one look, the superintendent could visibly see the difference in turf color (see figure 1).
The turf color responded better to a Holganix and foliar nitrogen combination than without Holganix. In addition, he noticed that there was neither excessive growth nor a reduction in putting quality or speed.
Even after seeing these results, the superintendent wasn't done testing the qualities of the turf. He wanted to be certain Holganix was the right choice for his golf course.
During a period of drying down the putting green for playability, on average the Holganix treated turf maintained 2% to 5% more moisture (see figure 2). These measurements were made in close proximity of the treated vs. untreated line.
To the superintendent, the answer was clearly a hole in one! Holganix helped make his turf greener than his competition and further retained moisture better than fertilizer alone.
Create your own check plot test!
Curious about the effects Holganix would have on your turf? Try experimenting with Holganix using the check plot test. Use these simple steps to set up your test.
Pick a section of turf and block off the test area with lawn flags.

Cut out a square piece of cardboard and place it on a section of the

blocked-off turf.

Spray Holganix and a small amount of nitrogen fertilizer (try 7 oz per 1,000 sq ft of Holganix and 1/4 lb nitrogen fertilizer) over the entire blocked-off area.

Remove the cardboard and spray only that square area with your usual rate of nitrogen fertilizer.

After conducting the experiment, compare the color and moisture levels. Also consider removing a small patch of turf from both the areas with the Holganix and nitrogen mix and the nitrogen alone to compare root density and size.