By Kaitlyn Ersek on Jan 25, 2018 1:00:00 PM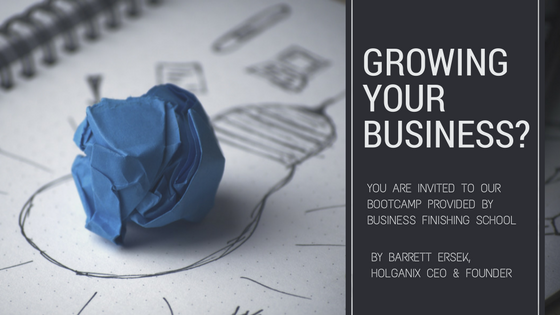 Today's blog written by Holganix CEO and Founder, Barrett Ersek.
It was April 2000 - the busiest time in the lawn care season for the Philadelphia area and I was sitting in a classroom instead of running my then $1 million dollar lawn care business. After building the business for the last 10 years, I had reached a point where I felt both stuck and frustrated with the business. In my eyes, I had reached a plateau in our growth potential due to the high cost per sale needed to acquire a customer. I knew that to solve the problem, I needed to learn to work on my business as opposed to working in the business. That is why I decided to attend a program called Birthing of Giants which is a three-day retreat for 40 entrepreneurs to build their business acumen.
Birthing of Giants not only led to the inspiration behind my solution for our high cost per sale - using satellite software to measure properties, a practice not done by our industry at the time - but it also allowed me to build the business practices and mindset I needed to build my second lawn care company - HappyLawn - to reach $11 million dollars in 5 years.
At the end of the day, owning and running a business - even when successful - can be a painful endeavor. It often takes stepping outside of your business and attending a program like Birthing of Giants, to gain the perspective needed to leverage your business for your next leap of growth.
That is why we have teamed up with Business Finishing School (BFS) - one of the world's leading business-growth, education companies, to provide a Birthing of Giants-like experience for our Holganix Community. On February 23, BFS is hosting a 3-day bootcamp in Dallas, Texas for entrepreneurs on how to grow their businesses.
And, because I believe in this program and the power it can provide to Holganix Community lawn care company owners, I'm helping any Holganix user cover the cost of the event. In fact, Holganix will be covering $200 of your ticket price, using the code "Holganix" at registration.
Why attend the BFS Bootcamp?
There are many reasons why you should attend the BFS Bootcamp, here are my top three reasons.
1. Learn to work on your business as opposed to working in your business. Develop the business acumen needed to take your business to the next level.
2. Hear from several world-class speakers including myself - Barrett Ersek.
3. Network with other entrepreneurs including other Holganix community lawn care company owners.


Register to save your spot
I only have 30 spots set aside for Holganix lawn care company owners and we are inviting Holganix blog readers first, register to save your spot. Remember, I'm helping any Holganix user cover the cost of the event. Just use the promo code "Holganix" when registering to receive $200 off your ticket cost.