By Kaitlyn Ersek on Dec 15, 2022 10:15:00 AM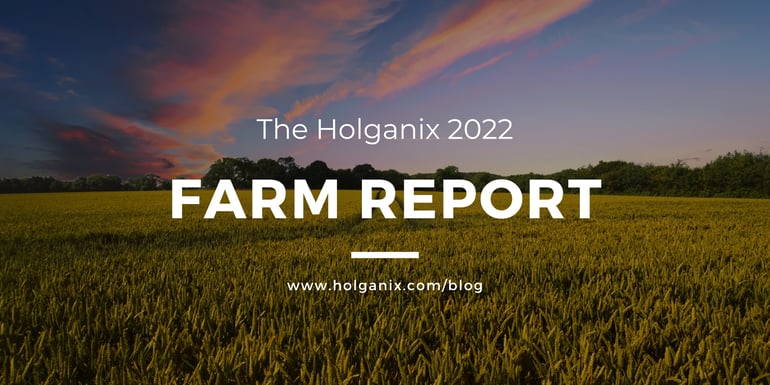 From our family to yours, thank you for all the support this season! Because of you, we get to live our mission to preserve and nourish the soil and water, to be passed down for future generations.
This report is how we grade the value we've created for our farm families. Check out our report infographic below!
2022 Highlights
Farmer Dealers earned an estimated $1.2M in earnings or savings in 2022. This highlight is based on the average margin made across all farmer dealers in our network. This includes earnings they made from sales, as well as savings they earned from purchasing the product wholesale and using it on their own land.





Farmers are earning an estimated 2-10x ROI off the cost of the product by improving fertilizer efficiency, yield, soil health, and ultimately, their profit per acre. This is based on historical averages across geographies, crop types, and soil types.






Farmers reduced their fertilizer use by an estimated 10-30% this year while using Holganix Bio 800+ Agriculture.





Field Observations
Early reports from the field are promising. In general, farmer dealers report that farmers are seeing improved root architecture, including more nodules, larger, more extensive roots, and more root hairs. The increase in root hairs provides an increase in nutrient efficiency. Further, farmers are reducing their fertilizer requirements by 10-30%.
Additional details will be released as yield data and other information is provided to the Holganix science team.
In the meantime, watch the 14-minute video below, featuring a brief discussion on results by Holganix President of Agriculture, Dave Stark, Ph.D., and be sure to download a copy of our updated Product Performance Book for additional testimonials and pictures from the field.
Download the Holganix Product Performance Book
Do Holganix Bio 800+ products really work? Don't ask us, ask our growers! Download the Product Performance Book for a look at our curated pictures and data from commercial growers.
We will be adding to our book again in January, in order to keep it up to date with information from the field.