By Kaitlyn Ersek on Jul 28, 2021 1:15:00 PM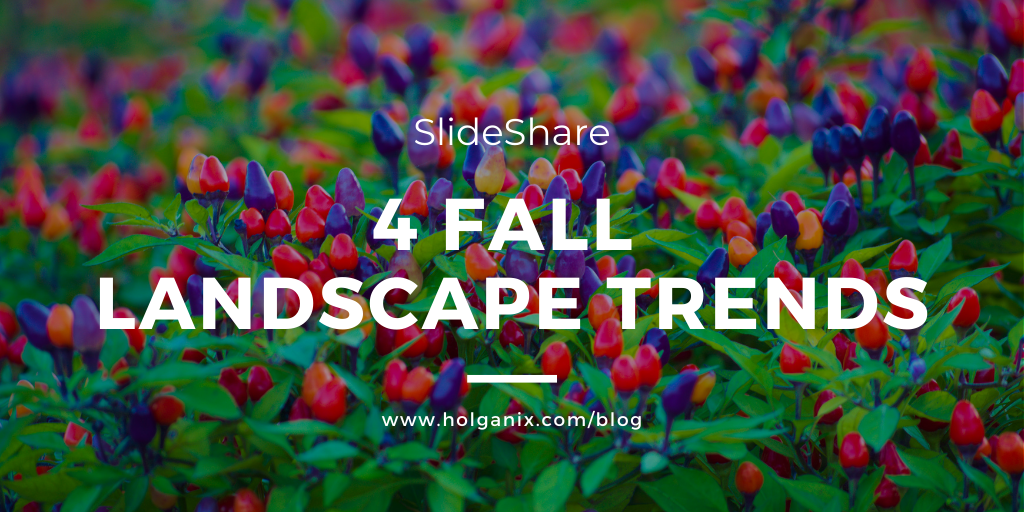 Fall welcomes endless opportunities for landscapers to help homeowners bejewel their landscapes for cozy fall bonfires, outdoor family gatherings and general outdoor relaxation.
Here are 4 landscape trends for professional landscapers, gardeners, and full services lawn care operators this fall.
Click the SlideShare to flip through the facts or skip the SlideShare and just read our facts below. If you are reading this blog via email, click here to access the SlideShare.
1. The Lines Between Indoor and Outdoor Blur
If anything has taught homeowners the value of a well-maintained landscape, it is the Covid-19 pandemic. Homeowners are increasingly investing in their landscapes. "Gardens have become more like an extended room of the house – blurring the boundaries between indoor and outdoor living spaces," explains Total Landscape Care. Covid has "prompted people to begin using their garden and landscape as a fifth room".
Whether that means carving out a section of the landscape for lounging, building a children's play area away from the house, or designing a spot for remote work outdoors, there are numerous ways landscapers can help homeowners rethink their outdoor space.
2. Leaving Lawn Care to the Pros
"4 out of every 10 Americans hire lawn care or landscape professionals," states the National Association of Landscape Professionals. That data was published in 2016 and 2017. While recent data has not been unveiled yet, anecdotal data suggests homeowners are hiring pros to tackle their lawn care needs while tackling more rewarding DIY projects themselves. DIY projects might include a vegetable garden or container garden space.
Ryan Farley, co-founder and chief operating officer of LawnStarter says "I certainly can't speak to the entire industry, but the majority of our customers have not hired a professional lawn service before," Farley says. "One clear trend we see firsthand is millennials moving into their first home and having to learn about home maintenance for the first time.
"Since this is a generation that grew up with groceries, rides, dating and more only a click away, it's natural that they'd want to outsource yard work as well," Farley said.
3.
Blending in Edible Plants
Whether you are planting mums, ornamental peppers, pansies, or any other variety of your typical fall flower, consider also offering beautiful, yet edible plants like kales, cabbages, rosemary, sage and thyme. Just because the growing season is shorter in the fall, does not mean homeowners cannot take advantage of some edible crops mixed in with fall flower classics.
4. Creating a Space for DIY
"COVID-19 has had a gigantic impact on the gardening industry," says Dave Whitinger, executive director of the National Gardening Association. While the world shut down, homeowners put their energy into creating vegetable gardens, composting and container gardens.
While many homeowners will still leave the heavy lifting to the pros, consider leaving space for homeowners to get their hands dirty. Landscapers can also help homeowners with their DIY goals by creating content to guide them in how to properly set up and care for veggie gardens, advise them on crops, and herbs to consider for fall or late-spring planting, instruct them on how to winterize the garden beds for a successful spring start, or offer services like organic fertilization for their gardens.