By Kaitlyn Ersek on May 8, 2019 11:31:20 AM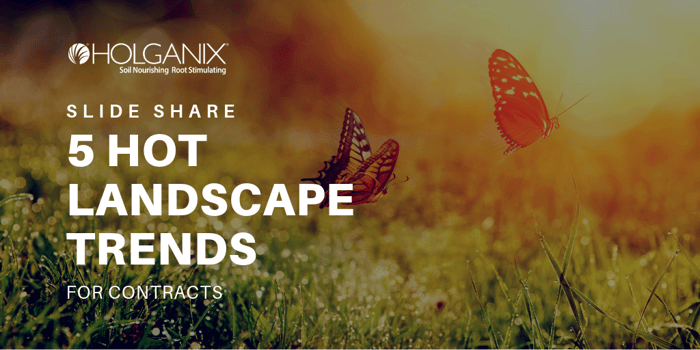 Over 1,000 lawn and landscape companies use our products in the USA. That means we get to hear from all different types and sizes of lawn and landscape companies. Here are the 5 hot landscape trends that lawn and landscape contractors should pay attention to and how to incorporate those trends into your services.
Check out the SlideShare for the 5 hot landscape trends, or skip the SlideShare and read the article below. If you are reading this blog via email, click here to view the SlideShare.
1. Younger Customers Demanding Organic or Sustainable
According to Garden Research's 2018 National Garden survey, 29% of all gardening households are between the ages of 18 and 34. These younger homeowners are less concerned about a green, weed-free lawn, and more concerned over having an organic or sustainable landscape for their pets and children.
And the trend is only going to increase in popularity as more and more millennials purchase homes and start families.
>>Watch our webinar on how to market to the growing green movement
2. Baby Boomers Downsize But Gardening Remains Important
Baby boomers may be downsizing from the homes they raised their families in but, "they are still likely to remain, homeowners, particularly seeking properties that allow them to age in place," explains Jennifer Mapes-Chris, manager of the consumer and commercial products team at The Freedonia Group in an interview with MarketResearch.com. And, Baby Boomers remain gardening enthusiasts. In fact, the American Association of Retired Persons reports that nearly 109 million Americans are now 50 years old and older - and 52% of them garden.
Catering to Baby Boomers which may opt for lower maintenance landscapes or smaller landscapes as they age, has become increasingly important for landscapers looking to serve this segment.
>>Learn more about how to capture the Baby Boomer market with this Garden Center Magazine article
3. Pollinator Gardens Continue To Trend Higher
This year, the National Pollinator Garden Network surpassed its goal of one million registered pollinator gardens. Thanks to news about pollinator populations declining and an increase in younger, more sustainably oriented consumers, pollinator gardens have become an increasingly popular trend.
>>Learn about the plants to include in your pollinator gardens here
4. Native Plants Provide Environmental and Economic Benefits
Consumers understand the environmental and economic benefits of using native plants. According to a 2016 survey by the National Association of Landscape Professionals, 85% of landscape respondents say they are being asked to specify if they are using native plants. By choosing native plants as opposed to alien ones, you'll be contributing to your clients' sustainable footprint, supporting local wildlife and saving your clients' time and money.
>>Learn more about the benefits of native plants on our blog here
5. Technology Helps Landscapers Increase Efficiencies
In the 2018 Lawn and Landscape Report, 56% of landscapers report that finding quality labor was their biggest concern. That's one reason why landscapers are increasingly looking to technology to help them make production more efficient. Everything from aerial photography to apps that identify insects and disease, to estimating and measuring a site. And, while there are still doubts as to the efficacy of robotic mowers and robotic snow removal machines, as the technology improves, these tools will become increasingly important to landscapers.