By Kaitlyn Ersek on Mar 15, 2018 1:03:00 PM
Organic isn't a fad - in fact, according to the Organic Trade Association (OTA), 82% of U.S. households buy organic with millennials representing the largest group of organic buyers in America. That may not seem like a large number to you, but consider that today 25% of millennials have families and that in 10-to-15 years, that number is expected to increase to 80%.
Can you consider how these new families will affect the consumer market - whether it's groceries, cleaning products, or lawn care, buying organic matters to the millennial consumer?
You can read the rest of our blog to learn more, or watch the webinar recording below for the story. If you are reading this blog via email, click here to access the webinar recording.
Today's Disruptive Economy
Regardless of the industry, today's economies are being disrupted. Consider how Tesla is disrupting the traditional auto industry. Ten years ago, few took Tesla as a car manufacturing company seriously. Compare the views of Tesla from ten years ago to today and you get a whole different story. In fact, Tesla's market valuation exceeded century-old titan, General Motors in 2017 by $ 1 million Dollars. Earlier this year, reports stated that the Tesla Model S outsold the luxury flagships of Mercedes-Benz, BMW, and Audi in Europe for the first time.
In the green industry, robots are starting to be disruptive and have the potential to displace labor. Last year, the manufacturers of Roomba announced a solar-powered, weed-eating machine dubbed the "Tertill" for presale on Kickstarter. While the first or second model of the Tertill may not function 100%, in a few years it's our firm belief that devices like the Tertill will be commonplace.
It's important to pay attention to innovation in and outside of our industry in order to outcompete the competition.
The "Whole Foods" Customer
An additional innovation is happening in our industry when it comes to the technologies we have to create a beautiful, green, weed-free lawn. Biologicals like Holganix Bio 800+ products (Holganix Lawn, Tree & Shrub, Bloom, Agriculture, and Golf) are creating disruption by offering a better way to reach results using fewer chemicals. That innovation is disruptive because there is a need to not only be more sustainable for the environment but because the customer is demanding it.
That customer could be called the Millennial but for this presentation, we are widening that demographic to include anyone who would potentially shop at a "Whole Foods"-type of grocery store. These consumers are demanding that today's businesses use sustainable products.
According to a report by Statista, the organic product industry in the U.S. is worth 26.7 billion dollars. This translates to us in lawn care as well. The millennials are going to be our consumers and if we take a look at the trends of this group of people it is going more and more organic. 82% of U.S. households are buying organic items already and 30% of those purchasing organic do so to avoid fertilizers and pesticides. Don't you think that diversion from fertilizers and pesticides can translate to their lawn care services as well?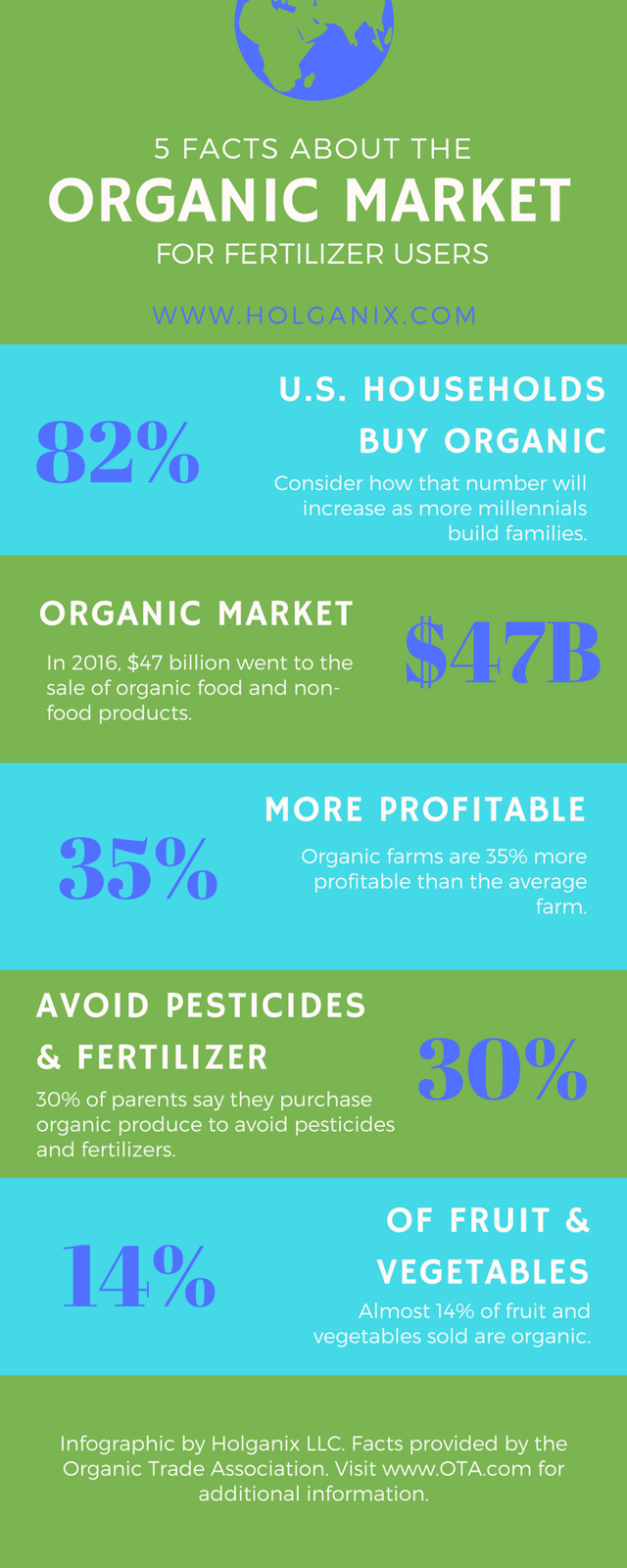 Get Credit For What You Do
One way to combat the disruptive economy is through your company's "why." A customer is more likely to use your product if you have a "remarkable message" on why you do what you do. If you are using Holganix products, it's important to tell your customers and prospects that you are doing something different and get credit for the steps you are taking to meet customer demand and do good for their plants, family, and the environment.
Let's look at a few examples that are currently using the "Holganix message" of using environmentally friendly lawn care products to build a green, weed-free lawn.
UltraGreen Lawn Care
UltraGreen Lawn Care allows the "Holganix message" to do their marketing for them! In any marketing or sales piece they create, UltraGreen, ensures they include an organic, environmental message to sell their product. Because they took advantage of the Holganix message, UltraGreen grew from 0 to 7,000 customers in just four years and saw a 15-to-20% savings on material costs!
Pure Green
According to PureGreen Lawn Care owner, Nathan Brandon, "over the last ten years, I have really noticed that more and more of my customers are requesting organic services." He latched onto this trend and changed his messaging to focus on communicating how PureGreen is responsible for the environment and how its customers play an important role in that mission.
According to Rob McCoy, Holganix sales manager, "This is giving people a purpose beyond what their lawn care choice is, and this message has really helped sell the product!"
Tomlinson Bomberger: Lawn Care Landscape & Pest Control
When Tomlinson Bomberger decided to start using Holganix products they designed the "Soil Smart Lawn Care Program". Each time they get a new customer or lead they offered the customer the ability to either choose the "Traditional" lawn care program or the "Soil Smart" lawn care program. The Soil Smart program was roughly 20% more expensive than their standard program but incorporated Holganix products and thereby offered a more environmentally friendly solution. According to Tomlinson Bomberger, the Soil Smart lawn care program is their fastest-growing program yet!
What is Holganix?
At Holganix we want to revolutionize the way the world grows by focusing on biology as the solution to soil and plant health. We have noticed that lawn care needs a good foundation in the soil and roots to really focus on plant health and to produce a happy customer. That is why our line of products uses living biology to nurture soils and ultimately create a stronger and healthier-looking lawn!
Want to learn more? Click the button below to schedule an appointment with your Holganix representative.