By Kaitlyn Ersek on Jun 9, 2022 10:00:00 AM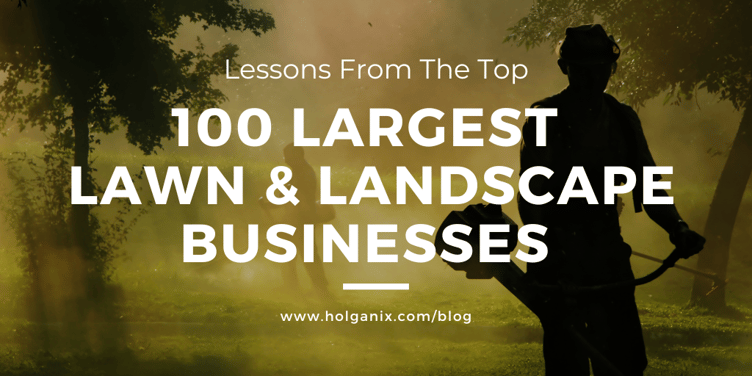 Congratulations to this year's "Top 100 Lawn and Landscape Companies " chosen by Lawn and Landscape Magazine, in their annual review. And a special congratulations to those top 100 companies that use Holganix products. 😉
Despite two years of a global pandemic, wage inflation, supply chain issues, increasing regulations, inflation, and numerous other hurdles, the industry continues to grow. This year's cohort of companies represented over $13.3B in combined revenues and over 122K employees. We also saw eight new members on the list.
Looking over comments from companies that were on the list, coupled with Landscape Management Network's State of the Industry Report, we can't help but note that employees continue to be one of the biggest challenges (and opportunities!) facing lawn and landscape companies.
According to the report, "92% of companies wish they could find better ways to hire experienced and reliable staff... 87% feel a strong need to offer more training and mentorship programs to their crews, and an additional 84% of respondents wish they could provide better incentives, including benefits and pensions, to support employee retention."
One successful company that has been able to provide better incentives is Stay Green, the 64th largest lawn and landscape company in the U.S. According to Chris Angelo, CEO of Stay Green, "since 2020, we've seen a 20% increase in wages at the labor level. We're now seeing this year wage inflationary pressure on salary management staff that is in that range as well — anywhere between 20-40%."
In the article, Across the Industry, Lawn and Landscape Magazine offers two key pieces of advice from some of the top largest lawn and landscape companies to others in the industry, including advice on employees. Keep reading to keep learning.
1. Employee ownership
SiteWorks (55th largest lawn and landscape company) added employee ownership opportunities to reward employees. In fact, in 2021, Siteworks became 100% employee-owned.
According to CEO Chris Malham, the decision to enter into an employee stock ownership plan (or ESOP) came after SiteWorks was approached to sell the business. "We had two major offers and we weren't even for sale," Malham says. But Malham and Co-Founder Rob Spoor didn't want to sell. Instead, they looked into establishing an ESOP.
"We ended up starting the process for an ESOP in January of last year, and they said it could take upwards of a year…we did it in seven-and-a-half months," Malham notes.
2. Encourage open-book management with employees
After reading the book The Great Game of Business by Jack Stack and Bo Burlingham, Larry Ryan, CEO of Ryan Lawn & Tree (the 38th largest lawn and landscape company), became inspired to encourage open-book management with employees to encourage employees to better engage with the company culture, work harder, and communicate more effectively. "It's a game-changer because it starts teaching business to our people," Ryan says. "It was suddenly like we had 100, 200 junior accountants working."
One of the reasons Ryan started using open-book management is that he was trying to explain some difficult financial decisions but found he couldn't get the right messaging across.
"We were struggling with financial issues and getting everyone on the same page," Ryan says. "I couldn't understand why they couldn't understand what we were talking about. Well, we weren't talking the language."
"People like hitting goals and they like getting rewarded for hitting goals," Ryan advises. "It makes them feel like they own the company, even if it's not employee-owned."
Looking to Grow Your Lawn Care Company?
Access Holganix Marketing Support!
At Holganix, one of our core values is sustainable growth. This includes the growth of roots, minds, and businesses - YOUR business. In honor of that core value, we created Holganix University, an area of our website devoted to helping you grow. We provide powerful marketing and educational materials for lawn and landscape companies using Holganix products.
Click the button below to access our marketing support tools.