By Kaitlyn Ersek on Jan 5, 2023 9:45:00 AM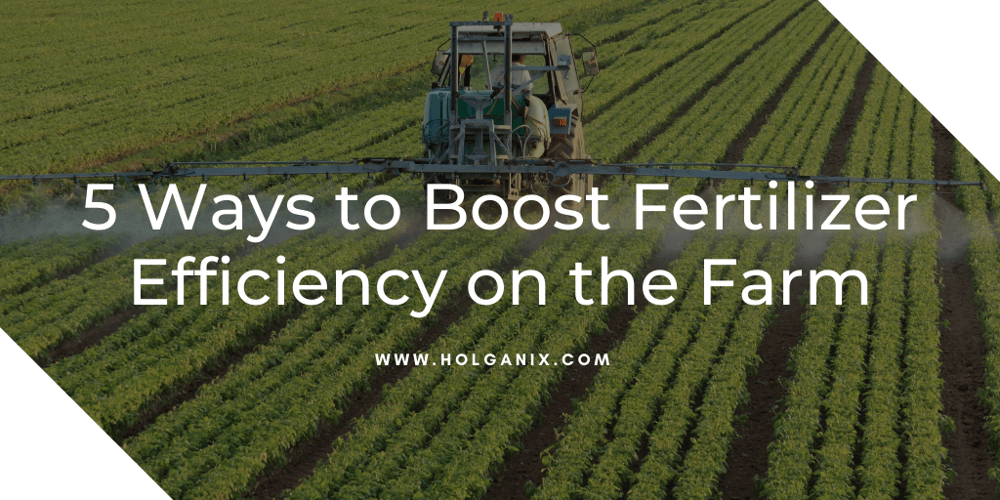 Approximately 50% of the fertilizer that is applied to cropland is used by the plant. The remaining 50% is locked in the soil and either leeches into our waterways or is volatilized in the atmosphere. The loss of fertilizer means growers consistently lose money on their fertilizer investment. Plus, as fertilizer leeches into waterways, it can have consequences on the environment.
In this blog, we analyze 5 Ways to Boost Fertilizer Efficiency on the Farm, ultimately giving the farmer the ability to either reduce their fertilizer use or get more out of the fertilizer they apply.
Applying a Microbial Inoculant Containing Plant Growth-Promoting Bacteria
Microbial inoculants are soil amendments containing microbial species. Most contain just a handful of species, while others like Holganix Bio 800+ Agriculture contain a large diversity of soil microbe species.
Choosing to use a microbial that contains plant growth-promoting bacteria/fungi or nutrient solubilizing bacteria/fungi could provide either an increase in crop yield or provide a boost in nutrient efficiency. Either way, microbial inoculants give growers the ability to reduce their nutrient use.
With Holganix Bio 800+Agriculture, growers do not have to choose; plant growth promoters and nutrient solubilizers are in the product. In fact, the microbes in Bio 800+ consume fertilizer and keep it in the root zone, all while cycling nutrients back to the plant so more nutrients go to the crop instead of being lost in the environment.
Holganix Bio 800+ has consistently shown a 2-10x ROI on grower's products through increased crop yields. In addition, some growers have seen that they can back off fertilizer rates and not sacrifice yield when using Bio 800+. When it comes to the turf and ornamental industry, Holganix Bio 800+ has consistently allowed turf managers to reduce their fertilizer use by 50% without sacrificing results.
Conducting Soil Tests
Soil testing allows growers to identify how much nutrition is already available in the soil so fertilizer applications can be optimized. Growers and their agronomists can use soil test reports to develop a nutrient management program for a specific field and crop. Growers can then select the right fertilizer analysis for specific fields with the confidence of knowing what that soil needs to be productive.
Growers should consider conducting multiple tests across acres as nutrient levels change from field-to-field. Multi-year soil tests are also recommended as nutrient levels change over time.
Monitoring Soil pH
Soil pH is the measure of soil's acidity or alkalinity. It affects soil health, crop yields, microbial activity, and nutrient availability. Management practices like applying the appropriate amount of nitrogen, liming, and agricultural practices that improve soil health can aid in correcting soil's pH level. A pH is neutral at 7, whereas values above 7 are considered alkaline and those below are considered acidic. In general, pH values between 6 and 7.5 are optimum for crop and forage production and nutrient uptake.
You can measure the pH of your soil using a pH pocket meter. To learn more about soil pH, check out this resource by the NRCS.
Leveraging Precision Fertilizer Technology
By understanding which fields are the most productive, growers can match their fertilizer applications to yield performance. In some cases, when costs like fertilizer, labor, pesticides, and seed, among other costs, are calculated, some fields may not even be profitable to farm.
Technologies for precision fertilizer use include global navigation satellite systems, crop yield monitors, variable rate technologies like sprayers and spreaders, and software like decision support systems.
Focusing on Soil Health Management
One of the best and most profitable ways to maximize your nutrient use is to focus on soil health. Rich, functional soil can better store nutrients and water while also protecting crops from disease and stress. Ultimately that means healthy soils require less fertilizer to reach a certain level of performance.
Practices like utilizing soil amendments, no-or-low till, cover crops, crop rotation, erosion control, and more can promote soil health. For additional information, check out this blog on 21 methods to measure and increase soil health.
What's The Dirt On Soil Science?
Digging into Soil Science 101: Beginners Guide to Understanding the Soil Food Web eBook
We know soils are important and we know why we should be grateful for healthy soils. But, how do soils work? And, what does healthy soil look like? Dig deeper into soil science by downloading our FREE eBook by Holganix Director of Soil and Plant Science, Dr. Robert Neidermyer.
Download our eBook to explore:
How the soil food web supports healthy crops

The power behind soil microbes and what they do to build resilient crops

Soil types and how to improve the health of your soil