By Nicole Wise on Jun 18, 2013 12:05:00 PM
When Gerry White, owner and CEO of Grassmaster Plus, received a phone call from a particularly difficult client, he braced himself for complaints. However, instead of a complaint, White was excited to hear that the customer's lawn looked great! Furthermore, the grass cutters/maintenance company had noticed a comparatively small amount of grass clippings than usual. After hearing the good news, White explained that the reason for the customer's great-looking lawn and reduced clippings was from a new organic product White had incorporated into his program called Holganix Lawn (a Bio 800+ product).
White was new to Holganix Lawn, but he wasn't new to organics. In fact, he had tried integrating organic and environmentally friendly solutions throughout his career in the golf industry and later in lawn care. When he started Grassmaster Plus in 2010, White had been on the hunt for an organic product that would fit his company. Last summer, White was introduced to Holganix and was quick to grasp the import role that Holganix Lawn would play on soil and plant health.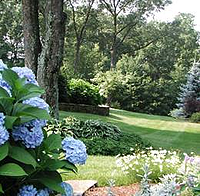 Utilizing fewer chemicals in a fertilizer program with Holganix Lawn
Holganix Lawn is a 100% organic plant probiotic that promotes strong plant health while using fewer chemicals. To White, that means he's giving customers the great results they expect while reducing Grassmaster's environmental footprint.
Over the last year, White has successfully brought his nitrogen fertilizer down from 1 pound to ¼ pound per 1,000 square feet per round. According to White, "The color and health of the grass look great with my Holganix program! It looks like a pound of nitrogen was used when in reality we only put down a quarter." Further, he reports that during the summer drought, Holganix Lawn treated turf held up better than those not treated with Holganix Lawn.
In addition to reducing the need for fertilizers, White was able to reduce his use of herbicides by about 50%.
How can Holganix Lawn help reduce herbicides? Holganix Bio 800+ products build functioning soils that result in resilient turf with deeper, thicker root systems. In fact, by having more resilient plants with a better root system, these plants are able to compete with weeds. The result is that you can often reduce your control of broadleaf and grassy weeds by up to 75%.
The future of Grassmasters
Not only is White pleased with the performance of Holganix Lawn on the turf, but so are his customers. "Word is traveling fast and people are talking about the results they are seeing with [Grassmasters Plus]," states White.
Going organic has helped White differentiate Grassmaster Plus from the competition and people are starting to notice. According to White, "Everything points to Holganix being the future and direction I want to go in with Grassmasters."