By Kaitlyn Ersek on Sep 28, 2023 9:30:00 AM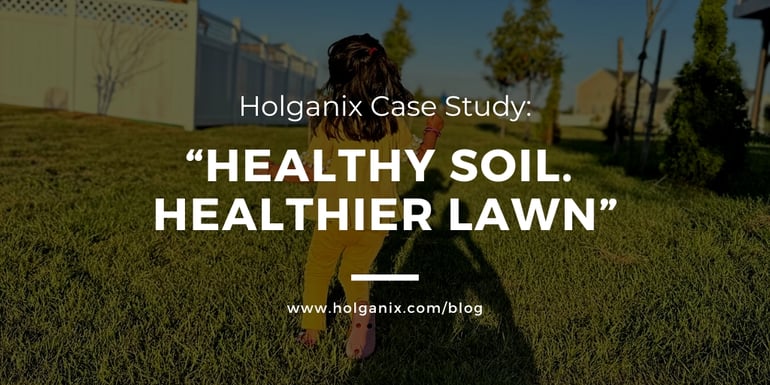 During the scorching summer months, maintaining that green coloring you desire can be tough. Often, a beautiful, lush, green lawn turns into a crispy brown carpet from the summer weather. If it were spring or fall, you would not hesitate to sprinkle down a little nitrogen, hoping to wake up that lawn up. But, in the summer, high doses of nitrogen fertilizer can lead to burning, making the situation even worse.
"Hence, I use HGX Pro Bio 800+ Turf to protect my lawn from the heat stress, and keep it looking green and thick throughout the summer," says a customer located in Middletown, Delaware. "I have been using Holganix products for a couple of years now and have seen such remarkable results."
Why Did you Decide to use hGX Pro Bio 800+ Turf?
"Unfortunately, my yard was a total nightmare when I first moved into our new home in 2019. The soil around the brand-new structure was in such poor condition, with overgrown weeds. I wanted to build a healthy, green lawn for my children to play on. One of my biggest worries, as a father of two children who likes to play outside, was utilizing only organic products for my lawn and landscaping. I discovered Holganix while researching organic products online. I needed a chemical-free product that would not only improve the health of my soil, but also be safe for my children. HGX Pro Bio 800+ Turf is the product I was looking for."
What results have you seen with using HGX Pro Bio 800+?
"HGX Pro Bio 800+ Turf has completely transformed my game. Before I moved in I had dirt, and now I have healthy soil. My lawn is proof of this. You easily differentiate my lawn from my neighbors because it has Holganix on it. I applied HGX Pro Bio 800+ Turf at a rate of 14 oz per 1,000 square feet for the initial treatment, because I wanted to increase soil health. Now, I apply roughly four lawn applications each year, at a rate of 7 oz per 1,000 square feet, using a hose-end sprayer. Whatever product I have left over, I simply store it in my refrigerator."
"A picture is worth a thousand words", as the adage goes. Check out the pictures below to see the difference that HGX Pro Bio 800+ Turf makes.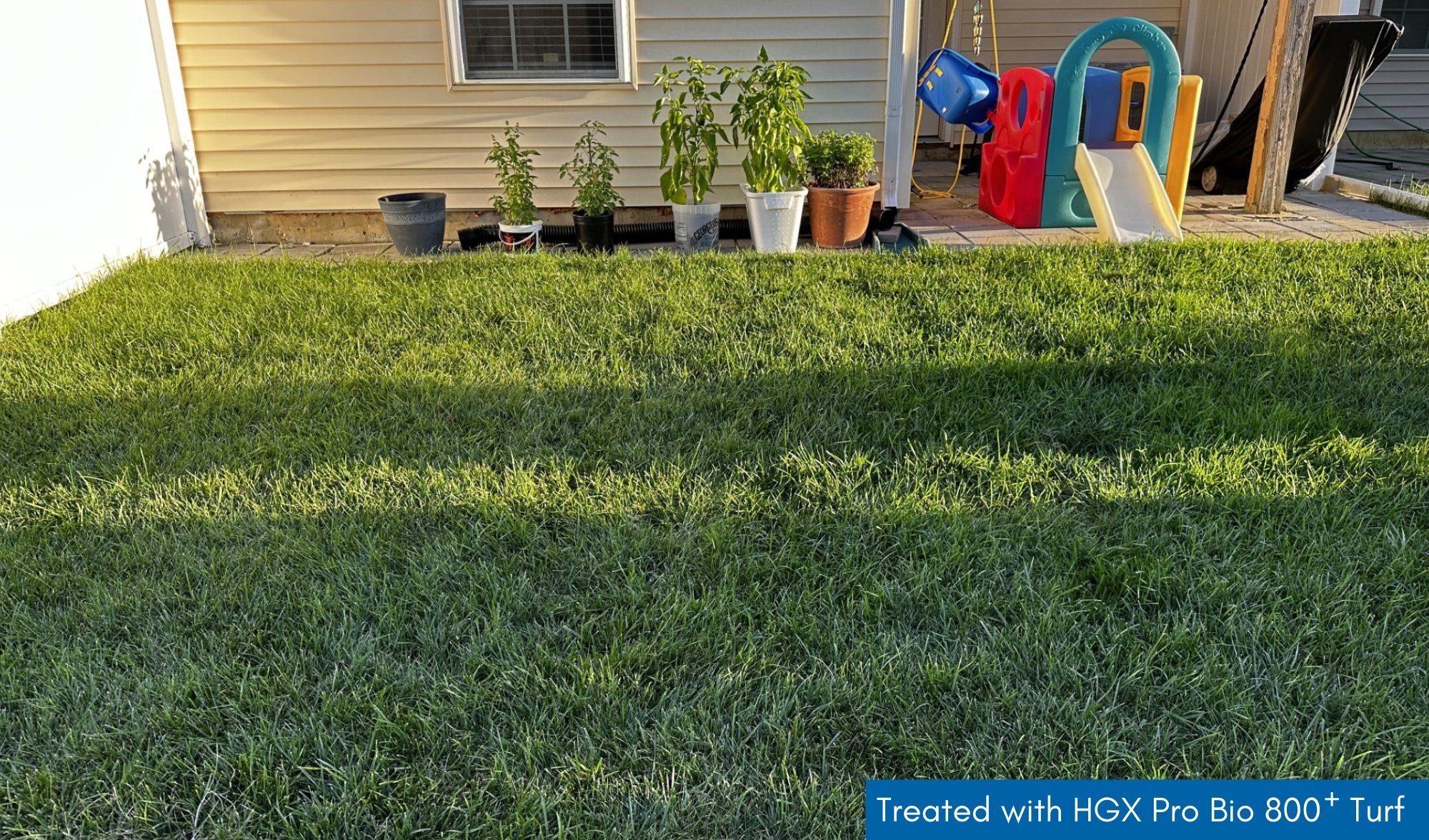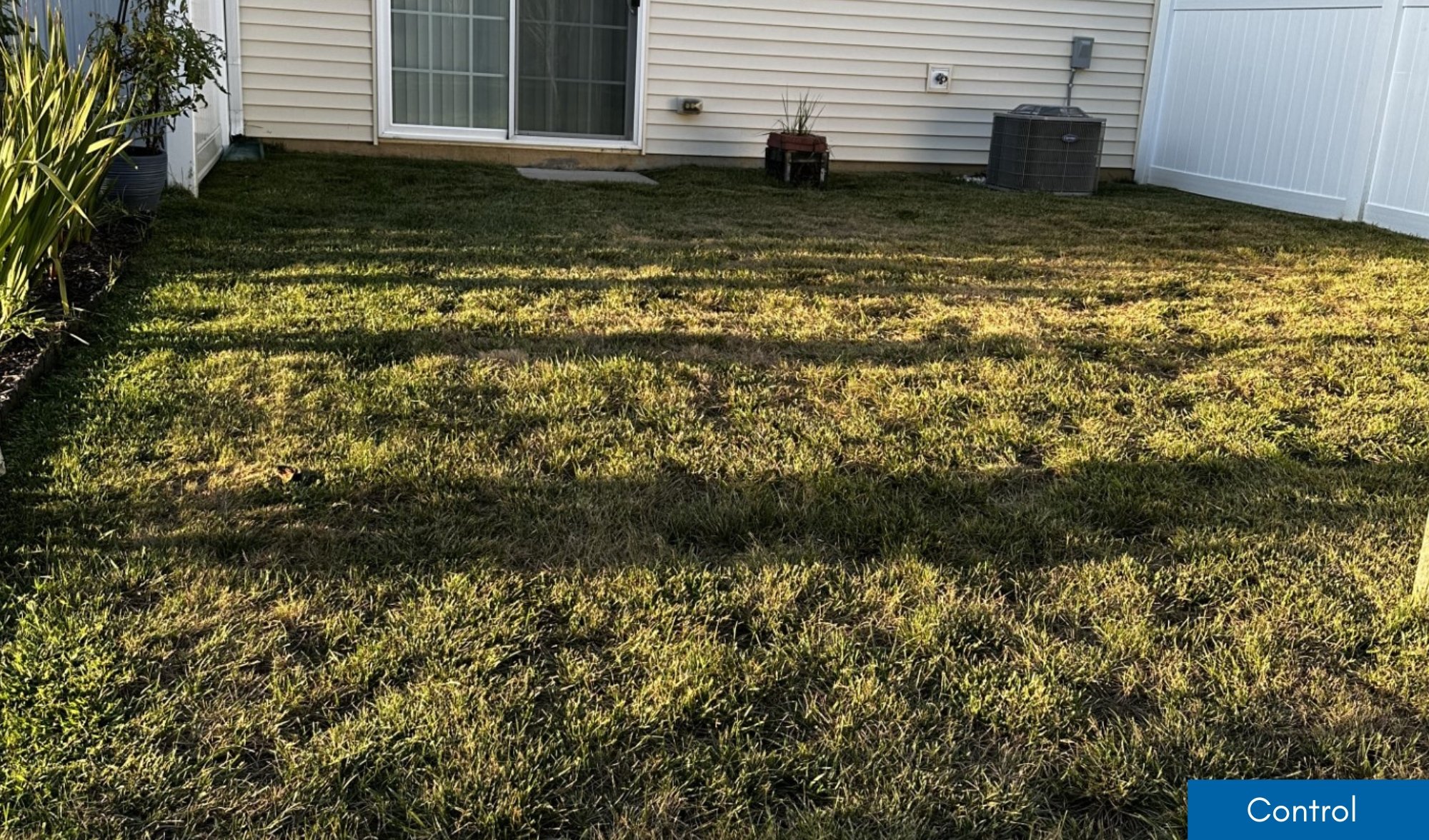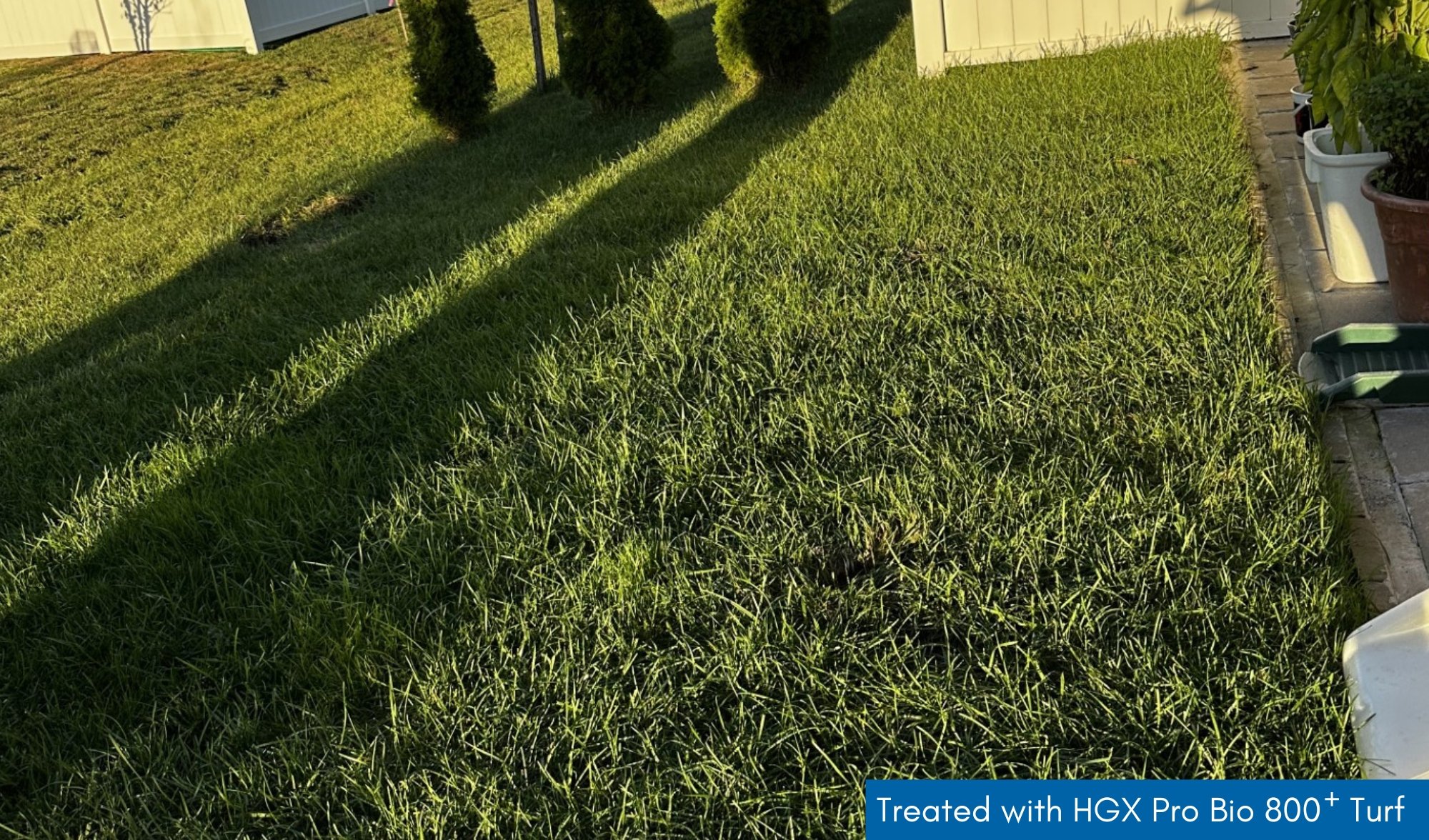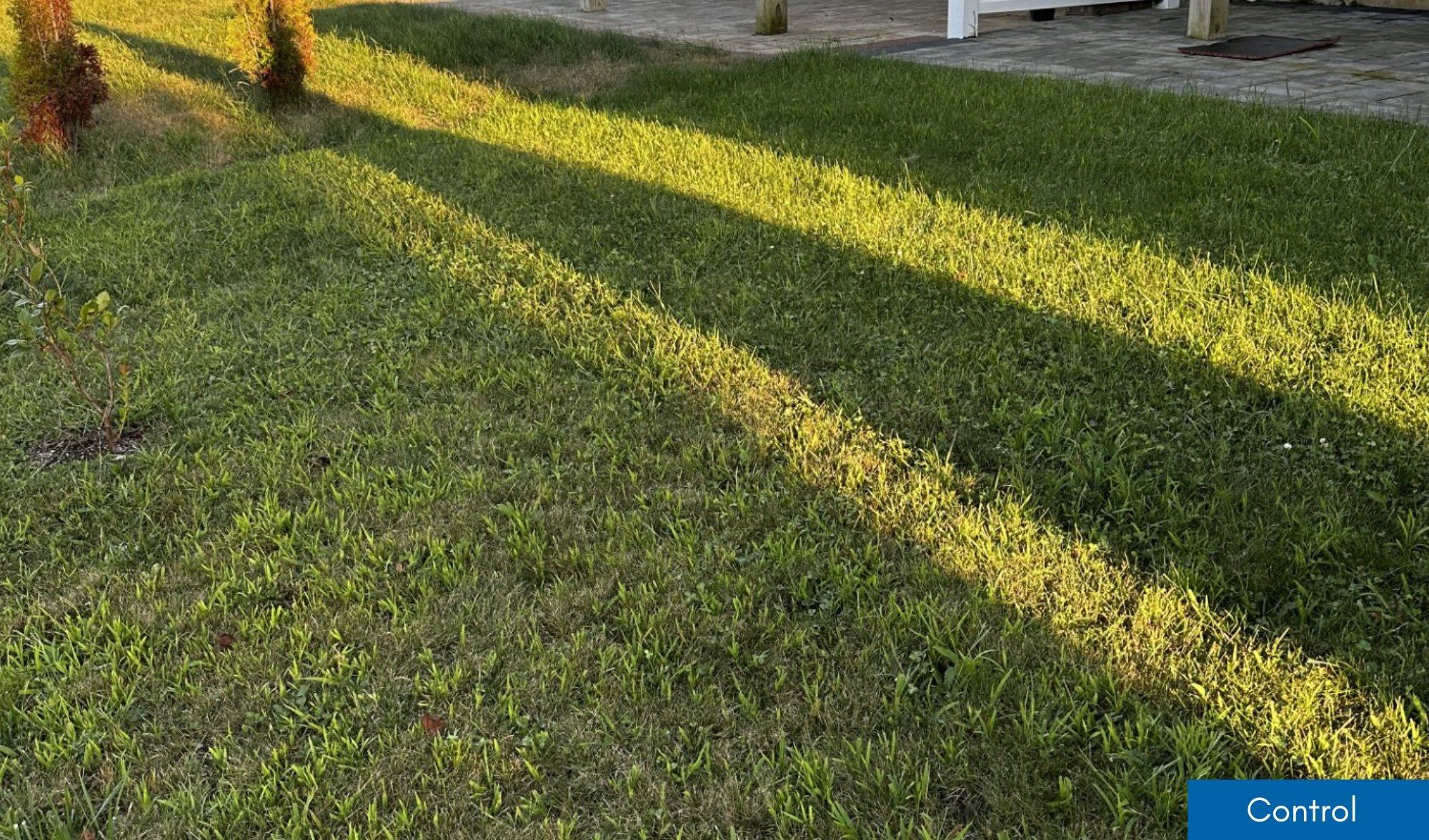 How Does HGX Pro Bio 800+ Turf work?
Unlike other plant probiotics, Bio 800+ products contain an entire microbiome, or a community, of organisms that are both abundant and diverse. There are more than 800 species of active microbes, microbe food, and nutrient enhancers in a single jug of any Bio 800+ product.
What are the benefits?
Reduce your fertilizer and pesticide inputs by up to 75%

Reduce surge growth, saving you on mowing labor costs

Improve plant resilience against environmental stress

Boost root architecture

Develops soil health
How Do You Use HGX Pro Bio 800+ Turf and Where Can You Buy It?
We recommend applying HGX Pro Bio 800+ Turf when the soil temperature is over 42 degrees to promote healthy lawns. In the spray tank, do not mix Bio 800+ Turf with fungicides. Fungicides should be applied separately. Bio 800+ products can be stored at room temperature, and away from direct sunlight, for up to two weeks without deterioration. For long-term storage, the product should be refrigerated.
For any first-time applications, we recommend using a hyper-inoculation rate to jump-start initial biological activity. The hyper-inoculation rate (14 oz of the product per 1 gallon of water per 1,000 sq ft) is double the maintenance rate (7 oz of the product per 1 gallon of water per 1,000 sq ft). For more information on using HGX Pro Bio 800+ Turf, see the chart below.

Homeowners can purchase the HGX Pro Bio 800+ Turf, also known as Holganix Bio 800+ Lawn, online through our website.
How can you learn more about using hGX Pro products?
From fertilizer maintenance to landscape installations, we have a library of products that nurture green, lush landscapes. Holganix products are crafted with soil health in mind. That means our products provide both the short-term results you are looking for, like a green, weed-free lawn, and also give you the long-term benefit of building healthy soils that do a lot to care for the plant naturally.
Plus, many of our products drive results while reducing the need for fertilizer and pesticides. Reductions in inputs are not only good for the environment, but they are good for your piggy bank as well!
Use our products together in a recommended fertilizer program, or work with one of our specialists to build a program that's just right for your business.
Check out our case studies to dig in deeper!