By Kaitlyn Ersek on Mar 21, 2014 8:11:00 AM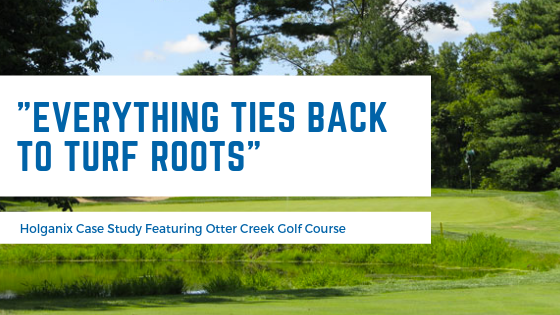 "For the root growth alone," states Cory Troyer, superintendent of the renowned Indiana golf course, Otter Creek. "Holganix Bio 800+ Golf is worth every penny."
Why is this superintendent so adamant about his experience with Holganix Golf? It turns out that for Troyer, it's all about the roots. "When you have a healthy root system, you have healthy turf. Everything ties back to the roots."
Troyer, who typically sees his bentgrass reach 1.5 inches in length and his poa reach 0.5 inch, has reported seeing 4-inch roots consistently all year.
Because of the healthy roots, Troyer believes that Holganix Golf has helped him achieve better stress management.
Otter Creek Golf Course has been named one of the top 5 public golf courses in the state of Indiana every year since it was built in 1964. "Otter Creek has a great reputation and a fantastic layout," says Troyer. Troyer has been with Otter Creek since graduating college. He was named Otter Creek's superintendent in 2003 and has been enjoying himself every since. "Keeping Otter Creek beautiful is an ongoing and welcoming challenge. It never gets boring."
Holganix Golf wasn't the first organic product Troyer has tried at Otter Creek. In fact, Troyer claims that he's tried biological products similar to Holganix Golf. "I'm always willing to try something new," states Troyer.
His philosophy of constant innovation has led Troyer to reap the benefits of Holganix Golf, ultimately increasing the quality of his course. "Holganix Golf has been a great addition to my turf management program!" says Troyer.
Want to learn more? Watch Troyer's Video Below
For more information regarding Otter Creek Golf Course's experiences with Holganix Golf, check out the 3-minute below video testimonial featuring Superintendent Corey Troyer.