By Kaitlyn Ersek on Dec 1, 2022 10:15:00 AM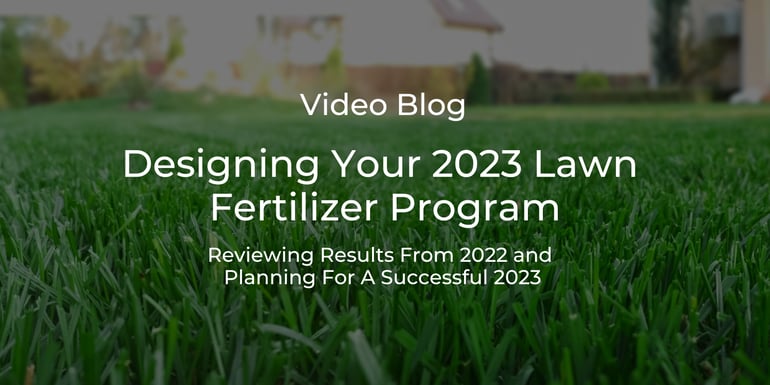 It's officially the end of 2022, have you done a thorough review of your lawn fertilizer program from this year? And have you sat down with your agronomic advisors to discuss what tactics and tools need to be tweaked in order to make your 2023 lawn fertilizer program even better?
In this blog, we strategize how to build your 2023 lawn fertilizer program. Start reading the blog or click on the bookmarked links below to skip to the tip you need most!
Reviewing your 2022 agronomic results – questions to ask yourself to analyze your 2022 results.

Seasonal Pressures
Below, is a video that contains even more in-depth information than what is provided in the blog. If you are reading this blog via email, click here to access the video.
Reviewing Your 2022 Agronomic Results

- Questions to Ask Yourself to Analyze Your 2022 Results
As you analyze your 2022 agronomic program, there are a few questions to ask yourself to gauge what worked and what didn't. And, when something didn't work, to judge the cause of the problem.
Did you have an agronomic or a production/training-related challenge?
As you look at the best and worst results from the previous years, distinguish if those results were route-specific or application specific. If they were route-specific, that may point to a training problem over an agronomic problem but could also mean that the homes on that route have poor soil (this is especially true for new subdivisions).

Did a weather event affect results?

Did a specific product hurt, or help results?

Did you conduct soil tests? If so, what do those tests say about the soil and your current program?

Consider that bad results can even be a result of a previous application.
Pull a cancel report from your sales CRM. Was there a specific route or time of year when cancels were higher than usual? This may point to an agronomic or training problem.
For additional information on how to analyze your previous years' results, watch the video from 3:00 – 25:00.
Fertilizer
When looking at nutrients, plan out your total target for nutrient levels. This includes nitrogen, phosphorus, potassium, and micronutrients. Liquid fertilizers will allow you to tune up or tune down the pounds of nutrients you are applying to suit weather events, while granular fertilizer is less flexible.
Regardless of the pounds of a particular nutrient, make sure you are also considering your nutrient sources. For example, nitrogen isn't just nitrogen. Depending on the source of nitrogen you are applying, you can expect a different agronomic result. Urea nitrogen is quick releasing and gives you a quick green-up. In contrast, slow-release nitrogen like Methylated Urea or Triazone, will give you a slow, mid, and quick release, ultimately extending the green results for a longer period.
For additional information on fertilizer, watch the video from 25:00 – 34:00.
Weed Control
When it comes to controlling weeds, project the timing of that weed control by weeks or months, not by application round. This is because soil temperatures may drastically change from the start of an application round to the end of a round, and as a result, you may need to tailor your weed control applications to provide the best agronomic result. With current technology, liquid weed controls will always work better than granular controls.
For additional information on weed control, watch the video from 34:00 – 41:00.
Soil Components
Soil pH levels and Cation Exchange Capacity are two soil components to consider when you are building a program.
Soil pH measures the acidity or alkalinity of the soil on a scale from 0 to 14. It's an important chemical property because it affects the availability of nutrients to the plant and the activity of soil microbes.
There are practices contractors can accidentally do – such as adding too much fertilizer – that can affect the pH – ultimately, creating a downward spiral that makes the soil less efficient and requires more and more fertilizer to correct. When soil pH indicates too much acidity, then you need to add lime and when soil pH is too alkaline, then you need to add sulfur. Soil microbes will also help bring your pH level into balance.
Cation Exchange Capacity (CEC) is the ability of the soil to hold or store nutrients for the plant. The higher the CEC, the greater the soil's ability to store and feed the plant. To increase CEC, adding a product with high microbial populations will stimulate the digestion of organic matter, increasing humus levels, and thereby increasing CEC levels. To measure the CEC levels in your soils, look at using more advanced soil tests.
For additional information on soil components, watch the video from 41:00 – 46:00.
Seasonal Pressures
When building a fertilizer program, seasonal pressure is one that takes lawn care companies by surprise each year. But there are three things we can consider to be proactive.
Disease – When you face disease, don't just consider what type of disease you are facing

also

, consider what caused that disease. Was it

caused by the weather

? An over-application of nitrogen? Or

something

else

entirely

?

We

want

to ensure we are treating the cause and the symptom of the disease.

Weeds – Which weed control are you using and when? Remember soil temperatures play a big role in weed germination.

Drought – Have an alternate drought plan in place so when the weather begins to look drought-lik

e

,

you and your team

are

already prepared.
For additional information on seasonal pressures, watch the video from 46:00 – 49:00.
Application
There are three things we can consider when it comes to conducting applications:
Liquid vs

.

granular – Depending on the time of the year and the weather, you may want to use granular over liquid. But also consider that liquid fertilizers and weed controls provide greater flexibility to respond to weather events.

What equipment are you using – For example, pulling a hose may provide a straighter line than using a spray

machine

but is more labor intensive and it

i

s possible that results may drop off later in the day as

technicians

tire.
What is your spray volume – Products like weed control and biological inputs like

HGX PRO

Bio 800

+

will often work better when applied at a higher spray volume.
For additional information on applications, watch the video from 49:00 – 52:00.
Budget
Before you build your program, understand what your budget needs to be. And, when looking at the budget, consider two methods of measurement:
What does your cost per 1,000 square feet need to be?

Your cost of goods (COGS) should be about 20-25% of your revenues. If you are

a

brand-new

company, you may have a higher COG

S

.
Aside from inputs and labor includes another cost to consider is the cost-of-service calls. Often, it's cheaper for lawn care companies to pay for superior products and superior training than to pay for service calls later in the season.
For additional information on budgeting, watch the video from 52:00 – 58:00.
Schedule Time with Your Holganix Expert
Looking to sit down with your Holganix representative and build a program that works for your company and region? Be sure to schedule a 30-minute call with your Holganix representative using the link below. We'll work together to build a fertilizer program that suits your company's needs.
Select the link below based on your geography to schedule a time to chat.