By Kaitlyn Ersek on Sep 3, 2020 8:02:00 AM
Located in Sapulpa, Oklahoma, Daniel Lawn Care provides lawn and flower care services that focus on providing superior agronomic results while using minimal chemicals. Shortly after transitioning his company from a part-to-full-time occupation, owner Kent Daniel began using Holganix products.
"At the time, I was trying to find a living, organic product and Holganix fit the bill," explains Kent. Kent uses a combination of HGX PRO Bio 800+ Turf and Healthy Grow Infused with Holganix Granular blends to service his lawn and flower care customers. Over the past seven years of use, Kent reports he's seen better nutrient efficiency on lawns, and healthier flowers that are better able to recover for weather-related stressors.
In this case study, we'll be exploring the following topics as it relates to Daniel Lawn Care. Click the link to skip to the topic of your choosing! Or, continue scrolling to read the full story.
Which Products Do You Use?
"We use a combination of HGX PRO Bio 800+ Turf and Healthy Grow Infused with HGX PRO Granular10-3-2 on our flowers. When it comes to lawns, we use Healthy Grow Infused with Holganix blends."
Service Type

Products Used

Rate

Frequency

Flowers

Bio 800+ & Healthy Grow Infused with Holganix 10-3-2

1 cup of Bio 800+ per gallon of water

Bio 800+ Turf is applied every other week until mid-July, and then it is applied with each watering (every other day).




Healthy Grow Infused with Holganix is blended into the planting material.

Lawn Care

Healthy Grow Infused with Holganix blends
What Results Have You Seen with Holganix Products on Flowers?
"I love knowing that if there is a sharp change in the weather, I can rely on the Bio 800+ to act as a buffer and help strengthen and protect the plants," explains Kent Daniels. In addition to increasing plant strength in the face of an environmental stressor like weather, he also reports seeing "huge root growth", and an overall incredibly full-plant despite reductions in watering needs.
Kent began managing his local town's flower stations about three years ago. "I care for 43 stations of flowers, 20 of which are hanging baskets," says Kent. "I take pride in being able to walk down the streets and knowing that all of these flowers help make the town beautiful."
According to Kent, he uses Holganix Bio 800+ religiously, going out about every other week until mid-July. "By mid-July, I start applying Holganix Bio 800+ each time I water the plants, which is about every other day," explains Kent.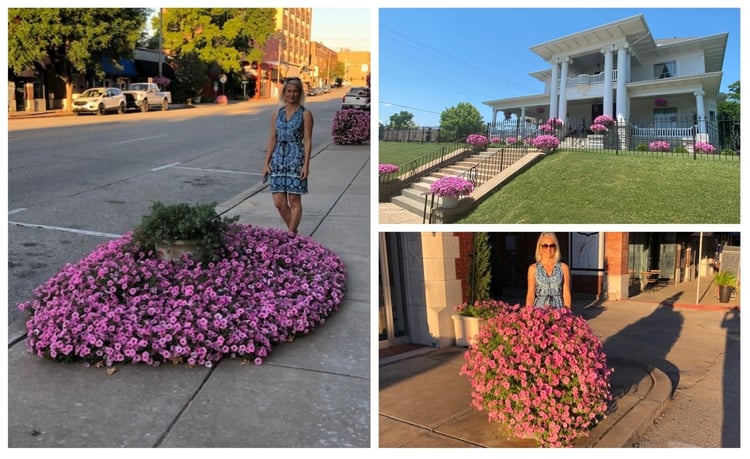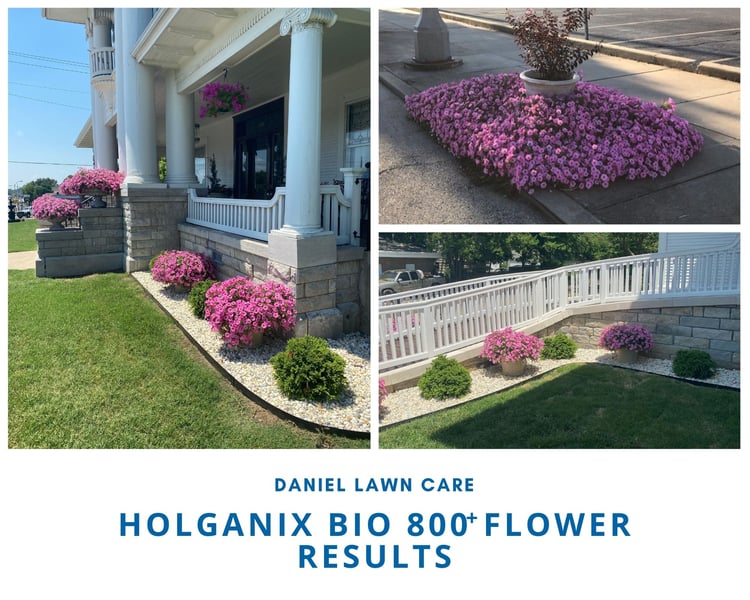 What is Your Background?
"When I was little, my mom was passionate about gardening and composting. I always grew up around that and really attribute her passion for why I'm in the green industry today," says Kent. Kent has been providing lawn care services to the Oklahoma market since high school. Seven years ago, he decided to make his business a full-time occupation, and Daniel Lawn Care was born.
"At Daniel Lawn Care, my goal is to nurture a beautiful lawn, using minimal chemicals," explains Kent. "I believe that the green industry needs to work towards reducing our chemical footprint. While as an industry, we still have a way to go before seeing that vision, with new technology like Holganix, we are starting to make progress towards a greener green industry."
How can you learn more about using Holganix products?
From fertilizer maintenance to landscape installations, we have a library of products that nurture green, lush landscapes. Holganix products are crafted with soil health in mind, which means our products provide both the short-term result you are looking for - like a green, weed-free lawn - but also give you the long-term benefit of building healthy soils that do a lot to care for the plant naturally.
Plus, many of our products drive results while reducing the need for fertilizer and pesticides. Not only do reductions in inputs do good for the environment, but they do good for you as a competitive marketing tool!
Use our products together in a recommended fertilizer program or work with one of our specialists to build a program that's just right for your business.
Check out our case studies to dig in deeper! Or, give us a call to speak with a Holganix representative!