By Kaitlyn Ersek on Sep 1, 2021 10:15:00 AM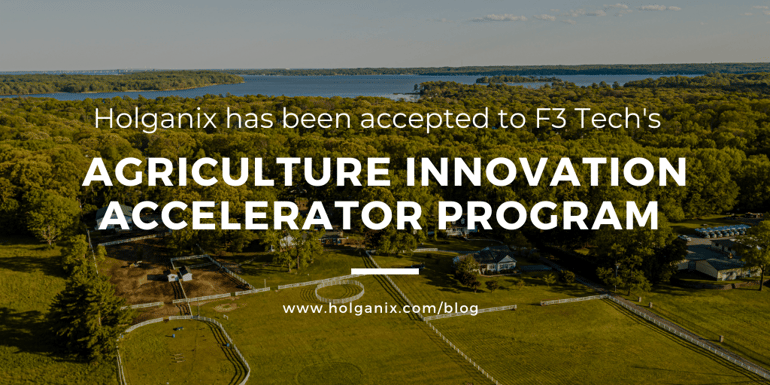 Holganix has been named one of five companies to be accepted into F3 Tech's Agriculture Innovation Accelerator Program.
Aston, PA. August 26, 2021
Holganix LLC, the manufacturer of microbial product, Bio 800+, has been accepted to F3 Tech, an agriculture innovation accelerator program for early-stage companies. This program is supported by the nonprofit Eastern Shore Entrepreneurship Center and the U.S. Economic Development Administration.
F3 Tech selected five companies for their accelerator program's 2021 cohort. Accepted companies gain access to up to $450,000 in funding and professional services. The goal of the accelerator program is to provide the companies with funding to expedite commercialization, provide executive support to prepare each company for potential investment, and create connections to related potential industry clients, investors and customers.
"We are so grateful to be part of F3's 2021 cohort," states Barrett Ersek, CEO and Founder of Holganix LLC. "We are looking forward to F3's mentorship in supporting Holganix for potential investment and guidance as we launch in new markets, targeting new crops."
The most diverse microbial product on the market, Holganix Bio 800+, harnesses the power of soil microbes to improve crop yield, increase soil health and reduce the need for fertilizer and pesticide inputs.
Holganix will be leveraging F3's accelerator program to support its farmer dealers in the U.S. and Canada, with a special, targeted focus on addressing farmers in the Chesapeake Bay area. "Holganix Bio 800+ is a unique tool for farmers in the Chesapeake Bay watershed because it allows farmers to improve their environmental footprint, including the potential to reduce their use of fertilizers," explains Barrett.
About F3 Tech:
The F3 Tech Accelerator Program provides funding and support for early-stage companies to prepare them for potential investment from the future F3 Tech Seed Fund, industry partners, and investors. For more information, please visit: f3tech.org.
About Holganix:
Holganix is the manufacturer of Holganix Bio 800+, a microbial that harnesses the power of soil microbes to improve crop yield, increase soil health and reduce the need for fertilizer and pesticide inputs. Holganix products are used by farmers, golf courses, sports fields, and lawn and landscape companies. For more information, please visit: Holganix.com
Press Contact:
Kaitlyn Ersek – 866-563-2784 x 201 – kersek@holganix.com