By Kaitlyn Ersek on Aug 26, 2021 12:49:19 PM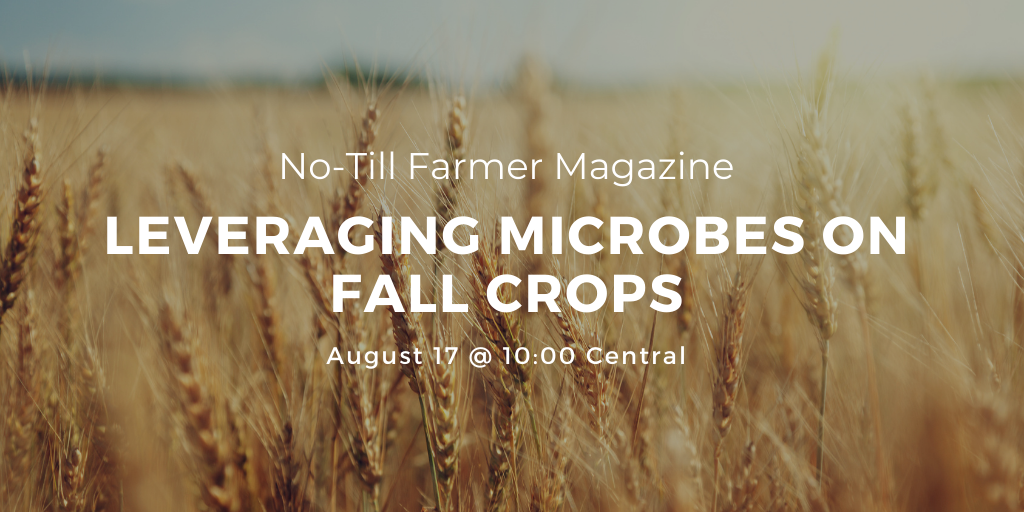 Leveraging Soil Microbes to Nurture Fall Crops:
Featuring a video discussion with Holganix President of Agriculture, Dave Stark Ph.D. and Sustainability farmer, Nick Vos of Prairie Seeds
Whether you plant winter wheat, cover crops, strawberries, or some other fall crop, leveraging soil microbes will nurture a healthier and stronger crop, improve root mass and increase yield.
In this blog, we tune in for a No-Till Magazine video discussion between Holganix President of Agriculture, Dave Stark, PhD., and sustainability farmer, Nick Vos of Prairie Seeds, on how to leverage soil microbes to raise better fall crops.
Watch the video below to nerd out with Dave and Nick, or keep reading for a brief synopsis of the webinar. If you are reading this blog via email, click here for the video.
What can you expect to learn in this blog? Click the link to short-cut to any one of the following topics:
Microbes: The Role of Diversity
In a teaspoon of soil there are trillions of microbes and billions of species. "The soil is designed to be diverse," explains Dave Stark. "Healthy, functional soil contains a balance of diverse species of soil microbes."
Specifically, there are six types of soil microbes: bacteria, actinomycetes, fungi, algae, protozoa, and nematodes. "All are necessary to cycle nutrients and build soil. All play a role in making the soil work," says Dave.
Depending on the species, soil microbes are responsible for many tasks including:
Mineralizing nutrients

Fixing atmospheric nitrogen

Inducing rooting

Breaking down organic matter

Protecting the plant from stress and disease

Helping the plant better access water and nutrients

Eating other microbes
In a recent article by the Noble Research Institute, it was stated that "It is now increasingly acknowledged that the diversity of microbial inoculum is as important as its plant growth-promoting ability. Not surprisingly, outcomes from such plant and soil microbiome studies have resulted in a paradigm shift away from single, specific soil microbes to a more holistic microbiome approach for enhancing crop productivity and the restoration of soil."
How is Soil Disrupted?
When the soil becomes disrupted and a diverse population of soil microbes is absent, nutrients won't cycle. "To cycle nutrients, we need the whole engine of the microbial community," explains Dave, "not just one or two strains."
Soil can be disrupted due to factors beyond a farmer's control, such as freezing and flooding, which disrupt the microbial community. Additionally, there are things farmers do that add to the disruption of the soil, such as tillage, overuse of fertilizers, and using fumigants and fungicides. Even planning out our crop rotations can affect soil microbes. For example, if we follow a brassica rotation with a wheat rotation, yield may be affected, and farmers may want to apply a diverse microbial to help.
How Can Holganix Help Your Fall Crops?
With Holganix Bio 800+ Agriculture, it all comes down to soil health and investing in the legacy of your family's farm. We believe that by charging soils with diverse microbes we help our farmers improve the health of their soils, investing in the legacy of their farm for future generations. That investment translates to yield gains and root development, especially with crops like wheat, strawberries, cover crops, and other fall crops.
Data on winter wheat show 2-18+ bushel per acre yield increase
We have data showing 2 - 18+ bushel per acre yield increase over the control or over the growers' traditional averages when used at a rate of 0.5 gal per acre, at planting.
Data on strawberries show growers see a higher yield
In Ventura County, California, a researcher used Holganix Bio 800+ Agriculture on a commercial field through their drip irrigation system, applying the product each month. He achieved a $3,000 per acre higher yield in the strawberries and was able to harvest earlier than other growers.
2021 Product Discount for Holganix Bio 800
+
Agriculture On Fall Crops
Increase fall crop yield and save money with Holganix Bio 800+ Agriculture! Now through August 31, 2021, when you purchase 200 gallons of Bio 800+ Agriculture, you get an additional 50 gallons FREE.*