By Kaitlyn Ersek on Sep 15, 2022 10:00:00 AM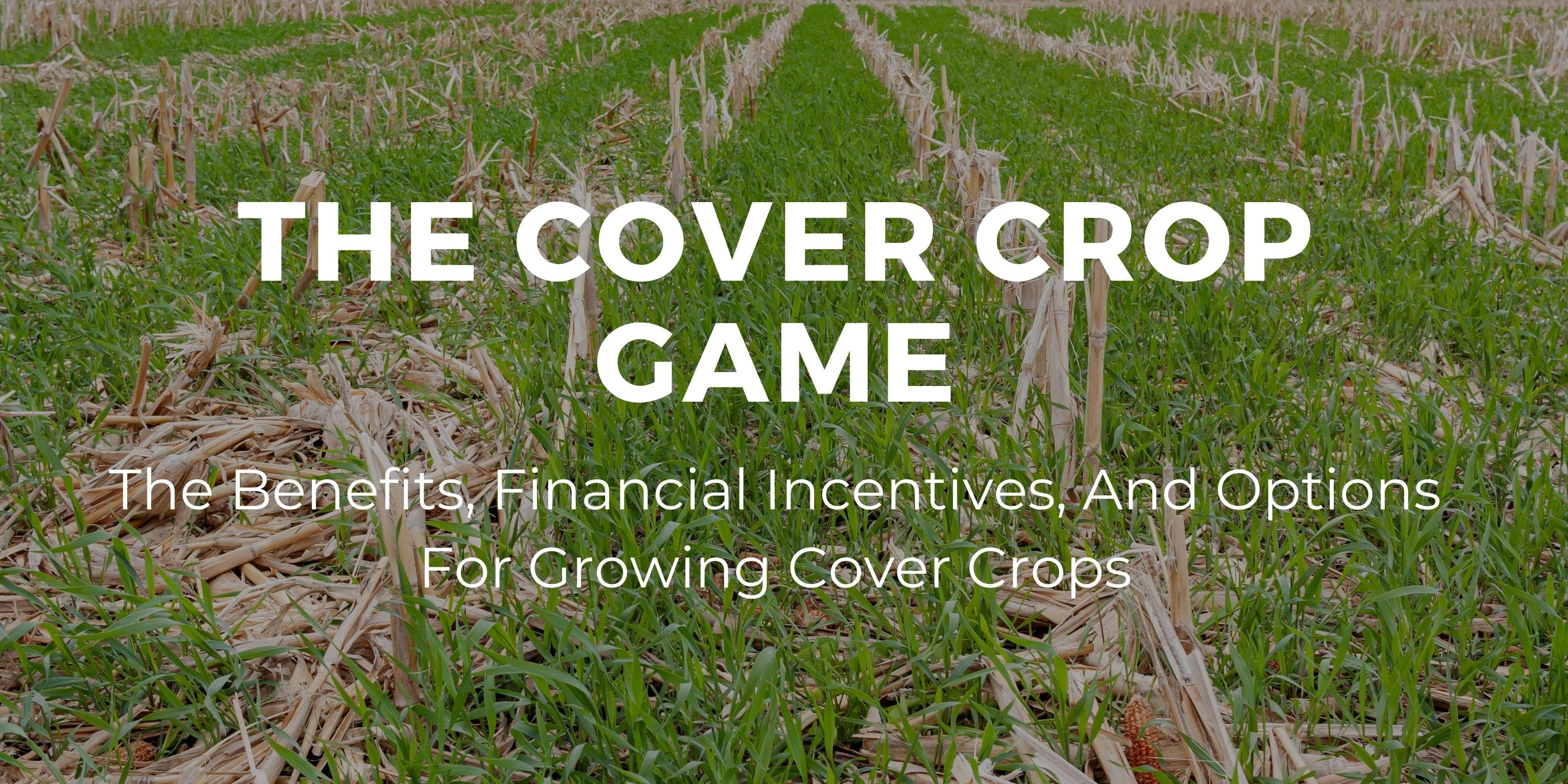 Did you know? According to data released by the Center for Regenerative Agriculture at the University of Missouri, an estimated 20 million acres of cover crops were planted in 2020. That's approximately 2.2% of farmland.
It's a known fact, in the farming community, that cover crops are a major tool to protect their soil health. According to the USDA's Sustainable Agriculture Research and Education (SARE) 2019-2020 National Cover Crop Survey, "94% of producers identified improved soil structure or soil health" as a primary motivation for planting cover crops. Plus, cover crops can reduce sediment loss, nutrient runoff, and leaching, reduce flooding, and store carbon in the soil.
In this blog we discuss:
Why Cover Crops?
For farmers, it's a known fact that cover crops are a major tool to protect their soil health. Cover crop roots build organic matter. "Every time you have a living root survive the winter you are building organic matter," explains Nick Vos, independent seed provider, farmer, rancher, and regenerative ag consultant out of Hugoton, Kansas.
In fact, according to Joel Williams, an independent plant and soil health educator and founder of Integrated Soils, "research shows that roots are five-times more likely to be converted into stable organic carbon than the equivalent above-ground carbon."
Additionally, roots play a major role in the field's ability to store water. "Roots are 90% water so anytime you can build roots during the offseason, you are building water storage in the spring," states Nick. The misconception that cover crops compete with other crops to access water is one pushback that Nick hears from farmers. "Yes, cover crops use water," explains Nick, "but the water they use is used in a way that doesn't compete with crops planted later. Instead, it generates storage capacity for next year's crops because of the roots they put back into the soil."
Plus, cover crops, especially those designed to over-winter (think legumes), have high nitrogen-to-carbon ratio. When these cover crops break down, they release nitrogen back into the soil, providing it for your spring's crop. In fact, according to SARE's 2019-2020 National Cover Crop Survey, by incorporating cover crops, "in terms of fertilizer savings, 49% of corn producers reported reduced fertilizer costs, as did 41% of soybean producers, 43% of wheat farmers, and 53% of cotton producers."
In addition to building organic matter, improving water storage, and storing nitrogen, cover crops also help with infiltration and the roots will decrease bulk density. "This is key to combating nutrient runoff into waterways, and even flooding" states Nick.
Financial Incentives for Cover Crops
Cover crops allow farmers to improve their soil health and potentially reduce fertilizer and herbicide use. Ultimately, this helps the farmer pay for and potentially earn money from planting cover crops.
In addition to those indirect methods of creating a return on your investment from planting cover crops, there are also government financial incentives provided to farmers who plant cover crops. Specifically, farmers can take advantage of the USDA's NRCS conservation programs such as EQIP and CSP. According the UDSA, "In 2017, approximately one-third of U.S. acres that planted cover crops received a financial incentive payment from either a USDA working lands conservation program or a similar State program."
Farmers transitioning to cover crops are eligible for crop incentive payments through the NRCS Environmental Quality Incentives Payment (EQIP) program. Incentives vary depending on the state and last three years during the transition to cover crops, but can be renewed when certain criteria are met. Based on typical NRCS EQIP rates in the corn belt, farmers can expect an incentive payment around $50 per acre.
Another NRCS program that includes cover crop incentives is the Conservation Stewardship Program (CSP), which provides incentives to farmers that do a "suite of conservation practices during a five-year contract period (renewal is possible)." Just like EQUIP, incentives provided under the CSP are state specific.
The demand from farmers for CSP and other NRCS grants has overwhelmed the congressional funding available. However, under the 2022 Inflation Reduction Act, the USDA's NRCS programs were granted additional funding. This additional funding should allow more farmers to have access to conservation programs.
According to Sustainable Agriculture Research and Education, SARE, "Whether payments come from state or federal sources, financial assistance can make the transition to using cover crops affordable. Going simply by the median national cover crop seed cost of $25 per acre and a media cost of contracting out seeding at $12 per acre, incentive payments will often completely pay for the cost of using cover crops."
Selecting the right cover crop for your farm
The cover crop you select should depend on your goals. Some cover crops break up heavily compacted soils and others may increase weed control in next year's crop, or help take up excess nutrients in your soil. Still, some farmers prefer to plant cover crops simply to extend cattle grazing days.
Regardless of the crop you choose, you will need to know if you want your cover crop to live through the winter, grow in the summer, or be killed after a frost. These allow you to determine your ideal planting time and help narrow down your cover crop selection.
Winter Hardy Cover Crops

– These crops live through the winter but must be terminated before planting the next cash crop in the spring. Some of these crops include wheat, barley, cereal rye, triticale, and hairy vetch.




Winter Kill

– These crops do not survive cold temperatures. The most common include oats, and radishes.




Conditional Winter Hardy

– These crops may overwinter if they are planted and are well-established before a killing frost. Some of these species include annual ryegrass, rapeseed, clovers, turnips, and most legumes.




Summer Annual

– These cover crops are usually planted early-to-mid-summer and are heat-driven. Some of these crops include sorghum, buckwheat, millet, and sun hemp.
How Holganix Bio 800+ Breakdown can help
Holganix Bio 800+ Breakdown charges soil with a consortium of over 800 species of soil microbes, nitrogen, and microbe food. The microbes have heightened species that play a special role in crop residue breakdown – both the breakdown of the shoots above the soil, and the roots below the soil. The breakdown of the residue releases nutrients and water to the soil. Plus, using Holganix Bio 800+ Breakdown on any fall planted cover crops through residue, will also improve emergence and stand establishment.
Watch this 3.5-minute video explanation from David Stark, Ph.D. and Holganix President of Agriculture. If you are reading this blog via email, click here to access the video.