By Nicole Wise on Jan 30, 2014 10:14:00 AM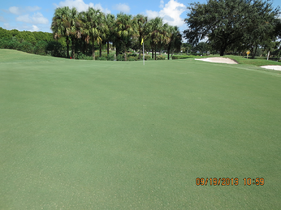 It was only a few months ago that Holganix was first introduced to the Florida golf course market.
Product applications began in early July of 2013, the beginning of an unusually wet, overcast summer that manifested into an even wetter early fall.
"July is the worst time to start anything new, especially in a tropical climate," says Dave Henricksen, account representative of Holganix in the Florida Market.
Henricksen (code name: The Silver Fox) has been in the green industry for 40+ years before joinning the Holganix team a year ago.
"The thing that I love best about the green industry is that it caters to relaxation. We are just trying to make the world more enjoyable."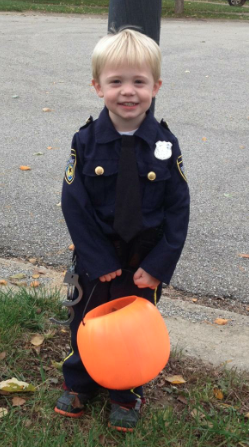 Henricksen loves that Holganix gives him the opportunity to promote something very positive for the industry and that the team has like minded goals and great attitudes. When we asked Henricksen for a head shot for the blog, his response was "No one wants to see me but my grandson George is another story. Use his picture instead" (see the blond boy/police officer to the left).
"At first, there wasn't any clear expectation on exactly what Holganix Golf could do under Florida's typical aggressive maintenance practices, light textured soils and hybrid warm season turf varieties," says Henricksen.
"At the end of the day, everything we sold down there [in Florida] was with a Holganix Golf performance guarantee in place. We sold the superintendents the product and challenged them to 'tell me how it works.'"
It looks like Henricksen's bet paid off!
To date, Henricksen reports that he has been very pleased with the overall results and feedback received from Florida golf courses using Holganix.
"The key words when speaking with superintendents were Consistency and Uniformity in describing Holganix-treated greens and trees."
That statement certainly covers a lot! From increasing turf density and vigor to minimizing isolated dry spots, Holganix has had a hand in helping Florida superintendents nurture vigorous, immaculate golf course turf.
Turf Density Increases
In the summer of 2012, a local Florida superintendent sprigged the initial 9 holes of a 27-hole renovation project utilizing his normal grow-in fertility program. In the summer of 2013, the second 9 holes were sprigged, but this time Holganix Golf was applied consistently throughout the grow-in process along with the same previous fertility program.
Within 3 months, the 9 holes treated with Holganix Golf were in remarkably better shape than those grown in last season. The density of the turf was much improved, resulting in a more consistent putting surface, and he was able to open the recently sprigged 9 holes ahead of schedule.
"That was only one of many Holganix success stories in Florida," says Henricksen with a chuckle.
Increased Stress Tolerance and Rooting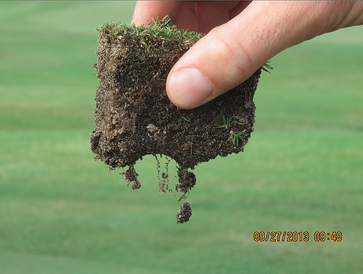 With Holganix, superintendents are able to build stronger, healthier plants that demonstrated increased resistance to stress. Furthermore, despite Mother Nature's poor weather conditions that typically resulted in general turf thinning and isolated necrosis, Holganix has helped reduce the onset and severity of stress-related turf damage and a shortened recovery period.
"The root growth has also been significant," says Henricksen (see the hybrid bermuda grass roots on the left. This is significant rooting for Florida hybrid bermuda turf).
"At this time, Florida turf hasn't yet documented the incredible rooting depth that most of the country is seeing, but with Holganix Golf we are observing greater root density and dramatically more white functional root hairs than seen typically."
Florida Brings an Entirely Different Dynamic into the Holganix Process
"Florida brings an entirely different dynamic into the Holganix process," states Henricksen. "We have seen dramatic results with Holganix on warm season turf elsewhere in the Midwest, but Florida is a completely different animal as compared with the rest of the country. It's a whole new game down here, so much so, that we had to re-evaluate expectations early on. The truth is we are learning as we move forward and 2014 is going to provide another great performance opportunity for Holganix. I believe we will be seeing even more positive results this upcoming season, especially when we can evaluate Holganix application programs starting earlier than July!"