By Kaitlyn Ersek on Nov 6, 2014 1:42:00 PM
---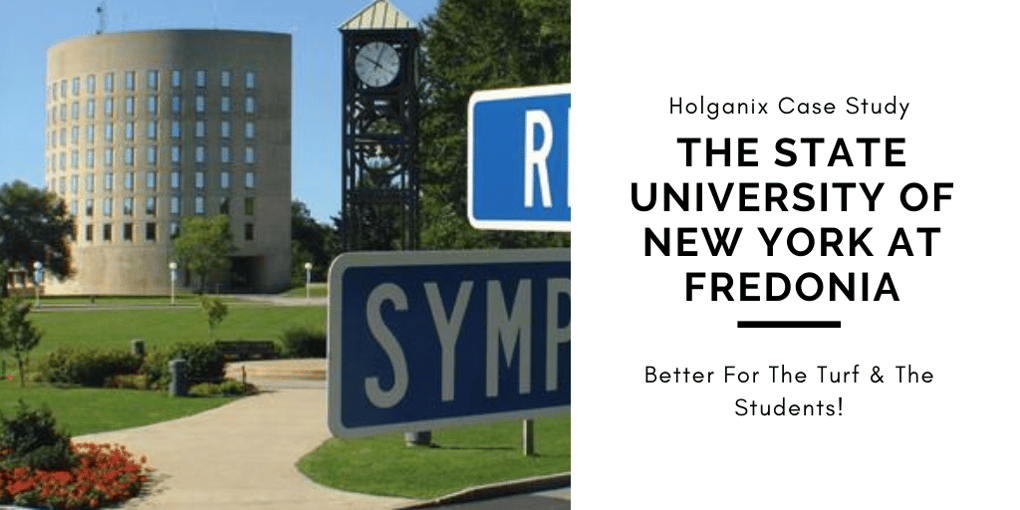 "It all started when The State University of New York at Fredonia started creating programs campus-wide to involve less chemicals and more organic products. That program involves everything from cleaning products to the way we care for our plants and turf," says Head Grounds Supervisor Richard Newton of his search for organic turf products.
Holganix Bio 800+ Golf caught his eye because it allowed Newton to reduce the use of synthetic fertilizer use on campus grounds and fields.
Holganix Bio 800+ Golf is a 100% organic, bionutritional turf and plant fertility product that allows fertilizer users like Newton to drastically reduce their synthetic inputs (pesticides and nitrogen fertilizers). It functions like a probiotic, naturally building up the plant to promote growth and better withstand insects and disease.
So far, Newton reports that the increased, "root growth we have seen has not only caused the turf to absorb more nutrients, thereby cutting down on waste and runoff, but also allowed us to cut down on our chemical fertilizer use by 20% this first year alone." Root growth has increased by 2+ inches and some root systems exceed 6 inches in total length.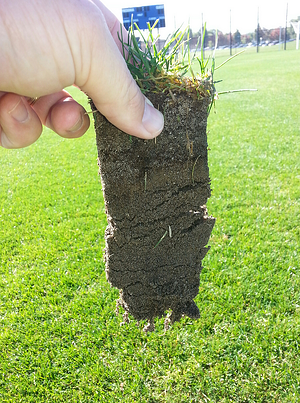 "There have been many benefits to using Holganix Bio 800+ Golf," says Newton. Color has been great, even with the reduction in nitrogen fertilizer and turf plant and root density has improved. Furthermore, despite a long history of suffering from leaf spot, that too has been more easily controlled.
The soccer field is sand-based and features 100% blue grass turf. With the start of soccer season, Newton reports that they have had great results with color and wear tolerance. The softball and baseball fields have been maintained with a 50% reduction in inputs.
Newton started the Holganix program with a one-time application of 14 ounces per 1,000 square feet of Holganix Bio 800+ Golf in early spring. Following the initial application, Newton and his team have applied two applications of 7 ounces per 1,000 square feet each. "It was nice to be presented with the opportunity to use Holganix by our friends at Lakeside Sod [a New York-based distributor of Holganix products]," says Newton.
"While we are primarily using the product on our athletic fields, we've also used Holganix Bio 800+ Golf on high visible and well-trafficked areas around the campus," says Newton. "There has been an easily noticeable improvement in color and density of the grass."
Newton isn't the only one that's excited about the performance of Holganix on the turf. According to Senior Athletics Groundskeeper Brent Kawski, "The coloring and root growth are phenomenal. I look forward to seeing what the turf looks like in the spring and next summer, after having a full year of the product at work on the field."
Ultimately, turf performance isn't the only thing that matters to Newton. "As Head Grounds Supervisor, my role is not to just look at the quality of the grass on the playing field, but also to look at what I am subjecting students to, as far as chemicals, and also to make sure that our turf maintenance dollars are spent in the most efficient way possible. From what I have seen so far of Holganix Bio 800+, I think the product fits all those needs in the best possible way."
Using Microbials To Improve Soil Health
Holganix Bio 800+ charges soil with over 800 species of soil microbes to improve plant performance. What does that mean for you?
That means you build soil and root health, adding the benefits of better soil structure to whatever soil type you have. This translates to improved yield on crops, better playability on golf courses and a reduced need for fertilizers and pesticides on lawns.
Learn more about the science behind Holganix Bio 800+ below.