By Kaitlyn Ersek on Aug 28, 2019 4:26:36 PM
Winter Wheat is Coming! Producers will start to plant winter wheat in the next few weeks. As many of you may know, Holganix recently partnered with The Van Trump Report to help producers across the country improve soil health for future generations. We received a ton of great results, and are now offering "Bio 800+ Agriculture" for everyone about to plant winter wheat!
In this blog, we've compiled several different podcasts featuring clients and partners of Holganix.
Listen To What Our Producers Are Saying About The Product
Check out this podcast from one of our best distributors as well as one of our top producers from this past growing season. Take a listen to hear their firsthand experience! Length: 5.5 minutes.
The Science Behind Holganix Bio 800+
Check out this podcast on the science behind Holganix Bio 800+ from David Stark, PhD, Holganix Director of Agriculture, and a podcast from Van Trump Founder. Length: 2.5 minutes.
Soil Health & Legacy
Check out this podcast from Van Trump Report Founder, Kevin Van Trump and Holganix Founder, Barrett Ersek on soil health and what that means for the legacy of your farm. Length: 3.5 minutes.
What Are Our Distributors Seeing In The Field?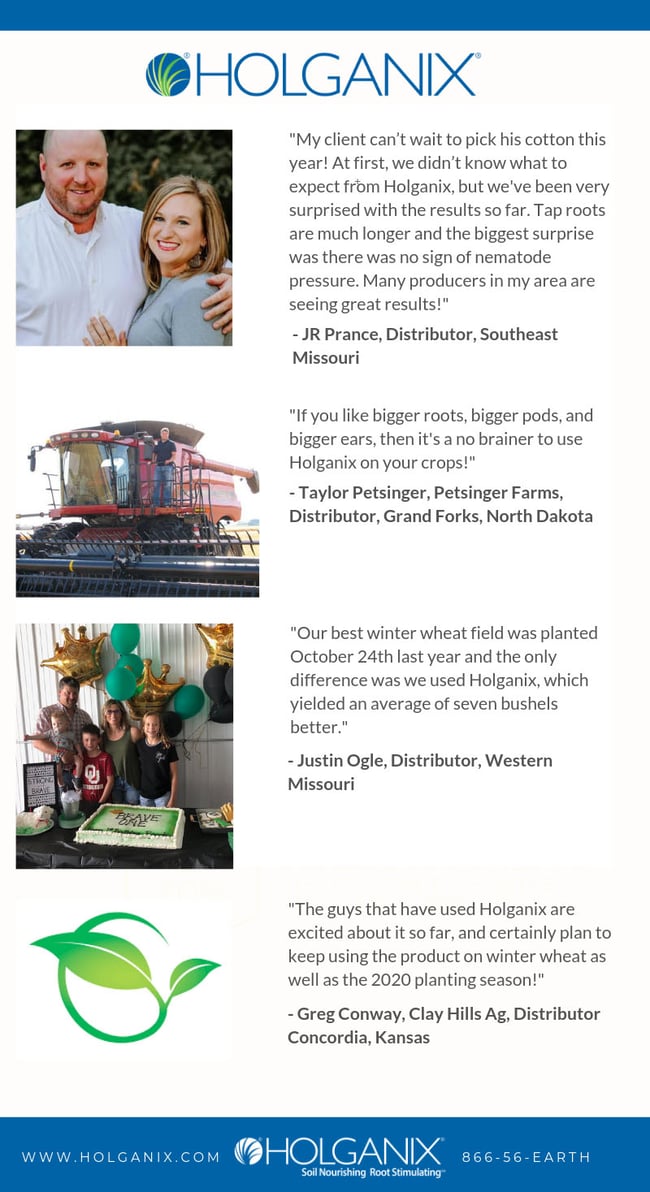 Dig Into The Data: University And Commercial Grower Trials
Over the past four years, we have been compiling data on several different crops in different geographic zones to deepen our understanding of how Holganix Bio 800+ Agriculture can help farmers maximize crops. Click the button below to access a sample from our 2017 and 2018 collection.