Webinar: Holganix Bio 800+ Agriculture Research and Results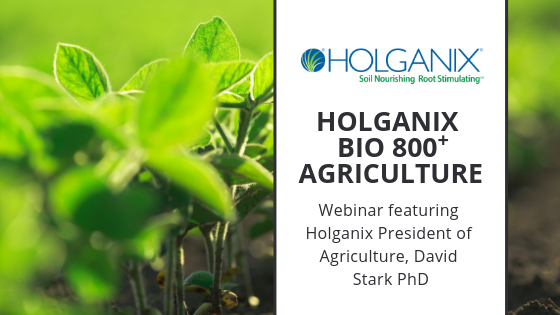 For growers using Holganix Bio 800+ Agriculture, an increase in yield and soil health has led to an increase ROI on crops.
For example, a Missouri researcher shows a 21.1 bushel increase with Holganix Agriculture and reports that his Holganix corn plots are "the best looking corn plots on the farm." For a California researcher, his strawberry crop saw more and larger strawberries providing a ~$3,000 per acre net revenue increase.
This webinar will provide an overview of our trials and the Holganix Bio 800+ Agriculture product.
WHAT ARE YOU GOING TO LEARN?
Product Overview: Learn about Holganix Agriculture and how it functions.

Results From The Field: Dave Stark, PhD takes us through Holganix's university and commercial grower trials.

Use and Application Directions: Review basic use and application directions for several crop types.
WATCH THE VIDEO BELOW
MEET DAVID STARK, PhD, Holganix President of Agriculture
Dr. Stark spent over 25 years with Monsanto Company where he held various senior leadership roles in
technology, corporate affairs and business operations. Prior to transitioning to business development and business leadership, Dr. Stark enjoyed a successful career as a scientist. In the 1980's he was an early pioneer in the plant biotechnology field and is an author of 26 peer-reviewed scientific articles and 9 patents. He has a Ph.D. in Molecular Biology from Washington University.
Today, Dr. Stark runs Holganix's Agriculture division with the title President of Agriculture.
RESOURCES
>>Check out this 5-minute read on several commercial and university trials
>>Download our Holganix Agriculture flyer