Holganix Is a Hole in One!

A Bio 800+ Product for high stress, high performance turf including Golf Courses and Sports Turf
Holganix Golf functions as a plant probiotic, replenishing living beneficial soil microbes, microbe food and nutrient enhancers to fortify and balance the soil ecosystem. In fact, a jug of Holganix Golf is like a microbiome in a bottle, filled with over 800 species of beneficial soil microbes.
To what end? Holganix Golf naturally promotes plant health, building strong roots and turf. By utilizing Holganix Golf as the base of a hybrid-organic program, you can supplement 50% to 75% of your traditional fertilizers and concentrated pesticides.
Holganix is a MicroBiome in a Bottle! What are the Ingredients?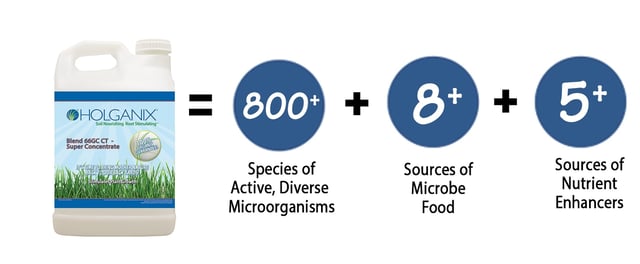 Unlike other plant probiotics, Holganix Golf contains an entire microbiome or community of organisms that is both abundant and diverse.
In a single jug of Holganix Golf, there are over than 800 species of living beneficial soil microbes, microbe food and nutrient enhancers.
Some of the unique species of soil microbes contained in Holganix Golf include both Endo and Ectophytic Bacteria, Nitrogen-Fixing Bacteria, Endo and EctoMycorrrhizae, Trichoderma Fungi, Penicillium Fungi, Beneficial Nematodes and Protozoa.
Download our Holganix Ingredient List to learn about some of our key components.
>>Download the Holganix Ingredient List
Does Holganix Really Work
Don't ask us, ask our clients. Watch the video below to hear from several golf superintendents and why they chose to use Holganix Golf on their golf courses.