By Kaitlyn Ersek on Jun 28, 2016 11:19:48 AM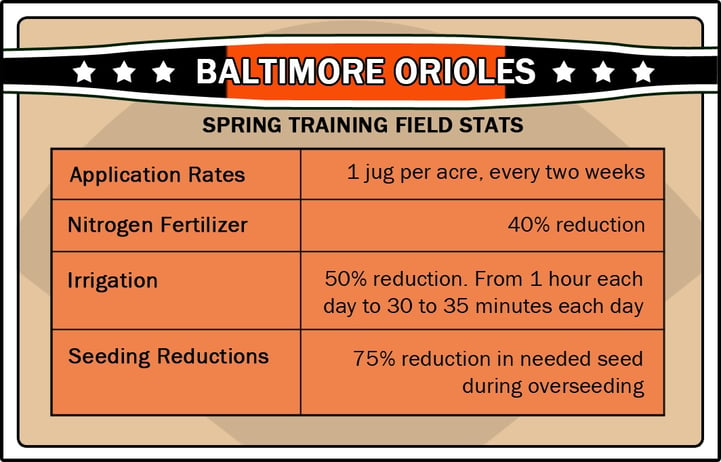 When you become head grounds keeper for a world-class baseball field, you don't expect it to be built on top of a landfill. But, for Dan Thomas' Ed Smith Stadium, training facility for the Baltimore Orioles in Sarasota, Florida, that's exactly what happened.
Beneath the 2.5 acres of manicured 54 Bermuda grass lies an old landfill.
"We don't have the best growing conditions," admits Dan. "It's been a difficult time to get the grass growing consistently. And, when we do renovations, it's not unusual to find trash and maybe even a tire or two."
Dan started applying Holganix Golf in the summer of 2014 after being referred to the product by a friend at the Pittsburgh Pirates (another Holganix user). "It took a a few months for me to really notice a huge difference when using Holganix." But, with Holganix Golf, "the health of my turf is remarkable!"
"It is still a work in progress but I am shocked at the results I've seen with Holganix. I didn't think it could have this much of an affect on turf health, but Holganix Golf does."
For Dan, increasing turf health meant, "getting to the ROOT of the problem." To improve turf health and density, he needed to take care of the roots. With Holganix Golf, Ed Smith Stadium's roots are much longer and denser.
In addition to helping increase turf health and density, Holganix Golf has helped Dan reduce his inputs including nitrogen fertilizer, fungicides, irrigation and seeding.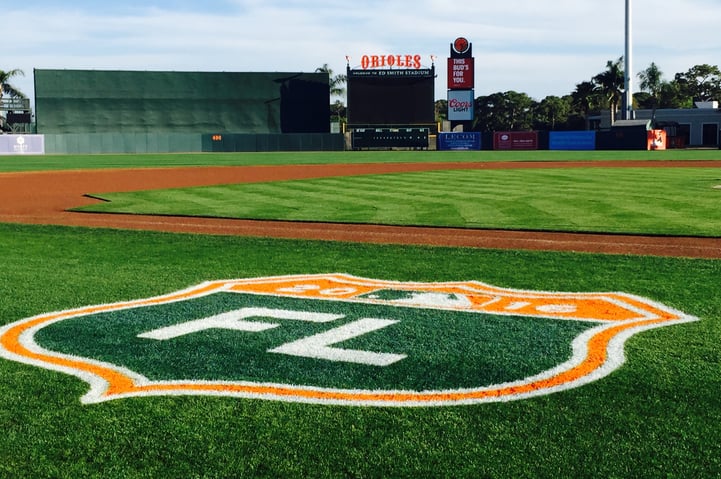 Application Rates
Dan uses Holganix Golf every two weeks at the rate of one jug per acre. He tank mixes Holganix Golf with additional soil amendments and a few other additives. "We've seen really good results," says Dan.
Fertilizer Reductions
Before Holganix Golf, Dan would apply granular fertilizers once a month. Today, Dan applies fertilizer every six to eight weeks, and sometimes even less often. He basis his need for fertilizer on soil tests he conducts to monitor nutrient deficiency. "I don't want to say we've reduced our synthetic fertilizer by 50% with Holganix Golf, but it's pretty close!"
Irrigation Reductions
Before Holganix Golf, "we would run irrigation for an hour, five-days a week," states Dan. After using Holganix Golf for over a year, Dan has cut back on irrigation from an hour to 30 to 35 minutes. "And that is without a syringe cycle in the Florida heat!"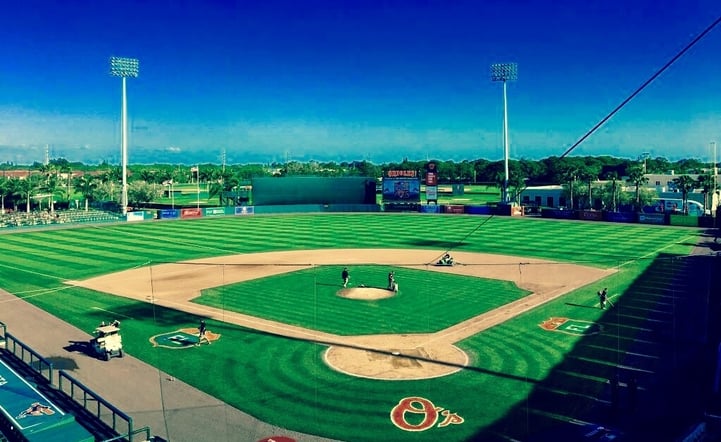 Seeding Reductions
"We typically overseed between Thanksgiving and Christmas," explains Dan. Normally, Dan does an initial round of seed followed by a second or third round to ensure the turf grows in dense. Since using Holganix Golf, "I only go out one round and then do a touch up in certain areas. I'm not adding more seed, just getting more out of the seed I put down." According to Dan, because of his results with seeding, he is going to lower his seed budget, saving money.
Fungicide Reductions
"I've absolutely seen an increase in disease suppression when using Holganix Golf with my fungicides," says Dan. "We used to be constantly spraying fungicides." Now, Dan applies much less fungicides (how much less?).
According to Dan, when you are caring for turf, grounds managers need to be wary of creating a circle of hopelessness. "When you water the lawn, you keep the turf healthy but water leads to disease. Breaking that cycle means reducing your irrigation, which helps reduce your need for fungicides. Holganix helps break that cycle."
After years of working the turf at Ed Smith Stadium, Dan Thomas' hard work paid off when the stadium was named Baseball Field of the Year by STMA in 2016.
At the end of the day, Dan wants to reduce inputs and get more out of the little he does use. "We will never be 100% organic, but we are headed down the right road and I look forward to seeing where it takes us."