By Kaitlyn Ersek on Nov 2, 2023 9:30:00 AM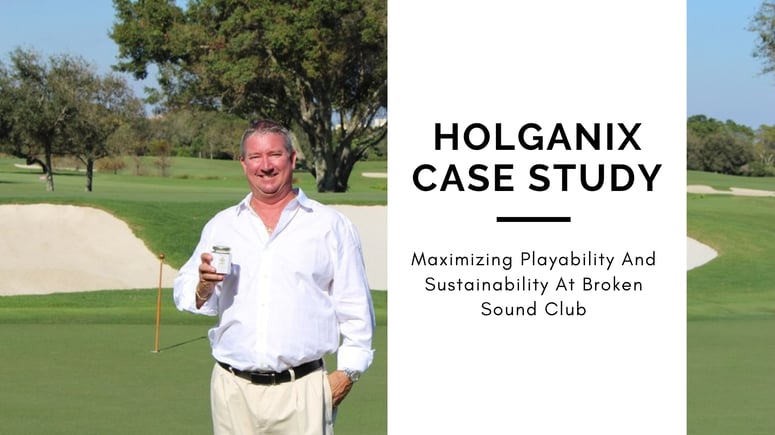 Shannon Easter, Director of Sustainability and Golf Maintenance at Broken Sound Golf Club has been using HGX Pro Bio 800+ Golf for 5 years now. According to Shannon, HGX Pro Bio 800+ Golf has served as a tool to meet his sustainability, soil health, and agronomic goals at the two courses he manages at Broken Sound.
In this blog, we'll explore the results Shannon has seen with HGX Pro Bio 800+ Golf over the years with a reflection by Holganix Director of Soil & Plant Science, Dr. Robert Neidermyer on the science behind those results.
Both a written section and video clips are provided from the interview for your use.
What is HGX Pro Bio 800+ Golf? HGX Pro Bio 800+ Golf harnesses the power of over 800 species of soil microbes to build soil health, stimulate root growth, and grow stronger plants that require fewer fertilizers and pesticides to be healthy.
Meeting Sustainability Goals at Broken Sound with Reductions in Fertilizer, Fungicide, and Irrigation
Broken Sound Golf Club isn't new to the world of sustainability. In fact, the exclusive, award-winning country club was "the second golf facility in the US and the 14th in the world to be GEO certified - the sustainability assurance of the international non-profit Golf Environment Organization."
Broken Sound has also received Audubon Sanctuary Certification for both of their golf courses and established the first industrial composting project in Florida.
In addition, Broken Sound has been recognized for recycling 96% of its solid waste. "In the state of Florida, we are the second largest recycler - just behind Waste Management," says Shannon Easter.
In 2016, Shannon accepted the coveted Environmental Leaders in Golf Award (ELGA), presented annually by GCSAA and Golf Digest in partnership with Syngenta and Rain Bird's Golf Division.
Holganix: Shannon, can you comment about how you use HGX Pro Bio 800+ Golf to reduce your fungicide, fertilizer, and irrigation needs on both courses?
Shannon: HGX Pro Bio 800+ Golf allows us to maximize the fertility in the soil and make it available. Overall, we have reduced our fungicide inputs by 30% and our use of nitrogen by 20%. Our irrigation has also been reduced by 12%; that's because HGX Pro Bio 800+ Golf has allowed us to grow a deeper, more web-like root system.
We create tailored programs for each course because of their different soil types. For example, the old course is predominantly sandy soils and the new course has richer soils. In the old course we apply 4 applications via fertigation and in the new course we apply just 3 applications.
We haven't just backed off rates on our turf, but also on our annuals. We mix the HGX Pro Bio 800+ Golf with our compost and use it when planting annuals. Over the past 3 years, we haven't needed a single fungicide application on our annuals and I attribute that to HGX Pro Bio 800+ Golf.
Holganix: Dr. Bob, can you tell us about the science behind HGX Pro Bio 800+ Golf and why Shannon has been able to reduce his inputs?
Dr. Bob: The microbes contained in HGX Pro Bio 800+ Golf are going to conduct three core activities in order to help maximize Shannon's use of fertilizer, fungicides, and irrigation.
1. Microbes in HGX Pro Bio 800+ Golf promote root development which will allow roots to better access nutrients and water in the soil. A class of microbes known as Plant Growth Promoting Bacteria (PGPB) form a synergistic relationship with the plant to build plant roots. PGPB stimulates direct root growth of the primary roots - those roots that grow down into the soil, others stimulate root growth of the secondary roots - those roots that grow laterally or horizontally in the soil.
2. Microbes in HGX Pro Bio 800+ Golf unlock primary and secondary nutrients already in the soil.
3. Microbes in HGX Pro Bio 800+ Golf trigger the plant's natural defense system called Induced Systemic Resistance (ISR) and Systemic Acquired Resistance (SAR) that combats pathogens or allows the plant to better handle situations like a drought or dealing with an abundance of water. What happens between the plant and the microbes is a kind of chemical dialogue. Microbes also help through competitive displacement by occupying space around and on the plant that might have allowed pathogens close to the plant.
50% Increase in Root Mass Leads To Healthier Turf That Requires Less Irrigation
Holganix: Shannon, you alluded to the fact that you were able to reduce your irrigation because of the root mass. Can you talk to us about what you have seen with HGX Pro Bio 800+ Golf and roots? I know you were our 2015 Holganix Roots For You winner for having the most impressive root mass in the golf industry
Shannon: Take a look at the two pictures below.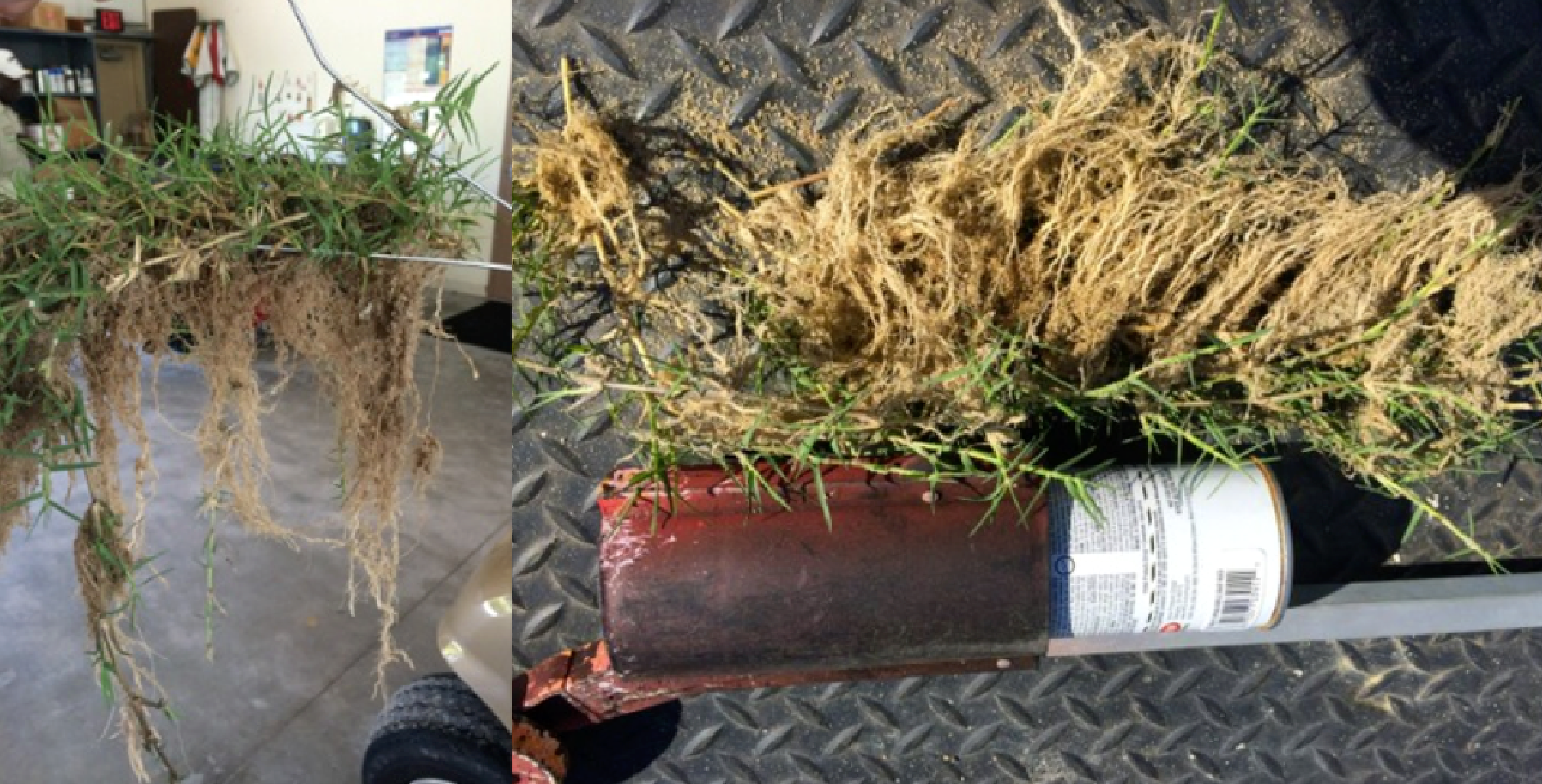 The one on the left is with celebration turf on the new course. The turf is just 4 weeks old in that picture and it is growing in sandy soils. Those roots wound up being 22 inches long! It is pretty impressive.
The picture on the right is from turf just 11 days old. That area received a second application of HGX Pro Bio 800+ Golf, so it really shows the potential if you can double up your application rate.
Holganix: Dr. Bob, can you tell us what about HGX Pro Bio 800+ Golf allows Shannon and other turf professionals to get such a deep root mass?
Dr. Bob: It comes back to the PGPB and the plant growth hormones they release to grow primary and secondary roots.
Enhancing Soil Health Means Big PayOffs in Turf Performance
Holganix: You sent us a bunch of data regarding a bump in soil health with HGX Pro Bio 800+ Golf. Specifically, you pointed out an increase in your cation exchange capacity (CEC) and a decrease in your soil organic matter. Can you tell us a little about those results?
Shannon: CEC is the soil's ability to hold onto nutrients in the soil and make them available to the plant. So, the higher I can get my CEC the easier it is for my turf to access nutrients. The data below demonstrates these results, showing a 13% average increase in CEC on fairways and a 27% average increase on greens.
Our Soil Organic Matter (SOM) also decreased with the use of HGX Pro Bio 800+ Golf on our greens. That means the thatch is being minimized and allows us to go longer in between renovations. Overall, we saw a 29.55% average decrease in our SOM on the new courses' greens and tees.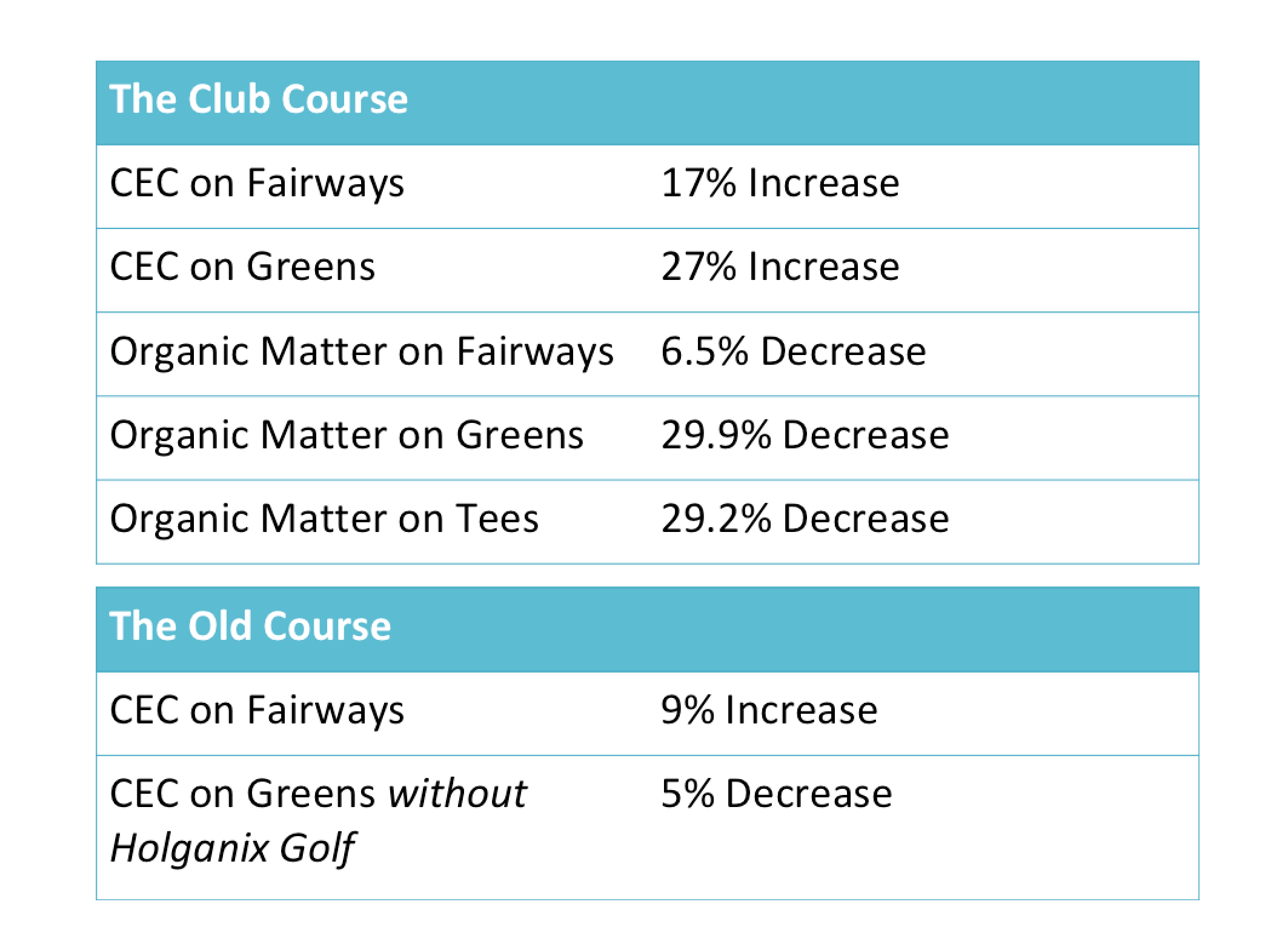 Bland Cooper who was our PGA Tour agronomist took a pressure test of our greens. It was the first time he got 10 pounds on greens that were over 12 years old. That just shows you how incredible it was to reduce our thatch and increase CECs.
Holganix: Dr. Bob can you tell us a little bit about why HGX Pro Bio 800+ Golf would be able to provide such a considerable boost in soil health?
Dr Bob: Microbes in Bio 800+ Golf contribute to soil health because it's microbes' nature to break down organic matter. Healthy soil is dependent upon the soil's ability to break down organic matter into humus. If an organic matter doesn't break down, disease occurs in the soil. Ultimately, this process leads to improved soil structure which leads to an increase in CEC, moisture movement, and soil atmosphere movement.
Shortening the Grow-In Period During Renovations
Holganix: Shannon, you used HGX Pro Bio 800+ Golf during renovations in 2014 and 2018. Can you tell us about the results you saw?
Shannon: We really saw an increase in the speed at which the turf was growing. Specifically, in the 2014 renovations we were able to open one course six weeks early and the other eight weeks early. One of the reasons why the courses opened early was because HGX Pro Bio 800+ Golf allowed us to increase our growth in speed.
Holganix: Dr. Bob, can you tell us how Bio 800+ Golf can help other courses during a renovation?
Dr. Bob: For renovations, it comes down to roots. When establishing a new turf - whether it be a lawn or a golf green - success is critically reliant on developing a strong root system. Microbes in HGX Pro Bio 800+ Golf that contribute to root growth include but are not limited to PGPB, Mycorrhizae, and Trichoderma.
Additional Conversations with Shannon at the Broken Sound Club
If you want to learn more about Shannon's results with HGX Pro Bio 800+ Golf, check out the below video and article topics.
1. Nematodes - Shannon discusses results he has seen with an unnamed Holganix Technology and nematode reductions.
2. Soil Health - Shannon digs deeper into results on CEC and Soil Organic Matter (SOM).
3. Plant Installations - Shannon discusses how he uses HGX Pro Bio 800+ Golf when planting annuals and on trees and shrubs to ensure survival at planting and to build overall plant strength.
4. Golf Trends - Shannon goes into two key trends he is seeing in the golf industry that he feels superintendents should be aware of.
Download Our Ingredient List
Want to learn more about the HGX Pro Bio 800+ Golf product? HGX Pro Bio 800+ products are filled to the brim with beneficial soil microbes that build healthier turf using fewer fertilizers and pesticides. Download our ingredient list using the link below and be sure to give us a call at 866-56-EARTH to get in touch with one of our representatives!