By Kaitlyn Ersek on Feb 12, 2019 2:48:39 PM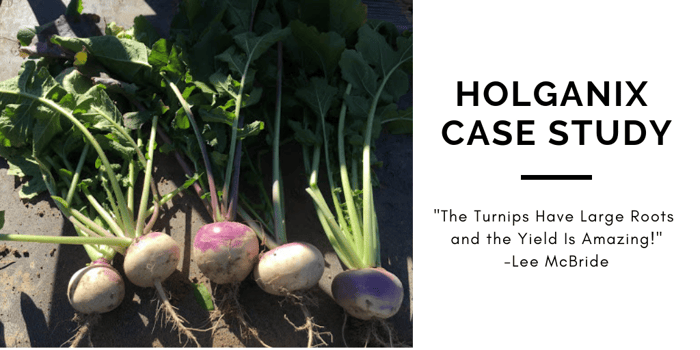 "As a consulting arborist, farm technical assistance provider, and a distributor, I see the Holganix family of products used in a wide variety of applications with great success," explains Lee McBride of Landscape Management Consultants (Ag Products), a crop consultant working with Holganix in Alabama.
Recently, Lee used Holganix Bio 800+ Agriculture at planting their turnip crop. However, due to previous experience, he decided to use Holganix Bio 800+ Agriculture as a stand-alone product, without using any fertilizers or pesticides.
"I'm a better salesperson when I have the courage of conviction in a service or a product, thus I was intrigued about how the product could perform by itself," notes Lee.
Overall, "the turnips had large roots and the yield was amazing." Also, because Holganix Bio 800+ Agriculture builds healthier soil and stronger plants, Lee saw a surprising lack of insect-feeding damage.
The picture above is of the second growth, after harvesting the week prior. "We would normally expect weaker plants with more damage at this time, but we noticed only a mildly reduced yield. The plants were still strong," explains Lee.
"With the mild winter thus far here in north Alabama, we are still harvesting roots and tops."
Applications & Details Involving The Turnips
On September 22, 2018, Lee planted a purple top and seven top turnips. The beds had been made last May but hadn't yet been used. One week prior to planting, Lee tilled the soil in the beds twice. The soil tested at a pH of 6.3 and no fertilizer had been applied prior to, during or after planting the turnips. The bed does have drip irrigation, so the plants were watered throughout.
Lee made an application of Holganix Bio 800+ Agriculture the day after planting, using the rate of 1.5 gallons per acre. This worked out to 2 oz on 360 square feet of bed area in three gallons of water.
On October 24, the turnip leaves were harvested yielding 60+ pounds.
The picture below was taken on October 31, just before the second leaf harvest which was also an incredible 60+ pounds.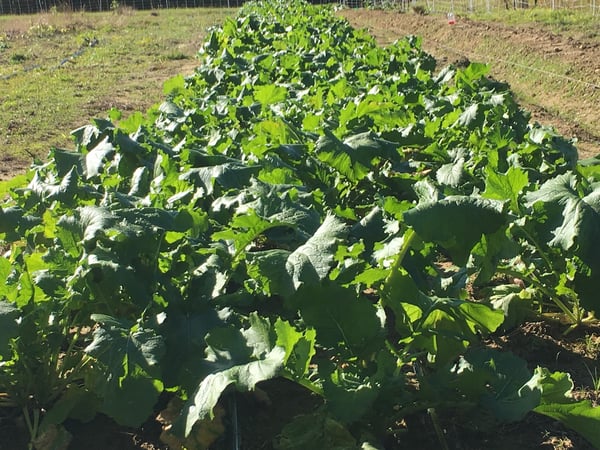 About Holganix Bio 800+ Agriculture
Holganix Bio 800+ Agriculture contains over 800 species of beneficial soil microbes that promote growth in crop foliage and roots, convert and release nutrients in the soil and promote the crops' tolerance to stress like weather and disease.
Want To Learn More About Holganix Bio 800+ Agriculture?
If you are looking to dig deeper into the results behind Holganix Bio 800+ Agriculture, be sure to check out this blog which goes into detail on several university and commercial grower trials. Or, feel free to reach out to Holganix directly by emailing David Stark P.h.D., the President of Agriculture, at dstark@holganix.com.