Webinar: Growing Your Lawn Care Business
Q&A With Holganix CEO, Barrett Ersek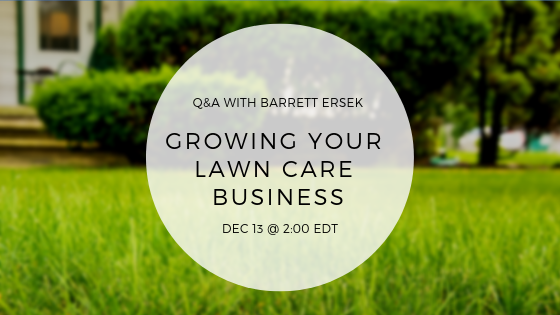 This webinar consists of a 30 minute lesson featuring Holganix CEO & Founder, Barrett Ersek
This webinar discuss what Barrett sees as the three levers you should use to grow your business: People, Marketing and Cash. This is the perfect webinar for any lawn and landscape company looking to grow their business... regardless of whether or not they are currently using Holganix products.
WHAT ARE YOU GOING TO LEARN?
Tips For Growing Your Lawn and Landscape Company

Open Q&A With Holganix CEO, Barrett Ersek
Access Holganix Marketing Tools: Attendees will have access to all of Holganix's lawn care marketing tools for FREE. This includes, post card designs, brochures, referral letters, videos and more.
WATCH THE VIDEO BELOW
MEET HOLGANIX CEO & FOUNDER BARRETT ERSEK
Barrett Ersek is the CEO and Founder of Holganix LLC. Holganix is a manufacturer of plant and soil probiotics that harnesses the power of soil microorganisms to empower soils, promote plant health, boost yield and reduce the need for fertilizers and pesticides. In addition to founding Holganix LLC, Barrett built and sold two additional green industry companies, and is a speaker on gratitude and innovation. He has lectured on business innovation at MIT, The London School of Business, and The India School of Business, in addition to many entrepreneur groups around the world.
RESOURCES FROM THE WEBINAR
GrowinGreen

- 7.5-minute video on how GrowinGreen has built a lean business with empowered employees (third video listed on page).
Dream On Video

- How a call center reduced employee turn over from 110% to 30% while increasing profits.
FACe Chart

- Worksheet that helps you record accountability and key performance indicators for employees.
Leveraging Your P&L Statement Webinar

- This webinar helps you dive into the key financial numbers that drive a successful lawn and landscape company.
Holganix Launch Box

- Marketing box of tools including post cards, blogs, brochures and more all of which is free to Holganix customers!
All Marketing Support Tools

- Here's where EVERYTHING lives!