By Kaitlyn Ersek on Feb 2, 2023 9:45:00 AM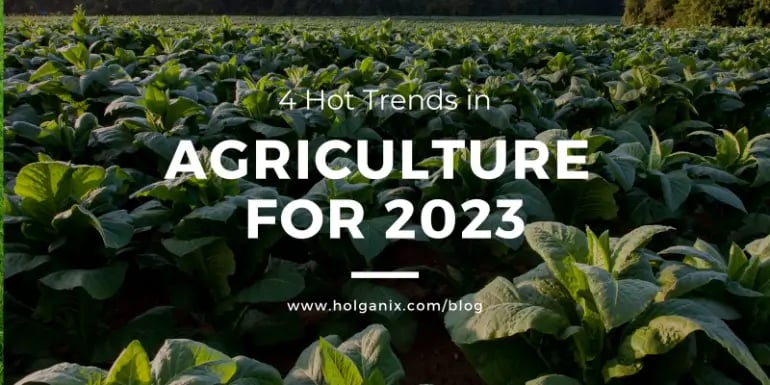 As we look at the state of agriculture in 2023, there are a lot of exciting trends. From soil health to precision agriculture and artificial intelligence, many of these trends are creating a buzz not only in agricultural communities but throughout the entire U.S.
In this blog we review 4 trends in agriculture to watch in 2023. Keep scrolling to keep rolling or click on the bookmarked links below, skipping to the trend that interests you the most.
Artificial Intelligence in Agriculture
From measuring soil nutrient levels to monitoring disease and insect pressure and irrigation requirements, artificial technology is starting to make inroads into agriculture. According to BI Intelligence Research, "AI and machine learning is projected to triple in revenue by 2025, reaching $15.3 Billion."
The Food and Agriculture Organization estimates that by 2050, we will need to produce 60% more food to meet population expectations. Geopolitical policy, world events, supply chain issues, and weather-related events continue to place additional stress on the agricultural industry. The good news is that AI may be able to help close the gap. According to this Forbes article, "artificial intelligence and machine learning are already showing the potential to help close the gap in anticipated food needs for an additional 2 billion people worldwide by 2050."
Here are just two examples of how AI is affecting the agriculture industry:
Crop and soil monitoring – Farmers can use drones to capture image data to monitor crop and soil conditions. AI can analyze the image data to track crop health, detect malnutrition, and inform yield predictions. All of this allows farmers to take more immediate action to protect their crops.


Insect and disease monitoring – Using image recognition and deep learning, AI can detect plant diseases and pests. An example of this is from a study on apple black rot. Researchers were able to use AI to identify and diagnose disease severity with an accuracy of 90.4%.
Soil Health
In 1937, U.S. President Franklin Roosevelt stated that "the nation that destroys its soil destroys itself." At the time, soil health was an important weapon against soil erosion caused by the "dust bowl days" of the 1930s.
Today, soil health is trending for equally important reasons - the preservation of our soils is directly linked to America's food security and could prove to be a weapon against climate change.
Soil Health and Food Security
The FAO, cited that sustainable soil management has the potential to produce up to 60% more food - and with world populations increase, it's important to get as much crop out of our land as possible. Farmers understand that productive soils mean productive farms, and tools like soil amendments, cover crops, no-till, and others are becoming more popular in farming circles. Further, farmers see soil health as a way to preserve their land for future generations of farmers in their families.
Carbon Markets
Healthy soils help protect the planet from climate change. According to Columbia University's Earth Institute, "Soil remove about 25% of the world's fossil fuel emissions each year." Governments and private enterprises are creating systems that provide the financial assistance needed to improve soil health on farms by providing grants, and sometimes paying farmers directly for the carbon their soils take from the atmosphere.
>> Learn how Holganix is helping farmers increase their soil health here
Regenerative Agriculture
Regenerative agriculture describes farming and grazing practices that focus on regenerating topsoil, allowing farmers to maintain crop yields, improve water retention and plant uptake, increase farm profitability, and support biosequestration, among other benefits.
The backbone of regenerative agriculture is a focus on strengthening the health and vitality of farm soil.
While it's not an old topic, the soil health trend has been giving regenerative agriculture a push to the limelight. Regenerative agriculture became increasingly a hot topic when General Mills pledge $2M to the "Nature Conservancy, Soil Health Institute, and Soil Health Partnership to support the development of tools and resources for farmers, landowners, and supply chain leaders to achieve widespread adoption of soil health practices." But, their big goal is to advance regenerative agriculture on one million acres by 2030.
>>Learn more about the top 5 benefits of regenerative agriculture here
Precision Agriculture
Precision agriculture utilizes smart, connected technology systems to improve grower outcomes. Uses of precision agriculture include supporting crop monitoring and targeting crop nutrition plans. While fertilizer prices are finally starting to come down in price, they are still above 5-year averages, with precision agriculture, farmers can make more precise fertilizer applications, ultimately reducing their fertilizer costs.