By Kaitlyn Ersek on Dec 5, 2019 2:06:42 PM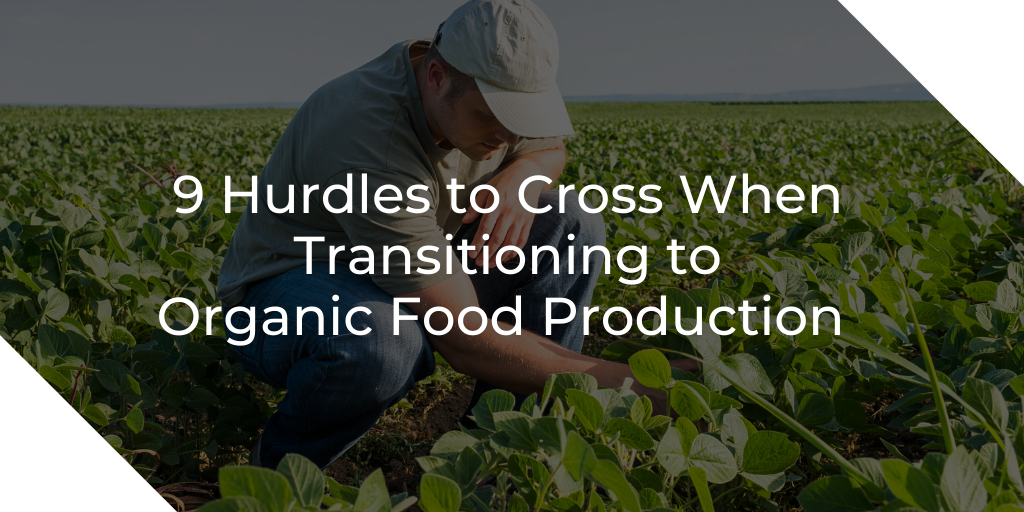 When it comes to organic food production in the U.S., demand is outpacing domestic supply. In fact, according to National Geographic, "the country imported more than $2 billion in organic food last year and likely significantly more - USDA tracks only 40 imported foods." A strange occurrence since the U.S. is one of the world's leading agricultural product exporters.
Demand coupled with a higher profit margin for organic food production makes switching an interesting opportunity for many conventional farmers. However, "there are some real hurdles for today's farmers that are looking to transition to organic agriculture," explains Holganix President of Agriculture, David Stark Ph.D. "Some of those hurdles are so high and so risky it drives farmers away from making the leap."
Despite the hurdles, "we are bullish on organic food production. There's a real opportunity in the market, farmers just need help making that leap from conventional to organic," says David.
According to David, there are 9 big hurdles for farmers that are looking to transition to organic food production:
1. Organic Certification Process
To be USDA certified organic, the farm must hire an organic certifying agent to verify the farm has met the appropriate standards. There is also an initial authorization cost of up to $1,500 and annual certification fees.
2. Financial Risks
There is a three year transition period of switching land from conventional to organic. During that transition, farmers have to follow organic guidelines but can't sell their products as organic. The result? Higher costs, lower yields and lower return per acre. The financial burden of transitioning land to organic production often is the highest hurdle.
3. Farm practices
Chemical drift, seed mixups, pollen flow, and other mistakes can result in an organic crop not meeting certification standards and therefore not generating the needed premium. Chemical drift onto organic land can result in the land no longer qualifying for organic production, meaning an entirely new three year transition period must be started to regain organic qualification.
4. Research & Development
According to National Geographic, "funding for organic research pales in comparison to conventional support." The result? Organic farmers have fewer seed choices and agronomic tools available to help them build yield and battle pests.
5. Extension Support
There are few university extension offices with organic specialists. For example, Illinois has just one. A study of 1,800 farmers pointed to "mentoring and one-on-one technical assistance as both critical and hard to come by."
6. Pushing Yield
Because organic farmers are reliant on organic fertilizers, it can be hard and expensive to provide enough organic nitrogen to the plant to maximize a farm's yield.
7. Crop Insurance
According to Ag Professional Magazine, "producers must use county averages rather than historic APH for the three-year transition period to organic. Once the field is certified organic, it takes another four years to build an organic APH for crop insurance guarantees."
8. Limited Crop Options
USDA organic certified crops also require crop rotation. That limits a farmer's ability to select crops each year, whereas a conventional farmer can select whichever crop appears the most profitable that year.
9. Infrastructure
Organic and conventionally grown crops can't mix. That means the appropriate infrastructure has to be in place for storage.
How can Holganix help organic growers?
Whether you grow conventional or organic, Holganix Bio 800+ is a powerful agronomic tool that helps farmers build soil health and increase their crop yield.
For organic growers, Holganix Bio 800+ helps tackle several hurdles. One of the big hurdles for organic growers is pushing yield - despite their limited ability to utilize large amounts of nitrogen. Holganix Bio 800+ increases nutrient uptake by:
Converting nitrogen that is locked in the soil
Promoting root growth that allows the plant to more easily mine for nutrients
Improving soil health which allows the soil to better store nutrients
Plus, because Holganix Bio 800+ is an organic product, farmers can use Bio 800+ to promote yield even during the financially stressful three-year period where farmers transition from conventionally grown to organically grown crops.
Dig Into The Data: University & Commercial Grower Trials
Over the past several years, we have been compiling data on several different crops in different geographic zones to deepen our understanding of how Holganix Bio 800+ Agriculture can help farmers maximize crops. Check out our university and commercial grower trials using the link below.