By Nicole Wise on May 16, 2013 10:22:00 AM
The Science Behind Holganix
Saving Lake Erie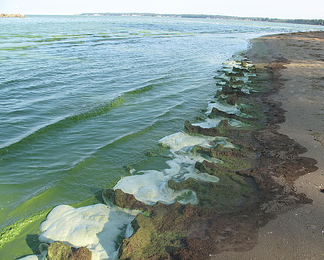 Photo by: Brenda Culler/ODNR Coastal Management
In the mid 20th century, Lake Erie used to be known as the poster child for polluted lakes until the U.S. and Canadian governments stepped in. After millions of dollars and changes to agricultural practices, the pollution subsided and the lake was restored to most of its former glory. Unfortunately, within the past decade all of our hard work has unraveled. As Michael Wines, New York Times reporter, stated, "Lake Erie is sick. A thick and growing coat of toxic algae appears each summer, so vast that in 2011 it covered a sixth of its waters, contributing to an expanding dead zone on its bottom, reducing fish populations, fouling beaches and crippling a tourism industry that generates more than $10 billion in revenue annually." Although there are many culprits to Lake Erie's sad state, scientists are saying that fertilizer users are partially to blame.
Phosphorous, a key nutrient in most fertilizers, is washing away into surrounding waterways, which feed directly into Lake Erie. The phosphorous then acts as a food source for a toxic algae bloom known as a microcystis, which has been contributing to the large and expansive dead zone. What's the problem with dead zones? Dead zones are bodies of water where oxygen levels are so low that marine life cannot exist. It can lead to fish kill and hurts the fishing economy.
Even if we teamed together and eliminated our use of fertilizers as a country, our nation would suffer. We depend upon the farming industry for a large portion of our nations (and the global community's) food. In addition, landscaping companies have provided jobs to Americans and have done well to beautify our country. Limiting either industry would be devastating. The solution lies in finding a balance between the needs of fertilizer users and the needs of our streams, lakes and bays.
Bionutritional products and organic methods at large could hold the key to achieving the needed balance. The thing that makes bionutrition so special is that it helps improve efficiency in the soil, allowing for reductions in chemicals like nitrogen, phosphorous and concentrated pesticides (NPK). For example, Holganix (a bionutritional product) can help users reduce their use of NPK by 70-90%. Together, the green industry is coming up with new technologies that can help replace or decrease the use of NPK, which means cleaner water for the world.
Works Cited
http://www.nytimes.com/2013/03/15/science/earth/algae-blooms-threaten-lake-erie.html?pagewanted=all&_r=0