By Nicole Wise on Sep 11, 2013 11:25:00 AM
The Holganix Blog
Holganix Roots For You Competition Update!
Even during the heat of the summer, Holganix users have been sharing pictures of their impressive root systems as part of the Holganix Roots For You competition to find the best roots in Lawn Care, Sports Turf and Golf! Winners will receive a $500 cash prize. In addition, Holganix will make a donation in their name of an additional $500 to their respective organization (GCSAA, STMA or PLANET). Here are some of the highlights so far!
Lawn Care
Check out this great video from Keith Jackson of Hydroseed Inc. He highlights the success he's seen with turf roots this season, sighting eight-inch roots.
Golf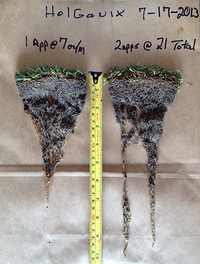 Noble Hawk Golf Links decided to put Holganix to the test this year on their tee boxes. After only two applications of Holganix totaling 21 ounces, they have been seeing 10.5-inch roots! Since taking these pictures, the team reports that after the third and fourth applications the turf continues to get better and better. According to the management team, "You can take any piece of my fertilization arsenal away from me, but you can't have my Holganix!" Their only regret? "Gosh," said one Noble Hawk team member, "I wish I would have done this on my greens too!"
Sports Turf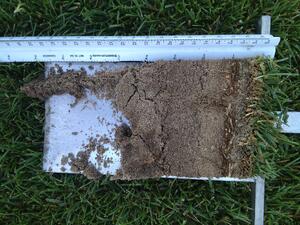 Here's what the Pittsburgh Pirates' professional turf management team had to say: "In August 2012, we noticed that the root development on our blue grass was shallow. We started using Holganix at a rate of 14 ounce per 1,000 square feet. After one application, we noticed improvement. In 2013, we continued using Holganix on a monthly basis at the 14-ounce rate. We noticed significant rooting on our newly sodded areas. At that point, we were seeing root depths ranging from 3 to 5 inches. In June 2013, our root depth ranged from 5 to 9 inches. We also noticed the sod that is replaced on a regular basis in front of the mound roots within ten days."
To join in the fun and try your luck at the cash prize, click here for more instructions and be sure to monitor our social media outlets for updates on the competition (Facebook and Twitter). Not sure how to take a soil profile to measure your roots? Gary Myers of Sagamore Golf Course was kind enough to put this short instructional video together. It's just what you'll need to get your hands dirty and check out your turf's roots. Check out Gary's video below.