By Nicole Wise on Mar 18, 2014 10:28:00 AM
The Science Behind Holganix:
Meet Holganix with Steady Grow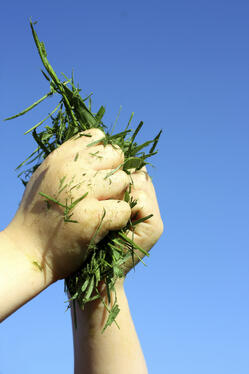 After five years, Holganix has announced the enhancement of Holganix Lawn, now Holganix Lawn with Steady Grow. Holganix has been known for its unique ability to drastically support root growth and create sustainable turf. With the new Steady Grow formulation, Holganix will further focus the plant to foster root growth while promoting a steady growth pattern to the plant, without surge growth. Holganix with Steady Grow will improve the Carbon:Nitrogen ratio in the soil. This process allows nitrogen to be available to the plant gradually over an extended time, allowing the plant to grow at a natural pace as opposed to forced surged growth. For full service lawn care providers, this means reducing clipping yields, ultimately leading to money saved and an increase in sustainability.
Clipping reduction with Holganix was illustrated in a study performed at the University of Illinois. The study compared turf treated with 1 pound of nitrogen with and without Holganix. The researchers discovered that there was a 9.7% reduction in clippings in the turf treated with Holganix despite utilizing equal rates of nitrogen. Other studies have shown that Holganix allows nitrogen fertilizer to work more effectively at less than normal rates. The combination of decreased nitrogen use teamed with the Carbon:Nitrogen ratio results in a powerful reduction in surge growth and subsequently in clipping yields.
Ed Fleming, owner of a full-service lawn care company, Lawns Unlimited in Lewes, Delaware, confirms that surge growth is at the root of many expenses for his company. Surge growth expenses include not only the dumping and transportation fees but also the increase in time and labor expenses as well as the wear and tear on equipment. "We were astounded to have a 50% reduction in clippings with the use of Holganix," states Fleming. "No more baling hay!"